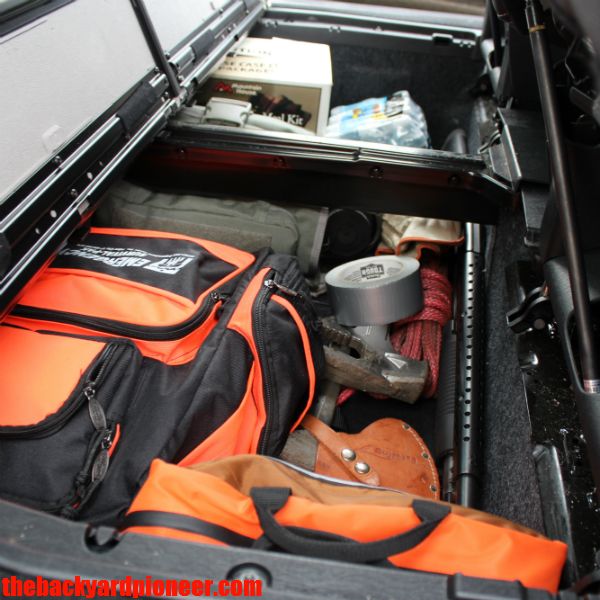 When heading out onto the Interstates a good selection of road trip supplies and gear will go a long way in providing peace of mind to you and comfort to your family if something goes wrong. In the Prepper Road Trip Part 1 we looked at pre-trip planning and getting the family truckster into traveling shape, now we'll look at the road trip supplies and gear to take along!
Road Trip Supplies and Gear
Vehicle Supplies and Gear
Tire Gauge– Properly inflated tires get you the most MPG
Can of Fix-A-Flat– Takes care of minor tire trouble.
Tire Plug Kit– A plug kit and a compressor can get you back on the road when tire trouble strikes.
12v Compressor– A good 12v compressor goes hand in hand with a plug kit.
Spare Serpentine Belt– Don't get stuck out on the road because of a broken belt. In modern vehicles the serpentine belt rus everything from cooling and electrical to the power steering. Toss one and you are going nowhere fast!
Jumper Cables– Every vehicle should have a quality set. They will last a lifetime.
Tow Strap– A heavy duty tow strap can get your vehicle out of a ditch and help clear broken down vehicles or wrecks from the roadway as well as large debris.
Tools
Ax– The Estwing Campers Ax is the perfect size to take along on a road trip. An ax is a highly capable tool for shelter building, removing downed trees, fire building, and pretty much anything else you can think of.
Pry Bar– If you have the room a pry bar can do a ton of jobs in an emergency. An axe, a pry bar, and a tow strap can clear a lot of road way. The Stanley Fubar Extreme is what rides along with with me and my family. It doubles as a sledge in a pinch.
Tool Roll– Screwdrivers, Adjustable Wrenches, Pliers, Sockets and Ratchet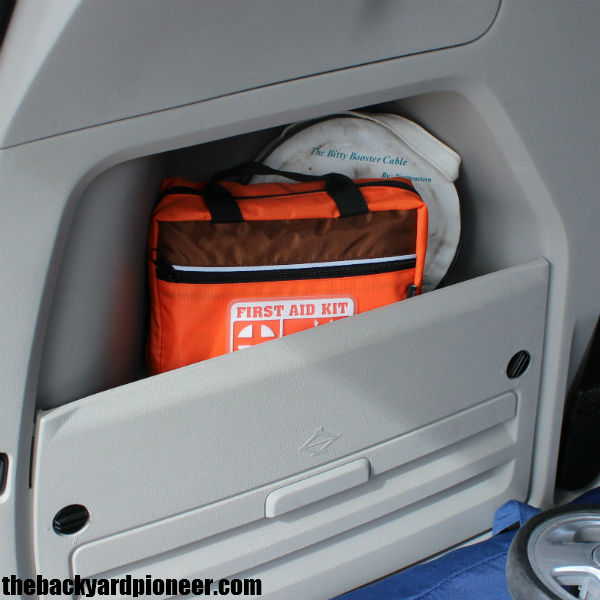 Supplies
72 Hour Kit– We have  a commercial 72 Hour Kit one that gets brought along.
Get Home Bag– My Get Home Bag adds another layer of Preparedness
Duct Tape– Fix damn near anything with this stuff!
Tarp– A cheap poly tarp can be pressed into service as a make shift shelter.
First Aid Kit– We keep a basic first aid kit in each vehicle as part of it's regular kit but when we head out onto the road we bring the more comprehensive house kit along with us.
50 feet of rope– Rope has all sorts of uses in an emergency.
Assorted Zip-Ties– With Zip-Ties and Duct Tape I could rule the world.
Water (2 cases of .5 litter bottles if you have the room)
Food
Work Gloves
The Wrap-Up
These well chosen and common sense supplies and gear will take care of you and your family should the unexpected arise out on the road. Just having the "stuff" isn't the be all and end all of Preparedness make sure that you know how to use it as well.
In the next installment we'll dive into the tips, tricks, and best practices that will help ensure your Prepared Road Trip goes smoothly.
Affiliate Disclosure: I am grateful to be of service and bring you content free of charge. In order to do this, please note that when you click links and purchase items, in most (not all) cases I will receive a referral commission. Your support in purchasing through these links enables me to keep the content train rolling