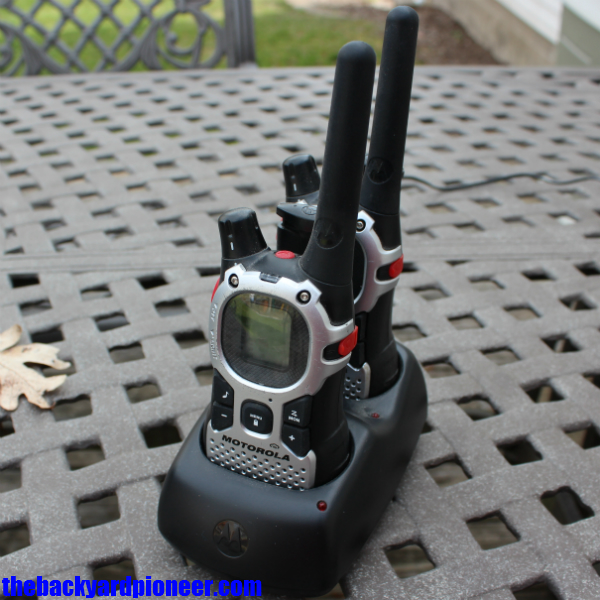 Communications in a disaster situation are an important part of any Prepared Families basic plan. Motorola Two Way Radios provide a lot of bang for the buck, and like any good recommendation from The Backyard Pioneer they are useful in non disaster situations as well. The Motorola MJ270R

radios have a lot of functionality in a small package.
Motorola Two Way Radios
The Motorola MJ270R Radios
Family Radio Service frequencies
General Mobile Radio Service frequencies
Gets Alerts on 7 NOAA weather channels
Built in LED flashlight
27 Mile Range (we all know it is BS but I had to put it there)
 Pro's
I've owned these Motorola Two Way Radios for about 3 years. They have seen me through several hunting seasons, road trips, and a few Hurricanes. For the most part they work just as advertised. The Family Radio Service frequencies are fairly low powered and range limited. They seem to work best on road trips as houses and trees really limit the range of the radios. They best I've gotten is about half a mile in my neighborhood. During hunting season I've gotten a range of nearly 2 miles from the top of the mountain back to the cabin, and it seems give the same range on the open road. The General Mobile Radio Service frequencies provide much greater range. This is still nowhere near the stated 27 mile range. I've gotten a bit over a mile in the suburbs and about 6 miles mountain to mountain while hunting.
The coolest feature of these Motorola Two Way Radios is the 7 National Oceanic Atmospheric Administration channels. These can be set to give an alert if dangerous weather is moving in. This function came in handy during Hurricane Irene as she rolled into Long Isalnd in the dead of night, it was nice to have the alert set when we went to bed, it gave some piece of mind.
The LED flashlight gives out about as much light as one of those keychain ones. You won't be able to get much work done with it but it will let you get to a better source of light in a pinch.
Con's
They work as advertised but that 27 mile range must have been achieved in the middle of the Sahara since I can't get anywhere near that in several years of use.
The Verdict
I'm glad I have these Motorola Two Way Radios. They have proven themselves to me in a few years of use in the field while hunting, around the neighborhood during 2 major hurricanes, and a couple of big road trips. They aren't professional grade by any means but if you accept them for what they are you won't be disappointed. They will provide local communications during and emergency and the weather band feature is a nice bonus. I give them a 3 1/2 out of 5 Stars.
Affiliate Disclosure: I am grateful to be of service and bring you content free of charge. In order to do this, please note that when you click links and purchase items, in most (not all) cases I will receive a referral commission. Your support in purchasing through these links enables me to keep the content train rolling