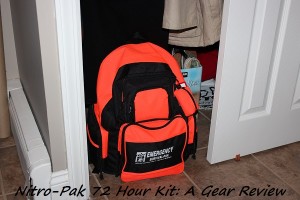 Nitro-Pak makes a bold claim with their Executive Backpack 72 Hour Kit, they call it "The finest 72 Hour Emergency kit available for 2 people for 3 days!".  Now that I've had one in my possession for a couple of months I'm ready to write my assessment of said claim.
My initial impressions are that it is a well thought out and well stocked kit. The pack is a bright safety orange so any thoughts that this is supposed to be throw it on your back and go hide out in the bush pack are immediately dispelled. The pack comes with a comprehensive master list of all the supplies and gear included and it is nicely broken down into subcategories. The bag itself isn't anything to write home about, it is clearly of a utilitarian design and fits more into the day bag category than anything more exotic. It gets the job done, and should last a long time in a closet or trunk of a car, but I wouldn't expect to get high mileage out of it if you plan on humping through the woods with it.
The contents break down nicely into Warmth & Shelter, Food Items, Water & Hygiene Items, First-Aid, Cooking, Heating, & Light, and Misc.
Warmth & Shelter
2 Emergency SPACE Blankets
1 Deluxe Two-Person Tube Tent
2 Emergency Rain Ponchos
Food Items
2 3600 calorie Emergency Food Ration Bars
1 High Energy Candy
6 Emergen-C Energy Drink Packets
Water & Hygiene
24 Emergency water pouches
18 Wet Wipes Packets
2 Facial Tissue Packets
2 Compact Tissue Packs
2 Sanitation Bags
1 Trash Bag
1 Frontier Water Filter
First Aid
60 Item First Aid Kit with Instruction Book
Cooking, Heating, and Light
1 Box of Water Proof Matches
2 Pairs of Hand Warmers
1 36 Hour Emergency Candle
1 12 Hour Instant Light Stick
1 Deluxe LED Flashlight
Misc.
Heavy Duty Nylon Backpack
AM-FM Radio
2 AAA Batteries
1 Multi-Function Pocket Knife
1 Pair of Leather Gloves
1 Emergency Survival Whistle
1 Set of Playing Cards
50′ Nylon Cord
2 N95 Evacuation Respirator
1 Note Pad
1 Writing Pen
1 Pencil
Duct Tape
Shaving Razor
Pros
The contents of the kit are well thought and comprehensive. My own kits contain many of the same items and I can find no fault with Nitro-Pak's reasoning on including them. I see this kit as being something that you can purchase and throw in the trunk of your car or hall closet, and sleep well at night knowing that you have a kit that will see you through most emergencies.
Cons
The faults I find with this kit are fairly minor but irksome to a gear geek like myself. The pack is pretty rugged but less than I would purchase for my own use. The knife that comes with the kit is a knock-off Swiss Army Knife and as a knife guy I couldn't leave this sitting in the kit long term. The flashlight is serviceable but nothing to write home about. These are the only concessions  that Nitro-Pak made to keep the kit at a reasonable price point.
The Verdict
The Nitro-Pak Executive Backpack 72 Hour Kit is a definite keeper in my book and well worth the $130 that Nitro-Pak is asking for it. Is it perfect? Well I don't think any kit is perfect but it will get you through some rough times if need be. It isn't a 3 day assault pack by any means but if Winter weather gets you stuck in the car overnight you'll be happy to have it along. Mine rides in the Stow-n-Go of  my wife's Minivan and I for one am happy it is there. I'm going to give it a 4/5 Stars. If you are interested in getting a Nitro-Pak Executive Backpack 72 Hour Kit it can be purchased at the Nitro-Pak website.

Disclaimer: Nitro-Pak supplied the kit for me to review. I can assure my readers that I gave it a fair and honest review.
Additional Thoughts
I've since added a few items to the kit that I feel can only enhance it's capabilities.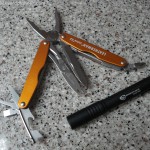 I replaced the Swiss Army style knife with a Leatherman Juice S2 Multi-Tool
. I think the Juice is a much more robust tool and offers a wider range of capabilities. The caveat is the Juice costs almost $40 which is darn near a third of the entire kit.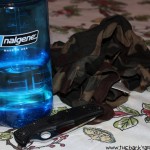 A Nalgene Wide Mouth Bottle
is another addition that I made. The water pouches supplied but it is nice to have a quality bottle around in an emergency.
Further Reading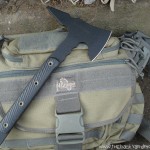 Check out my take on Assembling a Get Home Bag
Affiliate Disclosure: I am grateful to be of service and bring you content free of charge. In order to do this, please note that when you click links and purchase items, in most (not all) cases I will receive a referral commission. Your support in purchasing through these links enables me to keep the content train rolling