Quick And Easy Venison Brine
My Venison Brine is awesome! There I said it, but some of you may be wondering just what a brine is and what exactly makes my venison brine in particular so awesome. So first lets tackle a few questions: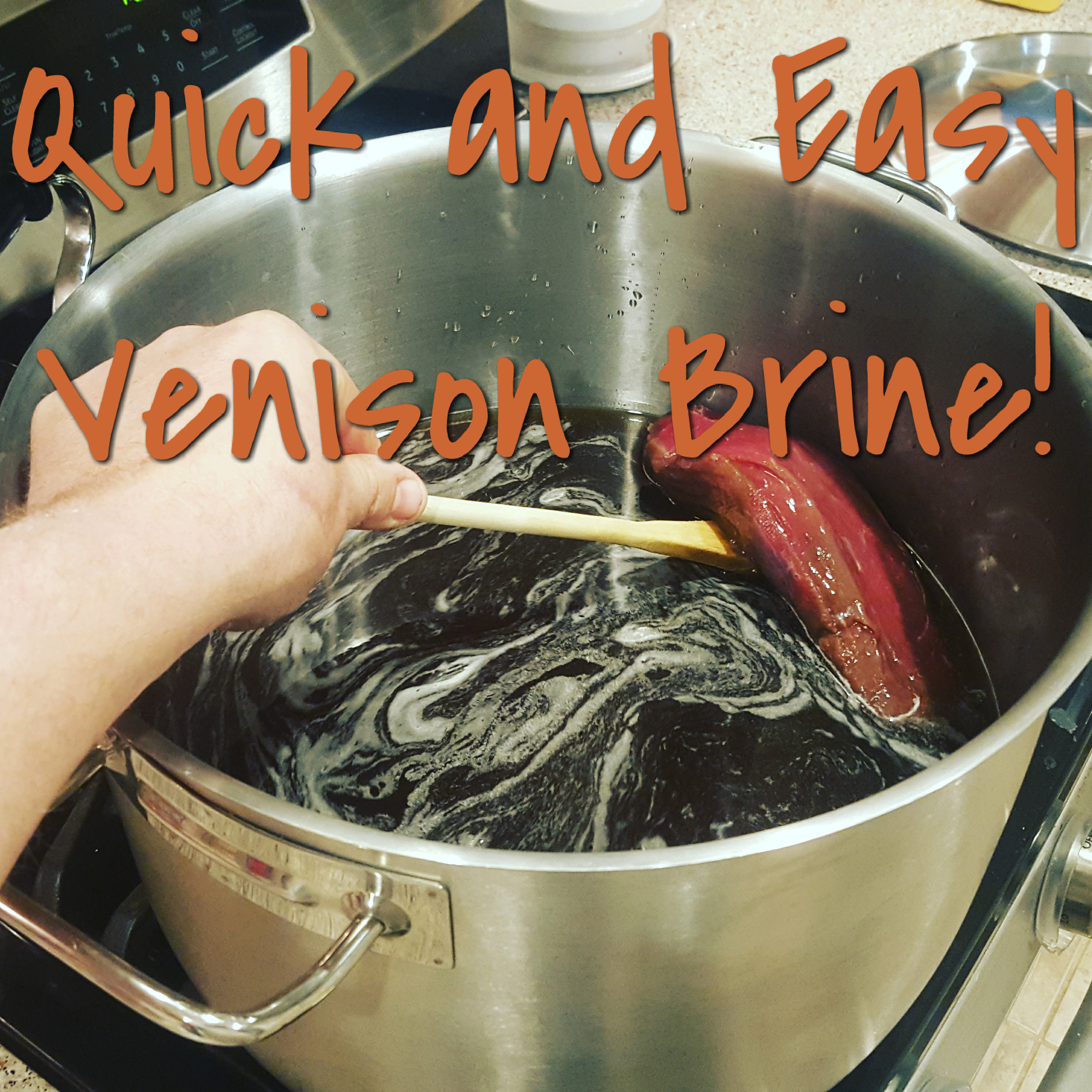 What is a brine?
A brine is basically a salty solution that meat will be immersed in. The brine works on the principle of osmosis where the non-salty meat will draw the saltwater across the cell membrane and into the meat. Pretty basic stuff so far. Where a brine really shines is in a very lean meat like venison. The lack of fat can lead to venison that dries out quickly and a brine can really help to keep a cut of meat juicy.
What else does a brine do?
A brine is a great way to add an extra layer of flavor to a cut of meat. Since the saltwater is already crossing into the meat why not through in some other flavors as well. Soy sauce, brown sugar, molasses, garlic, and ginger are all great additions to a brine. I add a few to my venison brine to jazz it up a bit.
My Venison Brine Ingredients
1 Gallon of water
3/4 Cup of Kosher Salt
1/4 Cup of Worchestershire Sauce
1 Cup of Brown Sugar
1/2 Cup of Soy Sauce
2 Tablespoons of black pepper
6 Cloves of Garlic (just smash them and throw them in)
How to make the Venison Brine
Pour 1 quart of water into a sauce pan over a medium heat. Add the salt and brown sugar and stir until dissolved. Add the rest of the ingredients and cook for 5 more minutes. (I think the additional cook time helps the brine to be more flavorful)
Pour the remaining 3 quarts of water and some ice into a large enough pot to hold the complete brine and the meat you are looking to brine.
Pour the heated brine ingredients into the cold liquid and stir in. Allow the brine to cool to 40 degrees.
Add you meat and refrigerate for 12-24 hours. For smaller cuts I do 12 hours and for a whole hind quarter I do the full 24.
After the allotted time remove the meat from the brine and pat dry. Now feel free to roast, grill, or smoke the venison.
Check out our Venison Recipes Page for more great venison recipes!
Affiliate Disclosure: I am grateful to be of service and bring you content free of charge. In order to do this, please note that when you click links and purchase items, in most (not all) cases I will receive a referral commission. Your support in purchasing through these links enables me to keep the content train rolling