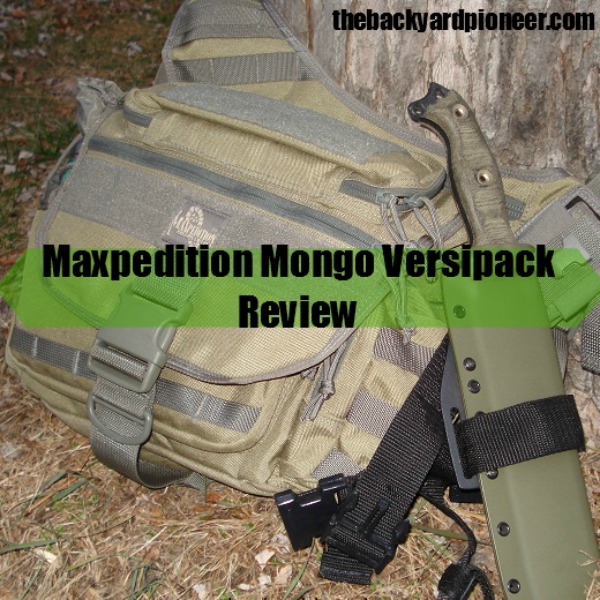 Since my Maxpedition Mongo Versipack
appears in so many of my pictures I felt it was time to do a gear review on it. I initially got this bag as my "Manly" diaper bag but it has morphed into my everyday carry bag. It forms the basis of my Get Home Bag, but it has become much more than that.
Maxpedition Mongo Versipack
Main 12 x 4 x 9.5-Inch (long x wide x deep) with slip pocket, drawstring storm collar
Front 10 x 6.5 x 1.5-Inch (long x wide x thick) with slip pocket, key retainer, dual zipper opening
Front slip 9 x 5.5-Inch (long x deep) with 6 x 8-Inch loop field
Front sleeve 10 x 8-Inch (long x deep) with 6 x 8-Inch loop field
Internal zipper mesh pocket, dual zipper opening
Ergonomics
The Maxpedition Mongo Versipack is a BIG bag, it will hold a lot of stuff. I have used mine as a Get Home Bag, my EDC bag, for hunting, as a carry on, and as a diaper bag. It has plenty of pockets to carry all manner of gear and supplies.  The main compartment is large enough to fill with a sweatshirt and some books. I really like the drawstring as it does a good job of keeping rain out.
The rear zippered compartment on the Maxpedition Mongo Versipack is the one I find the most intriguing. If I lived in a Free State it would be holding a Concealed Handgun but here in New York I settle for some gloves and other sundries. Maxpedition makes a pretty cool line of hook and loop carry options for this compartment and I'm sure if you conceal carry you can find one to fit your needs.
The Maxpedition Mongo Versipack carries well and it is comfortable with all but the heaviest loads. The carry strap is wide and does a good job of dispersing the weight. I usually carry this bag without the waist strap but have found it does have it's uses if you are trying to move fast or when climbing. I've run a 5K with this bag and found the waist strap helpful in keeping the bag from moving around to much. While hunting I like the waist strap to keep the bag from shifting while climbing into and out of my tree stand.
The Maxpedition Mongo Versipack also plenty of MOLLE gear attachment points so you can customize your bag to your own preferences.
Fit and Finish
The Maxpedition Mongo Versipack is made of heavyweight nylon codura. I have found it to be great at wear resistance even after 4 years of carrying it on a daily basis. The seams are ruggedly stitched and have held up to all I can throw at them. In fact the only problem I've had with my  Maxpedition Mongo Versipack is when I hit it with a razor sharp Cold Steel Trail Hawk
. It sliced through it like a hot knife through butter but I was able to have a seamstress stitch it up good as new!
The Wrap-Up
I love my Maxpedition Mongo Versipack and carry it everyday. Having said that It isn't perfect. The single strap has a bit of a hipster factor going for it and it is pretty cool, but for a bag I was going to carry for long distances I still prefer a traditional backpack. The Maxpedition Mongo Versipack does have a bit of a tactical flair to it. I don't mind this while hiking or hunting but it does elicit a comment every now and again.  Having said that I give the Maxpedition Mongo Versipack a 3.5 out of 5 Stars. It is rugged and capable but has a few limitations. I own 2 of them!
Further Reading
Maxpedition Jumbo Versipack Review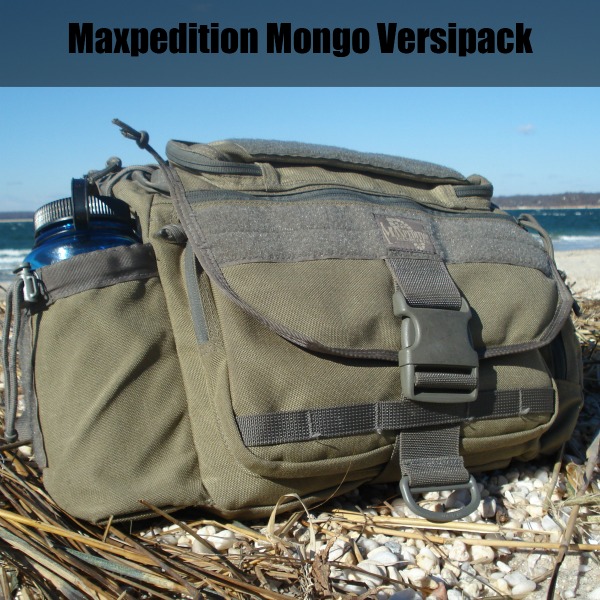 Affiliate Disclosure: I am grateful to be of service and bring you content free of charge. In order to do this, please note that when you click links and purchase items, in most (not all) cases I will receive a referral commission. Your support in purchasing through these links enables me to keep the content train rolling