I had been looking for an everyday carry bag for a while when Mike gave me a ring and said he had a bag for me to review. He was already running a Maxpedition Mongo Versipack when he received the Maxpedition Jumbo Versipack shown below.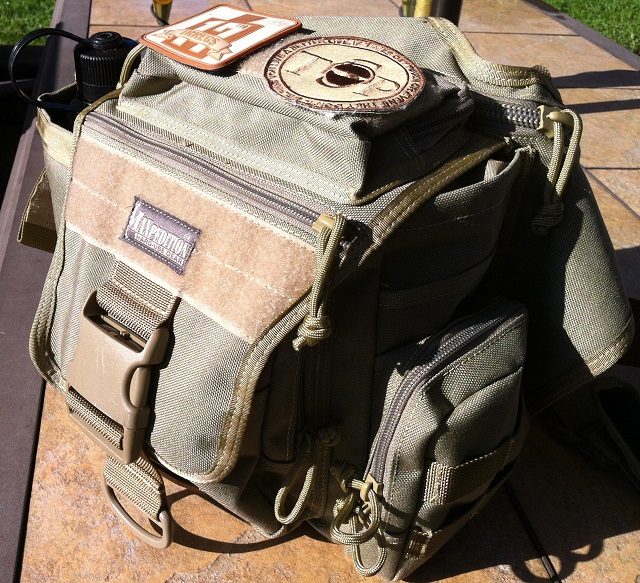 Maxpedition Jumbo Versipack
Never one to turn down the chance to try a new piece of kit. First, let's get the basics out of the way. According to their website, the Maxpedition Jumbo Versipack has the following dimensions:
Overall Size
Approx. 13″(L) x 11″(H) x 5.5″(W)
Main compartment approx. 9″(L) x 8″(H) x 3″(W)
Empty weight approx. 1.8 lbs
Exterior Front
10″(L) x 8″(H) enclosure flap
2″ quick release enclosure buckle
One (1) 6.5″(L) x 2″(H) loop field for patches
One (1) 6″(L) x 5.75″(H) zippered pocket
One (1) 5.5″(L) x 5″(H) slip pocket
One (1) 6″(L) x 7.75″(H) x 2′(W) zippered pocket
One (1) 6″(L) x 5′(H) internal mesh pocket
Internal key retention clip
PRO's
The Maxpedition Jumbo Versipack is deceptively large. In the main compartment, I am able to carry a windbreaker/raincoat, work gloves and an emergency radio. It could probably swallow a small tablet if you try although I don't think an iPad would fit in there. The front pocket holds a lot of random stuff including a folding knife, flashlight, a CountyComm tin case and some food/drink items (snacks and tea bags). In the side bag, I'm able to hold an Altoids EDC kit and another flashlight. The front flap pocket would be perfect for travel documents (passport, airline tickets, etc.). I really, really like the pocket that would normally be used for concealed carry. Being that I live in the People's Republic of New York, I can't use it for that, but it would fit a sidearm nicely. Currently, it holds a notebook and the occasional piece of mail that I have to carry with me.
Other than storage capacity, the Maxpedition Jumbo Versipack is easy to carry. The side strap style makes it very comfortable. You can wear it two ways – on your hip or, my preferred method, above your backside. Placing on the low of your back keeps it out of the way of your swinging arms when you're walking and also doesn't obstruct your movement by making you wider than your body. An important side note: carry it on your lower back does make accessing the concealed carry option much harder.
The Maxpedition Jumbo Verispack also comes with a removable waist belt. While I don't use this on a daily basis, it does come in handy when I'm going on short hikes when I don't want to carry a full pack. It allows me to keep the bag from bouncing against me as I move across bumpy terrain.
CON's
From a performance standpoint, there's nothing I can find fault with in terms of the Maxpedition Jumbo Versipack. That being said, as an EDC bag, it does have a few drawbacks for me. First and foremost, I carry a laptop to and from work each day and it does not fit in this bag. Secondly, despite it not being camo or 'tacticool black,' this bag does have a military look to it and I'll occasionally get a few questionable looks. Granted, I work at a defense contractor that employs a few former Special Ops personnel, so that may explain the looks.
Overall, this bag is great. As long as I'm not carry my laptop, the Maxpedition Jumbo Versipack is more than I need and I would highly recommend it to anyone. It has the durability and performance one would expect from Maxpedition products and will last you a very long time, regardless of what you use it for.
You Might Also Like:
Maxpedition Mongo Versipack Gear Review
EDC Kit: What Is In Your Pockets?
Editor's Note: Dan is the owner and author of SuburbanSteader.com, a website that concentrates on providing self reliance and self sufficiency information to suburbanites.  Suburban homesteading, emergency preparation, fiscal responsibility and outdoor activities are just some of the topics discussed on his site.  If you like this article and want to find out more about him, you can reach him on his website, Facebook or Google+.
Affiliate Disclosure: I am grateful to be of service and bring you content free of charge. In order to do this, please note that when you click links and purchase items, in most (not all) cases I will receive a referral commission. Your support in purchasing through these links enables me to keep the content train rolling