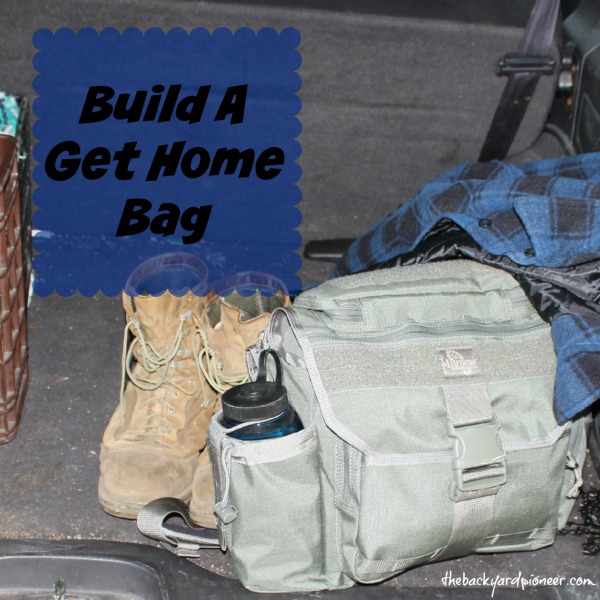 A great project for common sense preparedness is setting up a Get Home Bag. You just need to look at the news to see several times a year, where due to natural or man made disasters people are forced to wait out a cold and uncomfortable night in their car, or need to abandon their vehicles and hoof it home. The wild winter storms in the Northeast and the South saw people having to seek shelter from the storm's fury in Home Depots and Wal-Marts. 9/11 and the Blackout of 2004 had thousands on foot walking out of New York City. A Get Home Bag filled with some carefully chosen gear and supplies can help mitigate some of the uncertainty and add a whole lot of comfort to a trying time.
Build A Get Home Bag
When building a Get Home Bag it is important to understand what it is and what it isn't. A Get Home Bag is a small and highly portable emergency kit. It is filled with gear and supplies that will sustain you on a walk or drive home in event of an emergency. It isn't a Bug Out Bag (for a great post on Bug Out Bags check out Graywolf Survival) or a long term head for the hills bag. It won't get you through the Zombie Apocalypse but it will keep you semi-comfortable on cold snowy night when you can't get home or will put some food in your belly while walking home during a big blackout.
Choosing A Get Home Bag
One of the most important aspects of building a get home bag is choosing the actual bag. There are a few different styles of bag to choose from but the best bags all have some common elements.
Tough– A good bag will be made of quality materials. It will be reinforced at the weak points and will have overbuilt zippers and buckles.
Plenty of compartments– The best bags will have plenty of compartments and pouches. Having to dig through one large unorganized compartment in an emergency situation will only slow you down and frustrate you.
Comfortable– Comfort is one of the most important elements of building a get home bag. If a bag is cool looking but uncomfortable you will be the one paying while it digs into your shoulder and makes for a miserable walk home if you do have to deploy it for real.
These are the key points to look for in a bag. When it comes to choosing something tactical looking or more sedate that is entirely up to you. Manufacturers like Maxpedtion and GoRuck build tough and no nonsense bags but companies like North Face and Swiss Army have tough, quality bags in there lineups as well.  A less expensive bag will work but expect to replace them from time to time as the lower quality nylon wears out eventually. I personally use a Maxpedition Mongo Versipack
for my Get Home Bag.
Maxpedition Mongo Versipack
Get Home Bag Contents
Now that you've chosen a bag that fits your requirements it is time to choose what exactly you will put into it. While building a Get Home Bag you need to keep in mind that while it is an emergency kit it isn't a Bug Out Bag. It isn't meant to sustain you for days or weeks. It is to get you home safe and sound to your family or keep you comfortable on an unexpected night out. So forget about the rifles or tents and start thinking light weight. You want bang for your buck with the limited room you are dealing with.
Food– In a short duration kit like this it is hard to go wrong with Mainstay Emergency Rations . They may not fit into whatever fad diet is in these days but for 24 hours they will keep your belly from grumbling.
Water– This is an important item to consider. A 32 oz Nalgene Bottle filled with good old fashioned tap water will give yeoman service. A light weight means of purification is also good to have.
First Aid Kit– This is more of a boo-boo kit than a trauma kit. Something that will address blisters and minor cuts and scrapes is the order of the day. If you need something more you should defer to the bigger and better kit in your car kit. Keeping some extra over the counter pain killers will help with those sore muscles if you do have to walk!
Fixed Blade Knife– A good fixed blade knife can fix a lot of problems! It is an awesome tool to have and can be used in almost limitless ways.
Headlamp– The L.E.D. headlamp is one of the finest pieces of gear to come along in a long time. They are cheap and light but throw an amazing amount of light and best of all let you keep your hands free. I personally like the Streamlight LED Headlamp
Space Blankets– These things are light enough and inexpensive enough that having 2 is a good idea. If you need to one can provide a bit of shelter while the other helps to keep you warm.The Adventure Medical Heatsheets Emergency Blanket is a step above the Wal-Mart Specials.
Bandana– A bandana can do so many things it is crazy! Tourniquet, impromptu dust mask, keep the sun off of your head and neck, tinder, tear it up to mark a trail, use it to lash stuff together a bandana does it all!
Multi-Tool– In the interest of keep things as light as possible a multi-tool takes the place of  bunch of tools. A good one should see you through most events where you need to use your Get Home Bag.The Leatherman Charge TTi will do almost anything you ask of it.
Some Cash– Adults carry cash! Enough said!
Lighter– A Zippo is cool if you are into them but a cheap Bic light works just as well and you can wrap a few feet of Duct Tape around it without ruining it!
Duct Tape– This is the universal "fix-it". It has a million and one uses so carry as much as you can.
Para Cord– 550 Para Cord is awesome for a ton of things. It can fix a strap on a pack and be used to temp up a shelter with one of your space blankets!
Other Considerations
As you can see a Get Home Bag isn't a full blown Bug Out Bag or Assault Pack. It is a simple kit filled with common sense preparedness items that will make you a bit more comfortable in the event you need to walk home or spend a night in your car due to unforeseen circumstances . Due to it's limited scope a Get Home Bag works best in conjunction with a comprehensive preparedness plan. Since it is a small scale kit having appropriate clothing and footwear stashed in your car or office will go a long way towards ensuring your overall comfort. Combined with a sleeping bag in your trunk a Get Home Bag will help you make the best of a bad situation in case of a freak Ice Storm or Blizzard.
Further Reading
Essential Steps to Take Before Crossing Your Doorsill

Dad's Get Home Bag – so that he can get home to us! | Mom with a PREP
Choosing Your Backpack » Preparing With Dave
How to Pick the Best Bug Out Bag Backpack for YOUR Survival Situation
Building a Get Home Bag & Why It's Important – The Busy B Homemaker
Small Bug Out Bag – Preppers Survive
Affiliate Disclosure: I am grateful to be of service and bring you content free of charge. In order to do this, please note that when you click links and purchase items, in most (not all) cases I will receive a referral commission. Your support in purchasing through these links enables me to keep the content train rolling