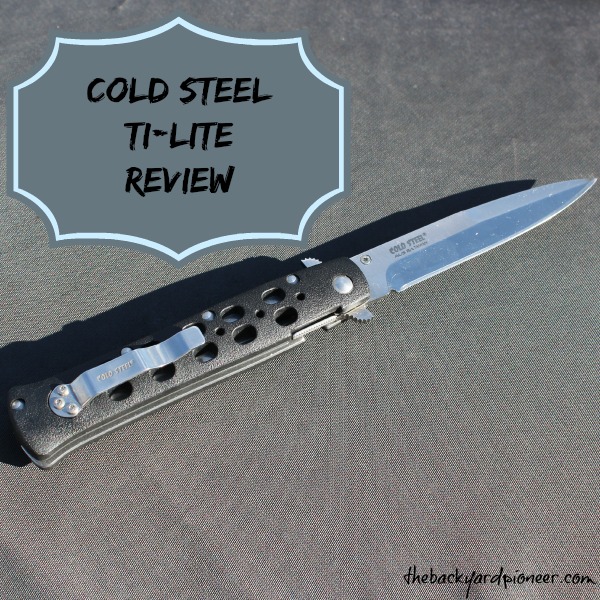 Cold Steel Ti Lite Review
The Cold Steel Ti Lite
leaves me with mixed emotions. How can a knife totally lacking in common sense features keep me entertained for so many days? It satisfies none of my main criteria for an EDC Knife well, and yet it keeps finding it's way into my pocket.
4-inch tactical folding knife with Japanese AUS 8A stainless-steel blade
Bead-blast finish, razor-sharp edge, and sturdy needle-sharp point
43-percent glass-filled Zytel handle; small steel pocket clip
Stainless-steel leaf-spring lock and liner tested to 130 pounds
Measures 8-3/4 inches overall; weighs 3.5 ounces
Ergonomics
The Cold Steel Ti Lite is shaped like a 1950's switchblade so it sort of throws ergonomics out the window. It has several glaring compromises in the design to keep it in character but when it is in your hand you'll feel like an extra from West Side Story
( a damn fine musical if you ask me).
The handles are made out of Cold Steel's Zytel. It is very similar to the FRN handles that are found on the Spyderco Endura 4
line but without the excellent bi-directional texturing. In fact the Cold Steel Ti Lite is lacking in any sort of texturing, this makes it a bit slick in the hand. I actually launched it during an aggressive "flicking".
The Cold Steel Ti Lite is a bit brutal in the hand. It has so many hot spots I'm surprised it doesn't start fires in my pocket. It is down right uncomfortable at times. The biggest offenders are the flippers on the blade, they are stupid sharp and rip clothes and fingers every chance they get.
Blade
The blade on the Cold Steel Ti Lite is made out of AUS 8A. Now this is far from the latest and greatest wonder steel but it gets the job done. It came razor sharp right out of the box and shaved arm hair with no problem.
The shape of the blade makes it woefully inadequate for most common EDC Knife duties. This thing is a needle pointed STABBER. It makes no apologies for what it is at all. The Cold Steel Ti Lite is a weapon plain and simple. It has the lines of dagger and doesn't care if you don't like it.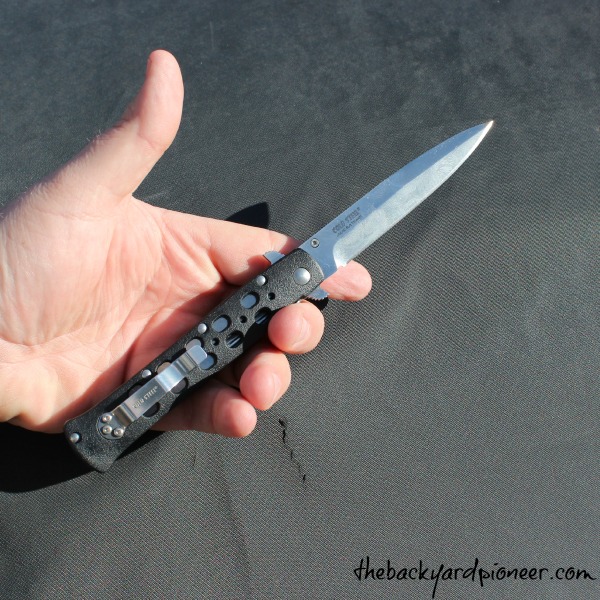 Cold Steel Ti Lite is available through Amazon
The Lock
The Cold Steel Ti Lite has a simple liner lock. Now it may seem like I'm piling on but I hate the lock with a passion. The lock is small and hard to manipulate and frankly it is a thumb buster. Again most of my complaints are all due to this thing trying to replicate a traditional switchblade.
Carrying The Cold Steel Ti Lite
Now if you've made it this far you might think I was going to bitch a bit more about this knife but, no. It is actually a joy to have in your pocket. It is only weighs a few ounces and lays down nicely. I do think it would benefit from a deeper carry pocket clip but other than that you don't even realize it is in your pocket.
One extremely cool feature of the Cold Steel Ti Lite is the fact that one of the flippers acts as a pocket catch and opens the knife if you withdraw it from your pocket with authority, the blade snaps open with an Evil sounding crack! If you are a knife lover like me this can keep you entertained for hours.
The Cold Steel Ti Lite was a bit like a fish out of water in my pocket. I'm well past my knife fighting days and I really like having a worthwhile tool in my pocket instead of a weapon. The Cold Steel Ti Lite is a no holds barred weapon!
The Wrap-Up
So for almost 600 hundred words I've beaten up on this knife. It is too much of a weapon for me and it lacks the polish that I've come to expect from a modern EDC knife. Having said that this stupid thing sings to me! This is the knife that 18 year old me would have been drawn to. Flicking it open makes me giggle. I'm going to grade this thing on a curve. It might be uncomfortable and impractical but it has personality and personality goes a long way sometimes. So I'm going to give it 3 out of 5 Stars with a caveat. It has no good uses but is a well made novelty item that entertains and is just plain cool. . .
You Might Also Like
Spyderco Endura 4 FFG  A more practical choice for EDC.

>>> Click For Current Pricing And Availability <<<
Affiliate Disclosure: I am grateful to be of service and bring you content free of charge. In order to do this, please note that when you click links and purchase items, in most (not all) cases I will receive a referral commission. Your support in purchasing through these links enables me to keep the content train rolling