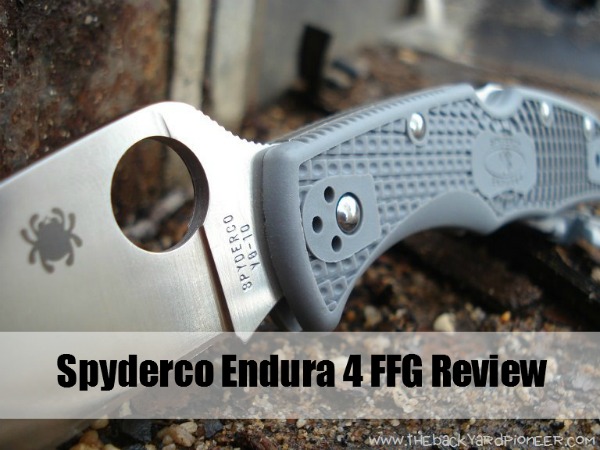 Spyderco Endura 4 FFG Review
The Spyderco Endura 4 is already one of my favorite EDC knives so when I saw the Spyderco Endura 4 FFG
I knew it would be joining my collection of EDC Gear. What I didn't know is how much I would truly enjoy this knife. The addition of a Full Flat Grind (FFG) turns the workman-like Spyderco Endura 4 into something special!
3.75″ Blade Length
8.75″ Overall Length
3.6 ounces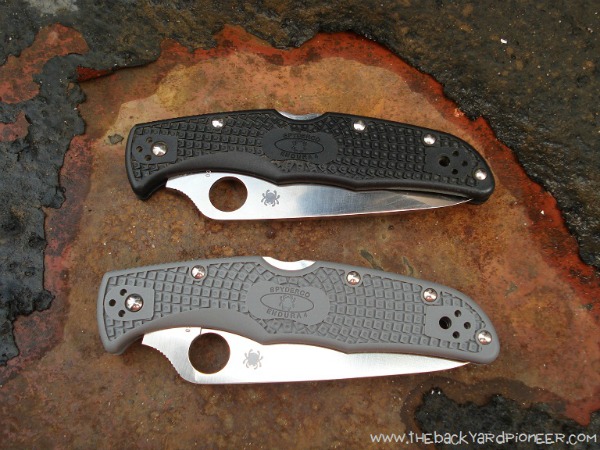 Ergonomics
The first thing I noticed while handling the Spyderco Endura 4 FFG was how light it actually is! Weighing in a 3.6 ounces it definitely qualifies as a lightweight EDC option. The full flat grind on the blade saves some weight as well as the skeletonized liners.A few ounces here and there do make a difference in your pocket. My Benchmade Contego is a beast of a knife but it rarely makes an appearance when the weather is hot as it a bit heavy for Summer shorts. That won't happen with the Spyderco Endura 4 FFG.
The Fiberglass Reinforced Nylon (FRN) handles have an excellent bi-directional texturing on them that are grippy without being abrasive. I really like how Spyderco was able to work the texturing into a pattern that is vaguely reminiscent of a spider web. FRN is a nylon based plastic that has glass fibers added during the molding process, it might not be exotic but it is functional and tough!
Jimping was added to the Spyderco Endura 4 FFG on the thumb ramp. It is well done and like the bi-directional texturing it adds to the knife in a functional and aesthetic way.
The Spyderco Endura 4 FFG is comfortable in all normal grips and is a joy to have in your hand.
The pocket clip is positionable 4 different ways so you can find your preferred method of carry.
Blade
The Spyderco Endura 4 FFG has a full flat ground VG-10 blade. VG-10 is a high carbon stainless steel and I have found it to have excellent rust resistance. VG-10 is one of my favorite steels for a pocket knife. It might not be a super steel but it is light years ahead of the cheap steels that you will find on the Chinese knock-offs. VG-10 retains a decent edge and sharpens a lot easier than S30v.
The Spyderco Endura 4 FFG has a bit of a "funky" blade design. It isn't lumped easily into any of the traditional blade categories but it works none the less. It comes beyond razor sharp from the factory and I'll admit to getting bit by it!. The full flat grind really makes this thing a cutting machine and is what separates it from the regular model. A full flat grind means that there is only one continous grind from the top of the blade to the cutting edge. This makes for a thin edge that is scary sharp! It excels at slicing and it found a pretty good niche as a food prep blade for me.
Since the blade is so thin I would caution against any sort of prying with the Spyderco Endura 4 FFG.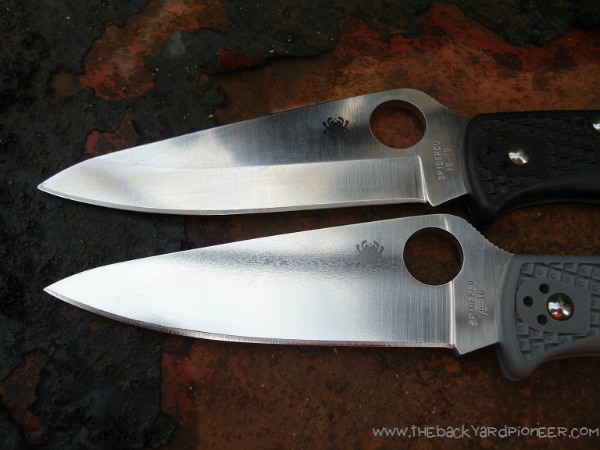 The Lock
The Spyderco Endura 4 FFG gets through life without a super gee-whiz blade lock. A simple lock back keeps the blade open. It does have a David Boye dent which lessens the chance of accidentally disengaging the lock while using the knife. Some people disregard the lock back as an effective lock system. It may not have the ultimate in strength but for anything that the Spyderco Endura 4 FFG would reasonably be expected to handle it will be adequate.
Carrying The Spyderco Endura 4 FFG
The Spyderco Endura 4 FFG is a joy to have in your pocket. It is lightweight and highly capable. It rides well and it fast to deploy. If you work at it a bit you can get that highly desirable "Snap" with a good hard flick of your thumb when pulling it out.
The over-sized 13mm Spyderhole works well with gloves on, which is a plus in the winter or when at work.
The Wrap-Up
I truly enjoy having the Spyderco Endura 4 FFG
as part of my collection. It fits a lot of critical criteria for me. It is lightweight, well designed, easy to carry, fast into my hand, and has a very good knife steel. I can recommend it without any reservations and give it a 5 out of 5 Stars. My Spyderco Endura 4 FFG will always have a home in my safe and I won't hesitate to carry it on a daily basis!
You Might Also Like
EDC Kit: What Is In Your Pockets?
EDC Knife: What Is Right For You?
Affiliate Disclosure: I am grateful to be of service and bring you content free of charge. In order to do this, please note that when you click links and purchase items, in most (not all) cases I will receive a referral commission. Your support in purchasing through these links enables me to keep the content train rolling