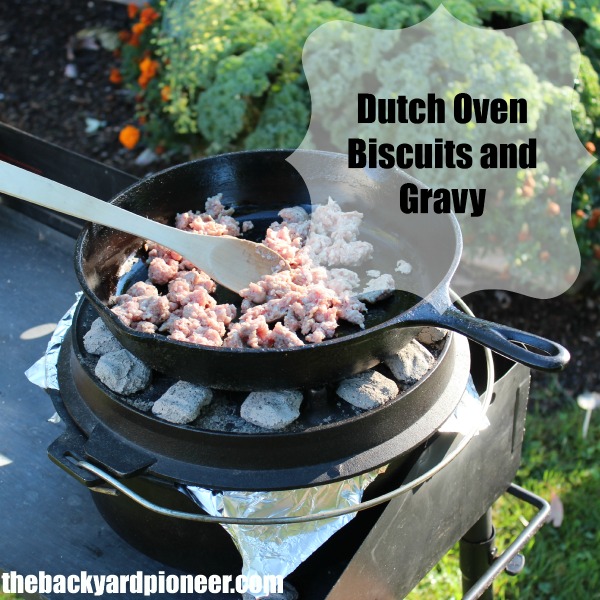 Dutch Oven Biscuits And Gravy
When we go camping the two things I look forward to most are perked coffee and Dutch Oven Biscuits and Gravy. Now I know I can easily perk coffee at home, but lets face it, whipping out the Dutch Oven every Sunday morning might get to be a little tedious, and Dutch Oven Biscuits and Gravy just seems a little more special if you are eating it in the woods!
Dutch Oven Biscuits and Gravy is also a special recipe for me because it really showcase the art of Dutch Oven cooking and really shows how versatile cooking with cast iron can be! I use a Camp Chef 12-Quart Dutch Oven
and since a lot of readers ask that is a Camp Chef Dutch Oven Table
I'm using to stay up and out of the dirt!
Dutch Oven Biscuits and Gravy Ingredients
The Gravy
This is about as super simple of a sausage gravy as you can get!
12 ounces of Pork Sausage
1/4 Cup of All Purpose Flour
3 Cups of Milk
Salt and Pepper to taste
The Biscuits
2 and a 1/4 Cups of Bisquick
2/3 Cup of Milk
Dutch Oven Biscuits and Gravy Directions
The Biscuits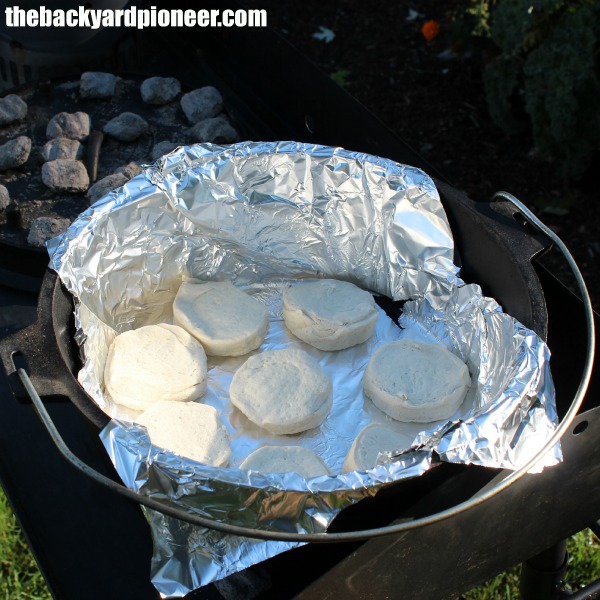 I start off by getting the biscuit dough made. I wish I had a super secret family recipe to share here but my Grandmother used Bisquick, my Mom used Bisquick, and I Mike "The Backyard Pioneer" use Bisquick to make my Dutch Oven Biscuits and Gravy! It works, they turn out GREAT and you're already cooking in the woods with hot coals and cast iron why add more stress?
Add the ingredients to a bowl and stir till a soft dough forms.
On a lightly dusted surface knead the dough 10 times, and roll to a 1/2 inch thick.
Place into a pre-heated Dutch Oven lined with foil. I go with 25 hot coals on top and 13 on the bottom. This gives me right around 425 degrees as measured with a thermometer. You need to learn the ins and outs of your Dutch Oven so consider this a rough guideline.
The Gravy
With my dutch Oven Biscuits and Gravy the gravy is the star of the show. It is super simple to make but does take a bit of time. While my biscuits are waiting to go in I start my gravy in a cast iron skillet. I put the hot coals on and under my Dutch Oven to get it pre-heated. My particular Dutch Oven has legs on the lid so I can cook on top of it with a cast iron skillet or another Dutch Oven.
Brown the sausage and cook until no longer pink in the middle. I break it up into nice bite sized pieces.
Add the flour to the pan and mix it in with the sausage and drippings. This is sort of a faux roux. I could get all fancy and pull the sausage out and make a proper roux but if you're cooking in the woods why put on airs?
Let the flour cook with the sausage and drippings for just a minute or so to warm it through and eliminate and lumps. Add the milk slowly and stir.
Cook the mixture down while stirring occasionally. Let it go without bringing it to a hard boil to it is at a consistency you like.
Add salt and pepper to taste!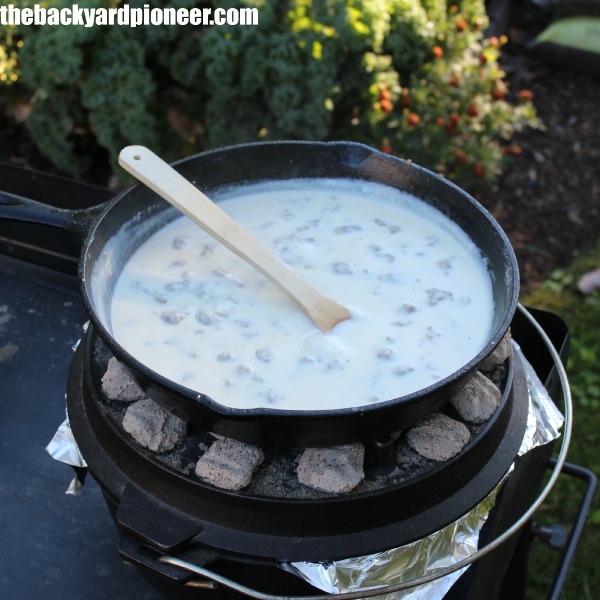 Now the trick to getting this meal all together at the same time is to start cooking the gravy on top of the pre-heating Dutch Oven. I add the biscuits into the oven right before I add the milk to the skillet. This lets you bake the biscuits while you finish the gravy. It is economical and just plain cool!
The Wrap-Up
Dutch Oven Biscuits and Gravy is a classic stick to your ribs recipe that will be a big hit next time you are camping! My mouth is watering just thinking about it!
If you liked this version of Dutch Oven Biscuits and Gravy check out my other Dutch Oven Recipes.
Affiliate Disclosure: I am grateful to be of service and bring you content free of charge. In order to do this, please note that when you click links and purchase items, in most (not all) cases I will receive a referral commission. Your support in purchasing through these links enables me to keep the content train rolling