Dutch Oven Cooking
Since September is Preparedness Month I've teamed up with my friends at Prepared Bloggers to bring you 30 Days of Preparedness. Each day a different blogger will tackle a Preparedness related topic, I've signed up for Day 20 how to prepare a meal with off-grid cooking techniques. I'm excited to tackle this project and showcase Dutch Oven Cooking. I think that Dutch Oven Cooking is one of the premier skills you can cultivate for short and long term preparedness.
History Of Dutch Oven Cooking
The Dutch weren't the first people to create cast iron cookware but they may have been the best. They perfected a method of sand casting iron vessels that left an amazingly smooth finish on their pots and pans. In particular the large pot that to this day bears their name became an amazing success. It was this black pot or Dutch Oven that would help settle the Western reaches of the United States! Sounds a bit unbelievable until you consider how settlers were able to trek across a Continent with nothing more than what their ox drawn wagons could carry. Each day on the trail they were responsible for feeding themselves in a time when food preservation was rudimentary at best. Nobody was ripping open MRE's or Mountain House. It fell to those skilled in the arts of Dutch Oven Cooking to prepare meals to nourish those out on the trail and you can be sure that they wrung the most out of those big old hunks of cast iron! They were serving much more than just soups and stews! In fact the Dutch Ovens of the wagon trains prepared the daily bread on those long and treacherous journeys. Dutch Oven Cooking also found it's place in a later day as cowboys mounted the great cattle drives of the West as they moved the herds to market. In this day and age unless you have a nut like me in your circle of friends or were exposed to it in scouting the art of Dutch Oven Cooking may be lost to you. Keep reading and I'll show you how to prepare a pretty mean breakfast that will fill your belly with warm food on a rough morning.
Dutch Oven Cooking Tips And Tricks
Before you delve into the world of Dutch Oven Cooking there are a few hard won tips and tricks you should know about.
Get a lid lifter! Maneuvering around a heavy piece of cast iron that is in the 300 to 400 degree range is best done with the proper tool.
Welding gloves are your friends. Having a pair of these while using a Dutch Oven comes in handy.
Use a charcoal starter. Having hot coals at the ready is a must.
Get to know your temperature ranges. Having a good idea of how many coals you'll need to achieve your desired temp is paramount to successful Dutch Oven Cooking.
I love using Parchment Paper for bread and biscuits. It makes clean-up a breeze and is very helpful in getting them into and out of a hot Dutch Oven.
When baking don't be afraid to pre-heat the lid!
 Dutch Oven Cooking In Practice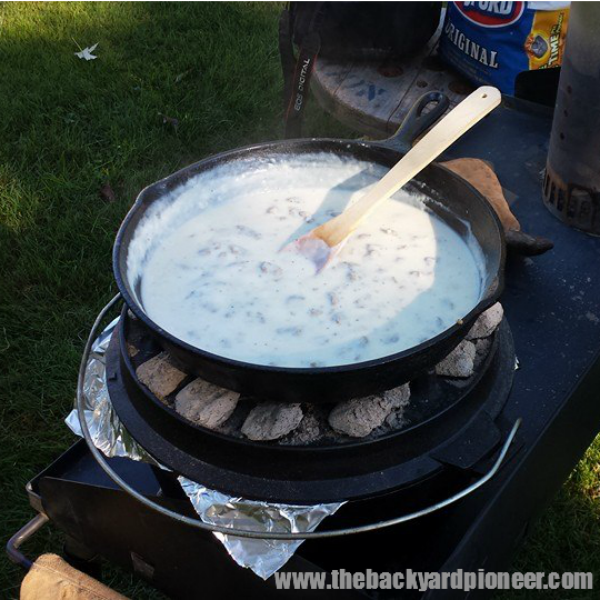 One of my favorite recipes for camping and preparedness happens to be Biscuits and Sausage Gravy. It is a simple and hearty meal that evokes a lot of nostalgia in people. Now it isn't a meal to be made strictly out of food storage but it is excellent to make the day after a big storm when you are looking to use up the food in the refrigerator.
This recipe showcases a few important techniques in off-grid Dutch Oven Cooking. While the sausage gravy is being prepared on the top coals of the Dutch Oven the biscuits are baking inside of it. You can also stack multiple Dutch Ovens using a technique like this. This lets you get a lot of bang for your buck when it comes to conserving fuel.
For a bunch more check out my Dutch Oven Recipes page. . .
Thanks for joining the Prepared Bloggers as we work our way through 30 Days of Preparedness. September is National Preparedness Month so you will find everything you need to get your preparedness knowledge and skills into shape.
Take one post each day, learn as much as you can about the topic and make it a part of your preparedness plan.
Day 1 – Ready, Set, Get Prepared! Welcome to 30 Days of Preparedness from PreparednessMama
Day 2 – The Family Meeting Place and Escape from Laughingbear Adventures
Day 3 – I'm Safe! How to Communicate with Family in an Emergency from PreparednessMama
Day 4 – Does Your Family Have a Fire Escape Plan? from Home Ready Home
Day 5 – Preparedness For Pets from The Busy B Homemaker
Day 6 – The Escape Exercise from Laughingbear Adventures
Day 7 – It all Falls Apart Without Mental Preparedness from PreparednessMama
Day 8 – It's a Matter of Emergency Kits from A Matter of Preparedness
Day 9 – Nine Great Emergency Light Sources Other Than Flashlights from Food Storage & Survival
Day 10 – Cooking Without Power from Mama Kautz
Day 11 – The Importance of a Shelter & Staying Warm and Dry from Trayer Wilderness
Day 12 – The Importance of Having The Right Tools In Your Pack from Trayer Wilderness
Day 13 – Practice Living Without Electricity from Food Storage Made Easy
Day 14 – How We Choose The Right Gear – (including the MultiFlame Tool) from Trayer Wilderness
Day 15 – Water Storage & Purification from The Busy B Homemaker
Day 16 – Food and Water for a 72 Hour "Go Bag" from Homestead Dreamer
Day 17 – 8 Foods You Should Be Storing and How from Melissa K Norris
Day 18 – Planning Your Pantry from The Organic Prepper
Day 19 – Stocking Up on Non-Food Items from Living in Rural Iowa
Day 20 – Dutch Oven Cooking: Off-Grid Before Off-Grid Was Cool from The Backyard Pioneer
Day 21 – Pressure Canning the Harvest from Timber Creek Farm
Day 22 – Personal Protection & Awareness from Living in Rural Iowa
Day 23 – KISS First Aid from Herbal Prepper
Day 24 – Mommy, I have to go Potty! from Mom With a Prep
Day 25 – Fire Starting 101: The Why and How of Lighting a Fire for Survival from Food Storage & Survival
Day 26 – How to Filter and Purify Water from Prepared Housewives
Day 27 – How To Make A Shelter from Trayer Wilderness
Day 28 – Put Your Preps to the Test with 24 Hours Unplugged from The Organic Prepper
Day 29 – What Is Char and Why You Should Have It To Start A Fire from Trayer Wilderness
Day 30 – How To Utilize Bushcraft Skills and Forage From The Wild from Trayer Wilderness
Affiliate Disclosure: I am grateful to be of service and bring you content free of charge. In order to do this, please note that when you click links and purchase items, in most (not all) cases I will receive a referral commission. Your support in purchasing through these links enables me to keep the content train rolling