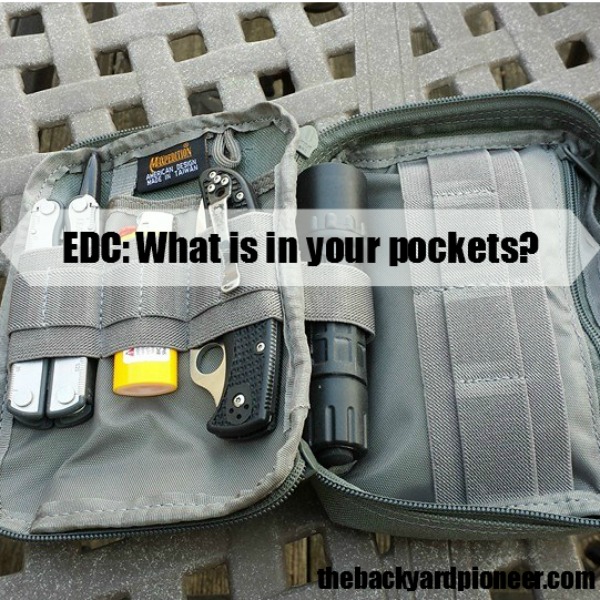 An EDC Kit is the first line of defense against whatever life might throw at you. I fill my EDC Kit with proven gear and gadgets that not only make my day easier but serve as last ditch tools in case of an emergency. A good EDC Kit is light enough that you will have it with you but capable enough that it will be of some use. Remember an EDC Kit isn't a Bug Out Bag or a Get Home Bag, it's main mission in life is to make your life easier!
EDC Kit
Knife
Spyderco Endura 4: A classic pocket knife that won't let me down. The VG-10 steel holds a sick edge and sharpens easily.
>>> Buy It Now <<<
 Multi Tool
Leatherman Fuse: This discontinued model has been a staple of EDC for the past 10 years. It doesn't have the latest gee-whiz super steel but it gets the job done. The Leatherman Wingman has taken it's place in the line-up.
>>> Buy It Now <<<
 Flashlight
Surefire G2: Another oldie but a goodie in my EDC Kit. This is one of the old school non-LED ones. I really can't recommend it as the battery life is pretty poor but it was pretty trick when I got it. I would go with a SureFire G2X Pro Dual Output LED the battery life on this one is great and the high output is amazing!
>>> Buy It Now <<<
 First Aid Kit
A decent pocket first aid kit: I use Adventure Medical Kits for all of my first aid needs. I think their kits are pretty comprehensive and come in a bunch of sizes and price points. For an EDC Kit I go with their Ultralight & Watertight .3
>>> Buy It Now <<<
 Carrying Case
>>> Buy It Now <<<
 Sundries
Disposable Lighter
Bandana
Duct Tape
Para-Cord
Pen
Glow Stick
Hand Sanitizer
An EDC Kit isn't supposed to get you through a Zombie Apocalypse it gets you through the daily disasters that we call life. My EDC Kit provides a capable companion and it is never far from reach. While it won't supplant a Bug Out Bag or Get Home Bag it provides the first tier of a well thought out preparedness system.
If you liked My EDC Kit checkout:
EDC Knife: What Is Right For You?
Affiliate Disclosure: I am grateful to be of service and bring you content free of charge. In order to do this, please note that when you click links and purchase items, in most (not all) cases I will receive a referral commission. Your support in purchasing through these links enables me to keep the content train rolling