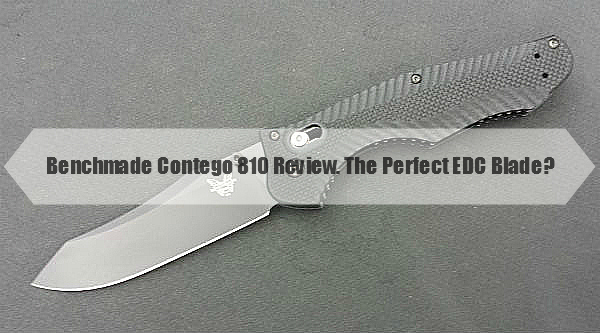 Benchmade Contego Review
If you have been reading The Backyard Pioneer for any length of time you know that I have a bit of a problem when it comes to things made of steel that are sharp and pointy. So it should come of no surprise that a Benchmade Contego 810
  followed me home and ended up in my stable of knives. What might surprise you is that the Benchmade Contego may have actually cured me of my wandering steel eye. For the first time in my life I am actually considering knife monogamy! I know a committed knife "player" like myself is contemplating settling down, but when you find the one sometimes you just have to put a ring on it.
Overall Length: 9.28″ Blade Length: 3.98″ Blade Thickness: 0.156″
Blade Style: Reverse Tanto Blade Steel: CPM-M4
Handle Material: G10
Closed Length: 5.30″ Handle Thickness: 0.55″
Weight: 5.92 oz. Lock Mechanism: AXIS Class: Black
>>> Click For Current Pricing <<<
Ergonomics
The Benchmade Contego has excellent ergonomics. The handle is made of G-10 and has the best grippiness I have had the pleasure to encounter. G-10 is a pretty interesting material, it is layers of fiberglass soaked in resin, highly compressed, and baked. It is impervious to liquids and changes in temperature. I have read a bunch of other reviews that say that the Benchmade Contego has way to aggressive of a grip and that it is uncomfortable. I have to respectfully disagree with them. It maybe that I have Lineman hands but I think it is a bit nit-picky to point this out. I find the Contego to be comfortable in all grips and the jimping to be just about perfect. With gloves or without you won't easily lose your grip on this beast.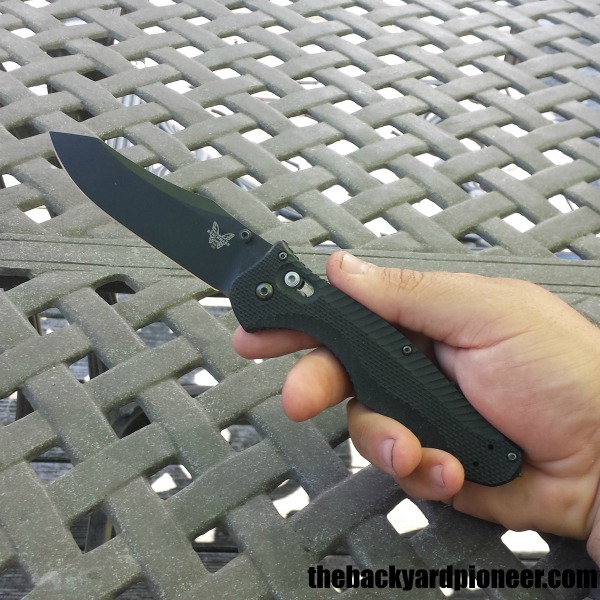 —> Buy This Beast NOW!!! You Know You Want To!!! <—
Blade
The Benchmade Contego has a pretty unique blade shape. Benchmade describes it as a Reverse Tanto. This design puts the tip in line with the pivot point for a lot of stabbing power and provides for a lot of strength. I also find it to be extremely good looking design as well, as the curves are a bit high tech looking.
The blade of the Benchmade Contego is made of Crucible Industries CPM M4 high speed steel. This is the latest wonder steel and the knife community is all a flutter. M4 is mainly used for high speed cutting tools and specifically for applications that require high wear resistance. It isn't a stainless steel though so care must be taken to ensure that the blade doesn't rust. I am really impressed with it so far. It is proving to live up to it's hype. I use my knife daily in some pretty demanding circumstances and the Contego has only needed some light stropping. Cutting wet sandy ropes is usually the kiss of death for most steels but the M4 is handling it with aplomb. I can honestly say it is holding up at least twice as well as s30v and has been easier to keep sharp as well.
Because the Benchmade Contego has a non-stainless steel blade it has a pretty trick high tech coating called BK1. This coating is holding up extremely well under my normal work conditions.
The Lock
The Benchmade Contego 810 is equipped with the proprietary AXIS Lock. The lock is simple and elegant. A small spring applies pressure to a moving bar. This bar moves into position and solidly locks the blade open. The sweet part of this set-up is the lock is also the retention device. The same bar keeps the blade closed with just enough tension to keep it in place, but if you give it a good hard flick is SNAPS open with authority! This is probable the most fun aspect of the knife, the THWACK it makes does have a tendency to make heads turn, it is awesome! On a more pedestrian note the AXIS Lock is also ambidextrous.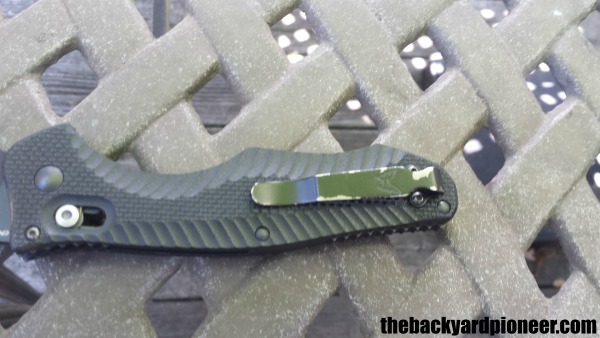 Carrying The Benchmade Contego
The Benchmade Contego 810 is a beast of an EDC Knife. It is among the largest of my collection and is easily as big as the Spyderco Manix 2 XL
or Spyderco Resilience
. It is bit heavier than what I would normally carry but it rides well in my pocket thanks to Benchmade's deep carry pocket clip. Due to the size of the knife I had to move my Leatherman Juice S2 Multi-Tool
over to my left pocket instead of it's normal home in my right pocket. It was just a tad uncomfortable for both of them to ride together.
The Benchmade Contego is holding up well to EDC use. As you can see above the pocket clip is getting a bit banged up, but the rest of the knife is built like a tank and is shrugging off all I can throw at it.
The Wrap-Up
Love is the only word that comes to mind when I think of the Benchmade Contego 810
. It easily gets a 5 out of 5 Stars from me, it is that good. I can't even come up with anything to nit-pick on this knife. It has become the shining star of my collection and it will take something serious to come along, and knock it out of the top spot in my EDC rotation. I might have to give the Benchmade 940 Osborne
a try to see if it can beat out it's younger brother. So, yes I think the Benchmade Contego is damn near perfect.
You Might Also Like
Benchmade Contego 2 Minute YouTube Review
Spyderco Resilience: A Gear Review
Spyderco Manix 2 XL : A Gear Review
Affiliate Disclosure: I am grateful to be of service and bring you content free of charge. In order to do this, please note that when you click links and purchase items, in most (not all) cases I will receive a referral commission. Your support in purchasing through these links enables me to keep the content train rolling