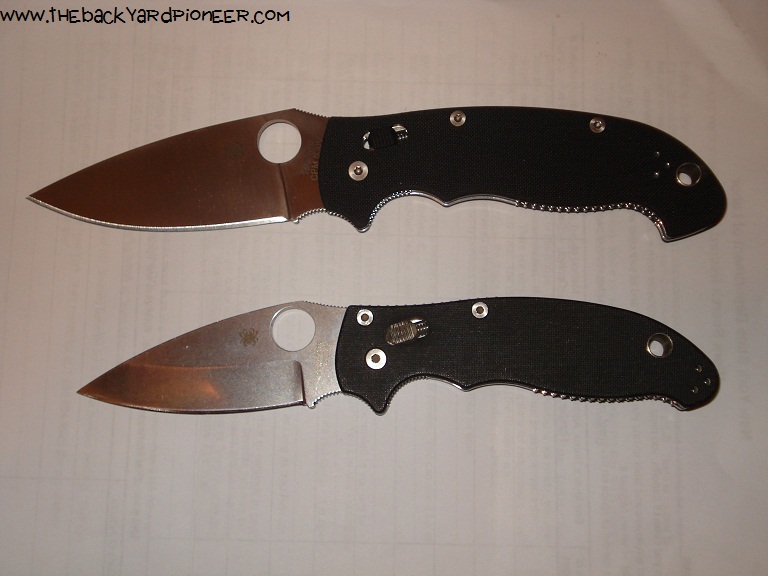 Last year I did a gear review of the Spyderco Manix 2, this time I around I'm reviewing it's big brother the Spyderco Manix 2 XL
Spyderco Manix 2 XL
The knife is well made with a rock solid lock up courtesy of the ball bearing style lock. The 3.8 inch blade is full flat ground and made of premium S30v steel. It came out of the box scary sharp! I carried it for two weeks as my EDC (everyday carry).  My EDC knives get used for all sorts of Lineman fun: cutting rope and twine, opening boxes, cutting zip ties, stripping some cable, and garden duty. The most tortuous thing I do with my knives is cut Mule Tape. It is the 1800# test nylon/kevlar pulling tape we use for pulling fiber optic cable. Mule Tape is tough stuff to begin with but when wet (which it usually is) it picks up sand and is Hell on blades. The S30v handled it well with only a minor touch up needed after a day of work.
Pro's
 The 2 XL is a big hand filling knife. The non-traditional handle shape offers excellent ergonomics and a variety of grips. The integral choil lets you choke up on the knife for finer tasks. The G-10 handles offer a superb grip even when wet. The handles and some jimping in the right spots  give you a knife that is not coming out of your hands. The Full Flat Ground blade is razor sharp and cuts like no tomorrow. The S30v is a premium knife steel and one of the best being used in folding knives. For a big knife it carries well, Spyderco did a nice job of keeping the weight down and the fit and finish is what you expect from Spyderco.
Con's
This is a BIG knife, Spyderco did a nice job of keeping the weight down and to make it carry well but it is an overkill knife none the less.
The Verdict
I love this knife but it is a conditional love. I can find no fault with it outside of it's size. I'm a knife guy and can live with a scary blade but this one did get more than it's fair share of side ways glances. With a good hard flick it snaps out with an impressive CLICK! It comes off as a bit more of a weapon than a utility knife. I like big knives but that is just how I roll, for a good work knife I'd lean more towards the Spyderco Manix 2
instead of the XL. If you want a big tough knife and don't mind scaring little old ladies get the XL. 3/5 Stars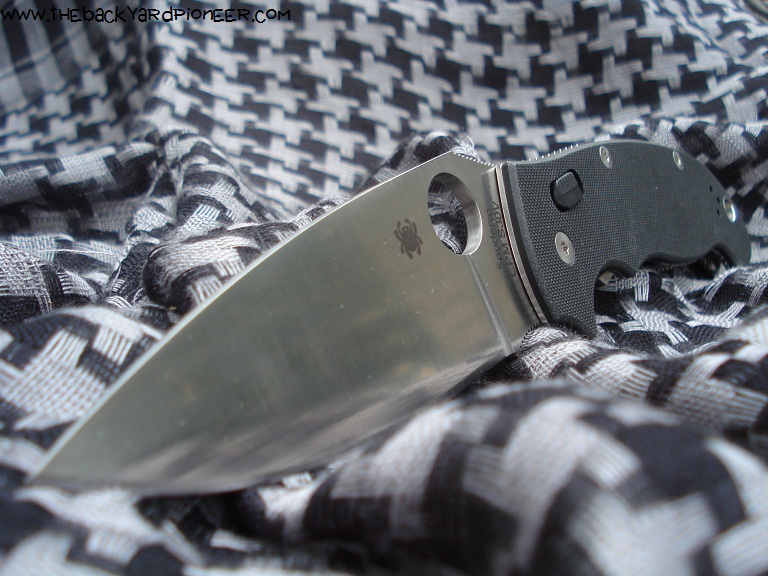 Affiliate Disclosure: I am grateful to be of service and bring you content free of charge. In order to do this, please note that when you click links and purchase items, in most (not all) cases I will receive a referral commission. Your support in purchasing through these links enables me to keep the content train rolling