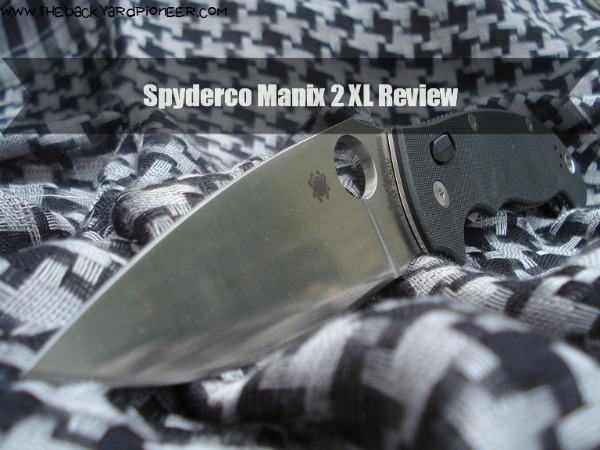 Spyderco Manix 2 XL Review
The Spyderco Manix 2 XL
is a beast of a knife! For sheer size it is right up there with the Benchmade Contego
and the Spyderco Resilience
. When Spyderco combines a premium steel with an exotic handle material and thoroughly modern lock you just know they are going to hit it out of the park!
Blade Length- 3.85″
Overall Length- 8.94″
Closed Length- 5.09″
Blade Thickness- .125″
Blade Steel- CPM S30v
Weight- 5.2 ounces
Ergonomics
The Spyderco Manix 2 XL is a big hand filling knife but it's unique design allows it to tackle any reasonable task thrown it's way. The handle seems custom fit to your hand and you will find it comfortable in all grips. The generous choil allows you to choke up considerably and perform some surprisingly small jobs with the Spyderco Manix 2 XL.
The handle on the Spyderco Manix 2 XL is made of G-10. G-10 happens to be one of my favorite handle materials and I have a bunch of fixed blade and folding knives which use it. I do find that Spyderco's G-10 is well made and attractive but I find it to be a little to slippery for my complete satisfaction. I really feel it could use a bit more texturing. The Spyderco Manix 2 XL makes up for the lack of texture on it's handle by having a TON of jimping all around the handle and blade to make sure your grip stays tight.
Blade
The blade on the Spyderco Manix 2 XL is 3.85 inches of full flat ground s3ov steel. The blade is .125 of an inch thick and it came from the factory hair shaving sharp. The full flat grind makes the Spyderco Manix 2 XL an excellent slicer and it excels at food preparation.
S30v is a top notch premium steel and will hold up to an incredible amount of abuse. S30v is first and foremost a cutlery steel. It was dreamed up as the ultimate knife steel by famed knife maker Chris Reeve and Dick Barber of Crucible Industries. It's chemistry promote the even distribution of Vandium Carbides which are even tougher than Chromium Carbides. This leads to a tough steel that resists wear with the best of them. The only steel that I have experience with that surpasses the s30v in the Spyderco Manix 2 XL is the M4 steel that comes in the Benchmade Contego.
The Lock
The Spyderco Manix 2 XL has Spyderco's Ball Bearing lock. The Ball Bearing Lock consists of a ball bearing encased in a polymer cage that is spring loaded. When the blade is open the ball bearing rides into a detent in the blade positively locking the blade open. The ball bearing lock is tres smooth. The Ball Bearing Lock compares very well to Benchmade's AXIS lock and to me they seem like 2 peas in a pod. I'll admit to liking the AXIS lock a bit better as I find it easier to use one handed.
Carrying The Spyderco Manix 2 XL
For a big knife the Spyderco Manix 2 XL carries very well in your pocket. I have become accustomed to having more pocket clip options than just left of right hand carry but the design of the ball bearing lock precludes anything more, so tip up carry is your only option.
The over-sized (14mm) Spyderhole is one of my favorites. The large opening makes for smooth action of the knife. This Bad-Boy SNAPS OPEN with a vicious click and will scare the crap out of non-knife people.
The Wrap-Up
The Spyderco Manix 2 XL is a potent combination of high end materials and superior ergonomics. After some careful consideration I'm going to give the Spyderco Manix 2 XL a 4 out of 5 Stars. This knife is just Bad-Ass!!!
Further Reading
Affiliate Disclosure: I am grateful to be of service and bring you content free of charge. In order to do this, please note that when you click links and purchase items, in most (not all) cases I will receive a referral commission. Your support in purchasing through these links enables me to keep the content train rolling