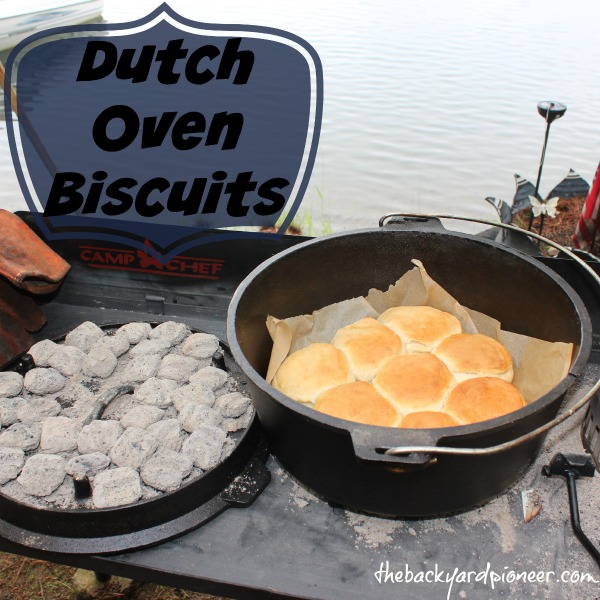 Dutch Oven Biscuits
Nothing is better a camp than Dutch Oven Biscuits! Whether you slather them in butter and jam, cover them in gravy, or have your eggs and bacon on them fresh hot biscuits just make a day at camp that much better. When I'm camping or visiting the lake I'll admit to cheating a little bit when it comes to making my biscuits, I follow Betty Crocker's BisQuick Biscuit Recipe. This recipe makes a fine biscuit, it might not be totally scratch made, but when I'm out in the woods their ease is appreciated, besides the real star of the show is my 12-Quart Dutch Oven from Camp Chef
!
The Prep
Before I start the dough I start my coals (Dutch Oven cooking is all about the preparation!) and preheat the lid. My Dutch Oven Table (also from Camp Chef. . .are you detecting a trend yet?) makes this a snap, it is so nice to be up and out of the dirt. As you can see from my picture plenty of top heat is the key. I shoot for a 3:1 top to bottom ratio on the coals.
Using Parchment Paper
I like to use Parchment Paper when I bake in my DO. It makes lifting the biscuits out of the DO a snap, eases clean up, and eliminates sticking. The tricky part of baking in a DO is the timing. I give the biscuits at least 10 minutes and then start checking them for doneness. I love to see that nice golden brown color on top.
The Wrap-Up
Give them a try next time you are camping! Biscuits are the perfect things to make the leap to baking in a Dutch Oven. Remember this versatile piece of gear is much more than just a heavy pot, and you aren't limited to only soups and stews.
If you liked this you might also like:
Affiliate Disclosure: I am grateful to be of service and bring you content free of charge. In order to do this, please note that when you click links and purchase items, in most (not all) cases I will receive a referral commission. Your support in purchasing through these links enables me to keep the content train rolling