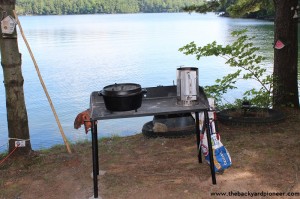 If you follow me on Facebook or Pinterest, you have seen plenty of pictures of the Camp Chef 38″ Dutch Oven / Camp Table
already, but now it is time I gave it a serious Gear Review.
Disclaimer: Camp Chef sent me this table as part of a Sponsorship Package for my aPORKalypse event. The fact that it was given to me will in no way color my review and I hope that after a few years of running The Backyard Pioneer my readers know that I won't tread on their trust.
With the disclaimer out of the way it is hard not to gush over this table. Maybe I've been squatting in the dirt for too long to do my Dutch Oven cooking, but the simple joy of having all my stuff (Dutch Oven, charcoal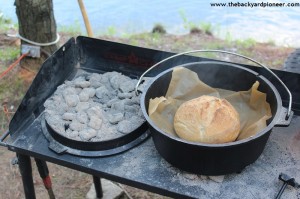 chimney, hot coals, and utensils) at a comfortable working height was an eye opener. I'm actually not sure how I went this long without one of these things! The table is heavy duty, since it is designed to hold two 30 pound Dutch Ovens it needs to be. The table assembles easily and has a nice solid feel to it. The wind screen is a nice touch and is as functional as it is good looking.
Pros:
Heavy Duty
Easy of assembly
The right height for working
Wind screen makes lighting coals and keeping them hot a breeze
The handles make a handy spot for utensil hanging
Cons:
Doesn't come with a carrying bag.
Conclusion:
If your are a fan of Dutch Oven cooking the Camp Chef Dutch Oven table is a worthwhile investment. It makes Dutch Oven cooking that much more enjoyable, be it in the backyard or lakeside. It can also serve double duty as general table in a camp setting.
Even without a carrying bag I've got to give this piece of gear a 5/5 Star Rating!!! It should last damn near forever and really enhances Backyard Dutch Oven cooking.
Affiliate Disclosure: I am grateful to be of service and bring you content free of charge. In order to do this, please note that when you click links and purchase items, in most (not all) cases I will receive a referral commission. Your support in purchasing through these links enables me to keep the content train rolling