After my mini Gear Review of  the Wustoff Classic Chef's Knife I was lucky enough for a few of you guys and gals to e-mail about how lucky you have been finding quality knives at Thrift Stores. Pat from Arcadia Knives was nice enough to send along a picture as well. Pat has been a friend of  The Backyard Pioneer since the beginning and I recommend stopping by and checking out his work if you get a chance, his custom knives are works of art!  He also was kind enough to answer a few questions for me about knives: 5 Questions with Patrick Burns of Arcadia Knives.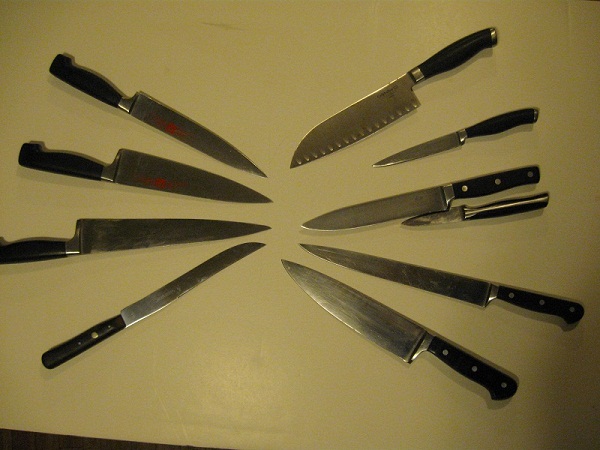 Pat wrote:
"The top 2 knives on the left are the knives I commented about.  They were at a thrift store I frequented almost daily .  I paid 50 cents for the two and saw them online for $80 and $90.  We use these knives daily and routinely rotate the knives through our knife block.  All 4 on the left side are J. A. Henkels knives.  #3L is a 10″ Henkels  Chef that was badly abused and I still have some work to do on it.  #4L I got at a yard sale, it is SS but in the old butcher style.  $2 Total
Top 2 on right I just picked up for $2.  They are a Calphalon Santoku and paring knife.  I used the paring knife to butcher two deer with.
Middle 2 on right are Chicago Cutlery.  Not the best but I use the 8″ carver for a lot of
butchering tasks and am not afraid to use it hard.  Small paring is really new to me.  $1
Bottom 2 on right are Wustof.  The 10″ slicer was horribly disfigured until I made her pretty again, though a little shorter and slimmer.  The chef knife is a champ and I have 50 cents in these two knives."