Interview With Patrick Burns of Arcadia Knives
I like when you come across someone doing very cool things for themselves. Patrick Burns from Arcadia Knives is one of those individuals. Pat and I started e-mailing after he entered one of my Giveaways. I read all of the e-mails sent to me and I  noticed Pat had a blog himself, and followed the link. I was amazed to see the beautiful hand crafted knives he was creating so I asked if he would answer a few questions for my little blog.
1- For an everyday carry knife (EDC) for working around the homestead what would you recommend as far as size and design?
Personally I like a short blade drop point, full tang knife for an EDC.  The knife I carry has a 3″ blade with a burl wood handle and copper pins.  It is made of 52100 ball bearing steel, fits my hand well and feels good.  My EDC has a 3″ blade and an overall length of 7″.  This knife should be big enough for any situation and small enough so that you keep it on you at all times.  With this knife I can do most any of the chores that come up including dressing and skinning any animals.
2-What is your favorite steel to work with?
So far my favorite steel has been 1095 high carbon steel.  For me it?s easy to work with such as cutting out the profile, grinding the bevels and heat treating.  It's very consistent for my knife making needs and that ensures consistent quality.              I also use 1084 high carbon steel and a bit of 52100.  In 1084, 1095 and 52100 these underlined numbers refer to the amount of carbon they are composed of.  It represents .84%, .95% and a whopping 1% of carbon in the steel.  These steels are somewhat similar in composition but differ because of varying quantities of other components that give each steel different qualities.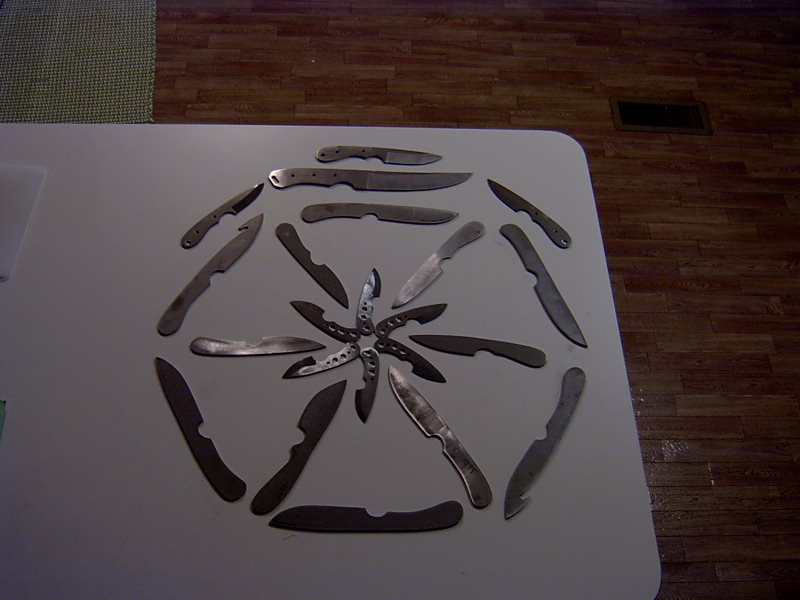 3- I've read a lot about forging versus stock removal. Are there any overwhelming benefits to either method or is it just personal preference?
Forging blades is how I started making knives.  There is something mystical about using fire to create things.  With hammer and fire you can start out with just about any size/shape piece of steel and pound it into the desired shape.  Forging allows you to form the distal taper on the blade.  This is from the handle, the steel tapers or thins all the way down to the tip.  It reduces weight, gives a knife a more pleasing appearance and helps the overall blade geometry.  Some bladesmiths also taper the handle.

    Stock removal is just that.  You start out with a flat piece of steel and grind away anything that doesn't look like a knife.  The knife maker has more design options with stock removal. I use both processes and don't generally favor one over the other, although I've been a pyromaniac my whole life.   

 Fire softens the steel to be able to work it. Fire hardens the steel to take an edge while keeping the spine flexible so as not to break in extreme use.

    From what I've read there is no great benefit to either method.  The most important process is the final heat treat and tempering for the particular steel, for the knifes intended purpose.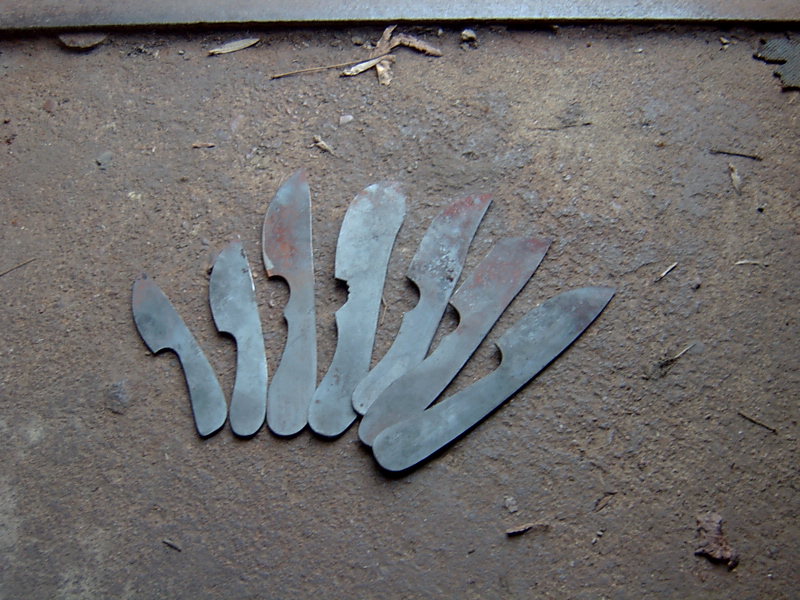 4- If someone is considering having a custom knife made what are the questions they should be asking to make sure they are satisfied with what they get?
This is going to be a long answer for y'all.  First of all, you as a customer should have some idea of what you are looking for, or at least a general idea of what you want to use the knife for.  This will help determine style or design and overall size.  Usually you find a knife maker whose style you really like, then you have them make a knife for your purpose in their style.  Ask for a drawing of the knife you want so both you and the maker are on the same page.

Now lets break it apart and start with the most important part of the knife:

    Steel– There are quite a few steels out there to work with.  Get what you want.  I work exclusively with high carbon steels.  Their qualities include good edge retention and ease of sharpening.  They can be heat treated without a lot of high end equipment, which can save you money.  Find out what a maker works with and go from there.  If you ask a maker to use unfamiliar steel there will surely be additional costs to have it professionally heat treated.

    Handle– There are LOTS of different materials to choose from.  Know what you want?  How about the old standby?s walnut or maple wood?  Want fancier? 

Burl woods are highly figured anomalies of the main tree that are stunningly beautiful.  They will dress up any knife but will add a hefty price.  Make sure any burl wood has been stabilized, that is impregnated with a chemical to keep it dimensionally stable. 

Then there is composite woods like diamondwood or packawood.  They are layers of wood laminated together to give a stable substrate.

    Micarta is a composite material made of paper, cotton material, burlap and many other things layered with a phenolic resin that makes it impervious to the elements.  I have made my own micarta from black denim, canvas duffel bags, pink jeans and multiple colored t-shirts for a psychedelic effect.  See the pic.

    Natural materials are many.  We have giraffe/cow/deer bone, Sambar stag which is a favorite of mine, deer or elk antler and buffalo horn.  Another option is wooly mammoth tusk.  It has been in the ground for thousands of years where the minerals surrounding it creates different colors on the outside.  The inner part of the tusk also ranges in color from white to creamy to browns.  Prime mammoth scales can cost the maker as much as $250 for one set.  Yeah that's pretty crazy.  There are a lot of choices for you to consider so narrow it down.

    Bolsters or a guard is another thing to consider.  Most guards are brass or stainless steel.  Bolsters are at the front of the handle and can be almost any material you like.  Wrought iron, mokume gain, contrasting wood type, antler, buffalo horn or composite material would be good options for bolsters. 

    Finish of the blade is also of consideration.  How do you want it to look when the knife is delivered to you?  Would you like to see your reflection on the blades mirror polish?  How about a bead blasted finish?  I prefer a nice satin finish, but have been wanting to do some sort of patina on the blade to give it an aged look.

    Sheaths are next.  What kind of sheath do you favor?  Most makers have a style of sheath they make for most of their knives.  Do you like it?  What would you have them change for your knife sheath?  Do you like it plain or would you prefer some custom leatherwork?  Are you right or left handed?  How do you like it to ride on your belt?  High/low, canted forward/back or straight up/down?  Will it be a cross draw with opposite cant or maybe horizontal/scout style?  Do you want it to dangle with a D ring or be able to tie it to your leg if it?s a big knife.  Would you like anything to attach to the sheath such as a fire starter?  What color do you want?  Most guys only use a couple basic colors but can get leather dyes in many colors.  Be aware that leathers dye differently from one to another. 

    Don?t forget about Kydex sheaths.  Kydex is a thermoforming plastic that conforms to the shape of your knife when it?s heated and pressed around it.Kydex comes in different thicknesses and a bunch of cool colors.  The advantages of Kydex are excellent retention and protection.  Another advantage is that it doesn't retain moisture like leather can.

We have to know all of this stuff before we can start a project for a custom knife.

    Now comes the hard part.  Waiting.  If you are having a custom knife made you must expect to wait for it to be completed. Some of your material choices will add time to the job.  It seems like 3-4 months might be average for most small time makers.  Some of the Big Boys have waiting lists of 1-4 YEARS.

    Payment should not be expected up front.  Some makers may require a deposit to cover materials that you request like those mammoth scales you gotta have and the sharkskin sheath inlay.  Be prepared.  As for me I expect payment when the knife is complete and ready to ship. 

Remember ?Custom? is usually open to interpretation.  So get involved with the design.  You other option is to just buy a knife from a maker who?s style you really like.  Pick Me!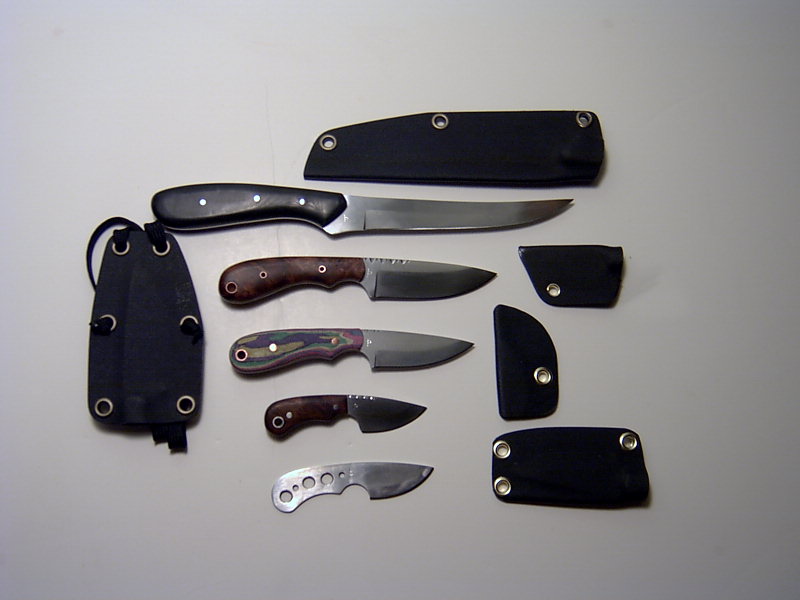 5- Since you can pretty much make and carry whatever you want, what is your favorite blade to carry?
Hmmm? What is my favorite blade to carry?  This question is a little hard to answer.  It all depends on what I?m doing.  I usually carry three knives every day.        First knife in my pocket is a Swiss Army Knife (SAK) for utility purposes that was given to me by my son about 15 years ago.  This has a sharp blade, scissors, can& bottle openers, regular/Philips screwdriver among other things. This knife gets used every day and it has sentimental value.

Next is a Kershaw assisted opening knife with serrations for quick deployment, one hand opening and self defense.  I carry it daily but don't necessarily use it much.  It's there when I need it, opens quick and is always sharp.

Third knife is my home made neck knife.  It took a little while to get used to wearing a knife around my neck, but now I don?t even notice it.  If the SHTF I'll use this knife because it?s small, stout and wicked sharp.  It isn't always easy to carry a fixed blade knife but they are more dependable and you don?t really even see that I'm wearing it.  Mostly I use it for personal things like cutting a nice venison steak, making a sandwich and opening letters & boxes. 

They all have their functions.  You must determine what your uses are and what knives will work for you.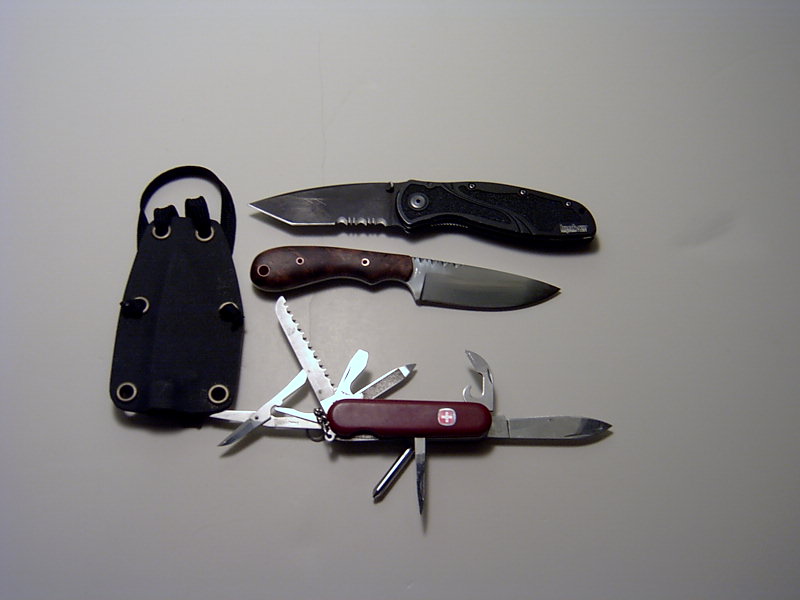 Pat also adds :
If there is anything I can do to help you in your quest for a good using knife, don?t hesitate to call or email me.  I am honored to have been chosen to take part in your "5 Question" interview.  Like you I'm a homesteader that tries to rely on myself for the things I need.  If I can I'll make what I need first.  All the knowledge we share amongst ourselves keeps us alive.

I have always been interested in creative endeavors. So while taking blacksmith classes I became hooked on knives. The more I learn about this art the more creative I feel.

All my knives are made by hand. That is to say I control the outcome of the knife not the machine. They are made of high carbon steel for edge retention and durability. All the dimensions of my knives are based on function and how they feel.

Fire softens the steel to be able to work it. Fire hardens the steel to take an edge while keeping the spine flexible so as not to break in extreme use.

Hand crafted knives have soul. Each is created with skill, care, sweat and fire. My belief is that every piece of high carbon steel has a knife inside waiting to get out. I just try to help make it happen.

Jewelry has become an interest that really sparks my imagination. The materials used are an extension of my knife making.

Copper, Mammoth Tusk, Horn, Silver and Wood compliment a person and are naturally beautiful. My jewelry is simple, yet is created to enhance the beauty and the metaphysical aspects of the wearer.
Pat can be reached at:
Waynesboro, TN 38485-5018
931-722-5919 or 931-332-5684
Affiliate Disclosure: I am grateful to be of service and bring you content free of charge. In order to do this, please note that when you click links and purchase items, in most (not all) cases I will receive a referral commission. Your support in purchasing through these links enables me to keep the content train rolling