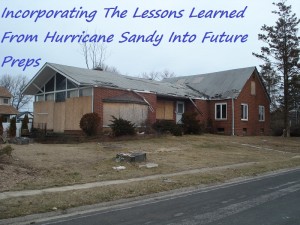 I've been giving a lot of thought on how to go about incorporating the lessons learned from Hurricane Sandy into future preps. Hurricane Sandy was a real life SHTF for my region, I was lucky enough not to suffer anything outside of minor damage to my property and my family was all safe. The storm did expose some holes in my preps and these are my thoughts on how I can address them going forward.
Generator – My biggest problem was going without power for 8 days. I've written about my experience of living with a generator and have decided that I need to convert my generator to run on gasoline, propane, and natural gas with a Tri-Fuel Conversion from US Carburetion. This will give me a near unlimited supply of fuel for the generator without having to leave the house as we cook with Natural Gas. This frees up my 15 gallons of gasoline on hand for use in our cars if we ever face the gas shortages like we did again.
Battery Bank – I think a battery bank is the way to go after dealing with Sandy's aftermath. I don't like running the generator 24 hours a day, and I ran into problems keeping my refrigerator as cold as I would have liked during the overnight. I would like a battery bank that could run the 'fridge, a couple of lights (LED or CFL), the blower on the wood stove, and the TV/SAT for a few hours each night. I would want to keep it charged for emergencies off of grid power and be able to recharge it from the generator as needed. I also look at the battery bank as a way to get the most out of my genny as it can capture the excess power I'm currently losing. I'll be looking into something that is expandable in a modular fashion as I want to be able to ramp up slowly and not go broke on the initial build.
Freezer Plan – I had no trouble keeping our freezers cold, but did run into a little problem in how we cook frozen foods. Generally we cook a dinner with plans for  left overs for lunch the next day. This a something we enjoy, and it makes a lot of sense when the grid is up, but when keeping the fridge cold is an issue, this type of cooking was a problem. We found it made more sense to cook smaller meals more often. The problem was when we pack food for our freezers we tend to package them in to large portions. We'll be cutting the sizes of our freezer packages to reflect this in the future. It might be more of a pain now, but if we get "The Big One" again, it will make life easier.
Batteries – I need to standardize on my battery selection. Right now I've got to many devices, with to many different size batteries. I'd like to get it down to CR123A, AAA Cell, and D Cell for preps. I'll keep a few AA's on hand for remotes but the battery drawer has to much clutter, and batteries are going bad in there without ever making it into use. This needs to change.
My Wife – My wife is an awesome wife, mother, and partner in life. I'm lucky to have her and would be lost without her but. . . she needs to learn how to run the wood stove and generator. She is able and has a "can do" spirit but those things are bit out of her comfort zone. It was only because of my surgery that I was home for the aftermath of Sandy, I would feel better if she was better versed in how they worked. . ."just in case."
Community – After Sandy I really believe that one of the most important things I can do to prepare for the next big disaster is to promote a higher level of preparedness amongst my neighbors. It doesn't have to be radical but I figure something more than what Ready.gov is recommending and something less than a bunker under the backyard. My neighbor is already asking for some suggestions since he had to go and live with his in-laws for a week when it got cold. I'm hoping it isn't a passing fad.
These are the main Prepping related things I will be working on in the weeks and months after Sandy. I'll be sure to document these things along the way. You never know maybe I'll even be able to convince the wife to let me take her shooting!
Affiliate Disclosure: I am grateful to be of service and bring you content free of charge. In order to do this, please note that when you click links and purchase items, in most (not all) cases I will receive a referral commission. Your support in purchasing through these links enables me to keep the content train rolling