8 Days Living With a Generator In The Aftermath Of Hurricane Sandy
My family and I had 8 days of living with a generator in the aftermath of Hurricane Sandy. I'd like to share some of my experiences.
I bought one of the last generators the Home Depot had coming to Long Island on the morning of Saturday 10/27. This was a stroke of luck for me, if I hadn't gotten one after my wife had suggested one after Hurricane Irene last year I would be in "it" deep at home. I'm lucky enough to have a cousin who is a Licensed Electrician and he came over and made me a 240A cord with one of the twist ends and wired it directly to my panel through a new 30A breaker. We lost power at 3:30pm on Monday 10/29. We were just a few hours into the storm and already we were in the dark. I braved the weather, while keeping an eye on the trees for falling branches. We had power back in a few minutes, as I followed all of my cousins advice and powering up went off without a hitch. I had made the decision that for security reasons and for the sanity of my neighbors that I would shut off and lock up the generator each night. Some of the important things I learned were:
Load Management– I bought a decent sized genny (6000watt/7500watt surge) but still didn't want the thing wailing away for no reason. If we were going to be on generator power we were going to be as efficient about it as possible. I worked hard to keep my load low by using lamps with CFL's in them instead of the Hi-Hats (600 watts), we made a pot of coffee (1200 watts) but didn't leave it sitting and using juice, and I kept the oil burner off except for when we needed hot water.
Gas Rationing– I had already committed to being tight with my generator and the gas shortages hitting 2 days after the Hurricane just made me work that much harder to keep my usage in check. We started running a schedule of 8am-12 noon and then 4pm-11pm. This let us cool down the fridge and freezers, cook breakfast with the modern conveniences, take hot showers, and catch up on the news and some Sesame Street for the boy. The down time during the day was for generator maintenance and general peace. At night we had power to make dinner, hot water for cleaning up, and some tv for the Mrs and I. I was surprised how well we were able to do on gas. We got down to the generator being full with gas and one 5 gallon can before I could find a station that had a cash and can only line.
Generator Maintenance–  I was a bit overboard with taking care of the generator. With the way the supply of them was limited, and the way the temperature was dropping, the generator became a very important part of our lives, and I wasn't going to blow it up by neglecting it. I changed the oil after the first 20 hours, using fully synthetic Mobil 1 oil (10w30), and again after 40 more hours. Air cooled engines are hard on oil and a quality oil is very important. Mobil 1 is pricey but I've used it in my Hot Rods for years and feel it is worth the expense especially in something keeping  my family warm and safe. It was this week that the stories of  guys neglecting and blowing up their generators are starting to come out. The worst stories are the guys who take care of their stuff but lent them out to be "good guys", and got that dreaded call "Dude, your genny isn't working", followed by "You have to change the oil?" This sucks.
Security- After the rash of generator thefts during Hurricane Irene I committed to dragging the generator into the garage every night and back out every morning. I kept my gates padlocked and the few times we went out as a family I locked the genny to a big tree with a big chain! This gave me a bit of piece of mind.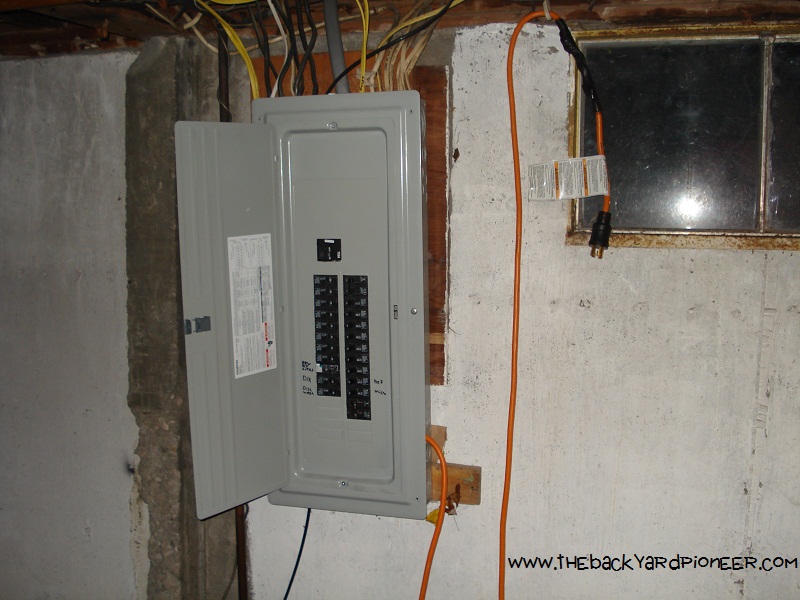 What I would do differently:
Name Brand Generator- If I hadn't sat on my ass after Irene and bought a generator I would have done my research and shopped around for a name brand generator. My genny did the trick but going forward I'm seeing that parts are hard to get and I'd rather have something with a Honda, Onan, or a Briggs and Stratton engine. My current plans are to sell my genny after things calm down around here and use the money towards a name brand model.
Natural Gas Conversion- Whatever genny I end up with I'll be doing a Tri-Fuel conversion on it. This will let me run it on gasoline, propane, or natural gas. I'm really looking to the natural gas to solve a lot of problems for me. We cook with Natural Gas so putting a valve to the side of the house will be no problem and I'll no longer have to keep an eye on a dwindling gasoline supply. Plus Natural Gas is easier on engines with less oil contamination from blow by.
Transfer Switch- I'll be putting in a transfer switch and a plug outside. It wasn't a problem to throw the cord out the window each morning, but the basement was getting pretty cold!
There is my 8 days of generator living in a nutshell. It wasn't bad but it wasn't a picnic either. It sure does beat the heck out of being cold, and in the dark, and I sure won't be caught without a generator again.
Affiliate Disclosure: I am grateful to be of service and bring you content free of charge. In order to do this, please note that when you click links and purchase items, in most (not all) cases I will receive a referral commission. Your support in purchasing through these links enables me to keep the content train rolling