Emergency Heating With A Wood Stove
In the Aftermath of Hurricane Sandy I got a crash course in emergency heating with a wood stove. When it started to get cold I was very thankful that I had installed a Hampton 300 wood burning stove about 5 years ago, I figured I could have gotten by without the generator but I'm not sure my wife and son would have been able to stay in the house with me if we didn't have the stove.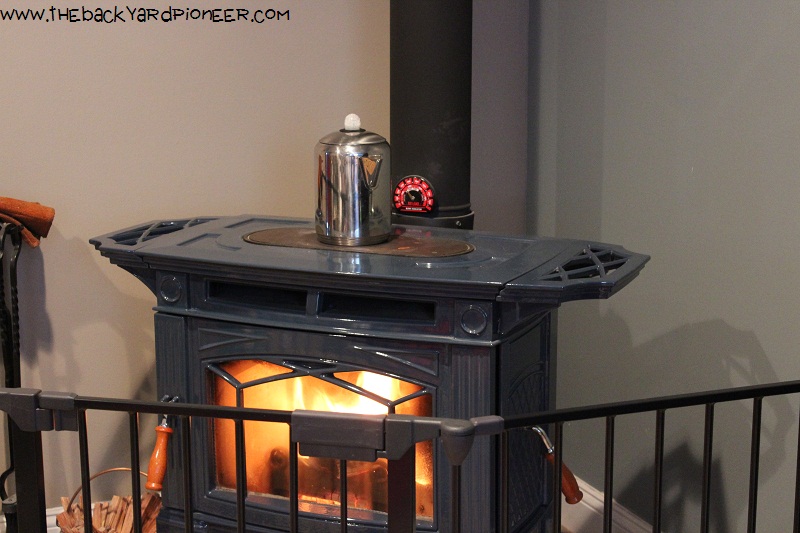 Before The Storm
In the lead up to Sandy coming to town I did a quick tune-up on my stove and we moved a face cord of wood (4′ x 8′ x 16″) into a sheltered spot next to the house. I've got these hoops which slide onto 2'x 4′ s and make a nice little mobile rack, I usually set these up in the garage during the winter when we've got bad weather coming in but, I figured a giant killer Hurricane warranted them coming out early. I've also got a heavy tarp cover that fits over it perfectly with a zipper on the front for easy access.
A Cold Front Comes Through
With a clean stove and a pile of safe dry wood we hunkered down to ride out the storm. The first few days weren't to bad temperature wise but then we had a cold front come in and it was time for FIRE! I'll admit to buying my stove with ideas of having to use it when the chips were down but up until Hurricane Sandy all of my use had been for ambiance or as supplemental heat to save a few bucks. I ran the stove as I normally would but where I usually let the stove go out overnight, now I was packing the stove and dampering down before bed. I packed the wood in and let the stove run with the air intake wide open so the wood I had just put in would catch on fire and I could let the stove get nice and hot. While the stove was doing it's thing I would run around and take care of  putting the generator away, and locking down the house. By the time I got back into the den I would close the air intake down to about 20% open and go to bed. I was turning in between 10 and 11 each night and found I was waking up around 4am (to pee, isn't getting older great?) and I would through a few more logs on the fire. I found I was able to keep the house comfortably in the mid-60's with this method.
Lesson Learned
I'm not glad that we got hit with Sandy but I am glad I had my wood stove to fall back on. Having the experience of using the stove for 5 years was a huge advantage when it came time to use it as our sole source of heat. I knew my appliance and just had to fine tune my method a little bit.
Affiliate Disclosure: I am grateful to be of service and bring you content free of charge. In order to do this, please note that when you click links and purchase items, in most (not all) cases I will receive a referral commission. Your support in purchasing through these links enables me to keep the content train rolling