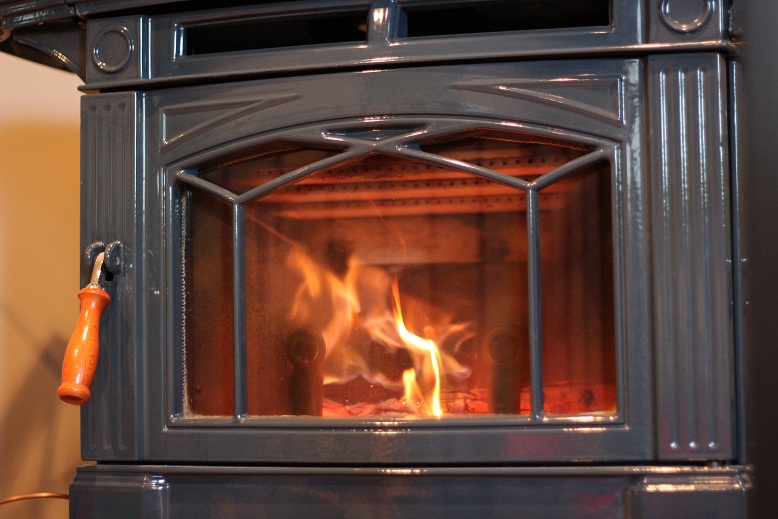 With the the change of season finally taking hold it is time to do a little Spring cleaning for your wood burning stove. I think the Spring cleaning is an essential part of heating with wood. The cleaning is for efficiency and safety.
My cleaning process actually starts with the last fire of the year. I burn this fire hotter than I normally would, I burn with the air intake full open and regulate the fire by adding small amounts of wood. This fire keeps my viewing glass cleans and will make the overall cleaning that much easier.
I start from the top down and this means getting up on the roof and pulling off the chimney cap. I use a steel brush to clean the grate on the chimney cap from any crud that may have built up. I then use a chimney brush with flexible rods to clean the pipe and brush all the soot down into the stove. While I'm up there I inspect around the chimney and the roof for any signs of damage (none so far in 5 seasons!).
Moving down into the house and over to the stove for this I use a shop vac with a HEPA filter (High-Efficiency Particulate Arresting), a whisk broom, and a dust pan. I clean the stove out with the broom and dust pan to get started. My stove has reburners which I take the time to remove. They come out fairly easily and I think it is worth the time to get the stove all the way clean. I give the stove a good top to bottom brushing out before I get in there with the shop vac. I think the HEPA filter is a vital part of this operation. The last thing I want is to blow a bunch of soot back into my house. Unfortunately this comes from hard won experience as I had a regular vacuum bag break while doing this. It was a total mess!
My last step is to give the stove a once over. I check my rope gaskets and fire bricks. The gaskets look good but I'm probably going to have to replace a few fire bricks after next season. I think it important to take care of the stove. It was a big investment and I want it to last a few more decades and provide SAFE and efficieint service.
If you like what you read here on The Backyard Pioneer please consider subscribing to receive e-mail notifications or check me out on Facebook, Twitter, YouTube, or my RSS Feed. All of these are available on the top right of this page. -Thanks for reading, Mike
Affiliate Disclosure: I am grateful to be of service and bring you content free of charge. In order to do this, please note that when you click links and purchase items, in most (not all) cases I will receive a referral commission. Your support in purchasing through these links enables me to keep the content train rolling