Klarus XT12 Review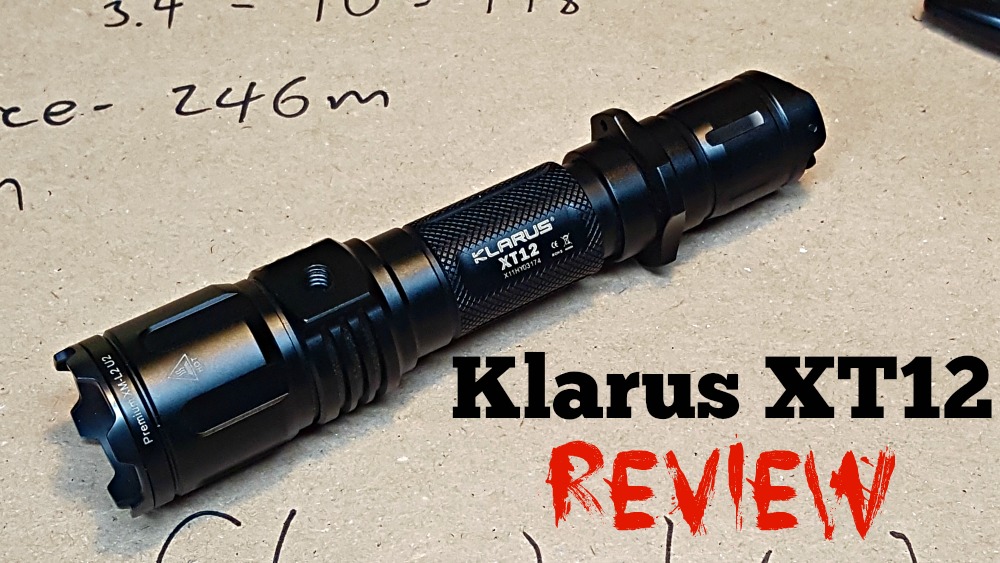 I think the Klarus XT12 is a game changing flashlight. The combination of a 18650 lithium-ion battery with a revolutionary built in charger, makes for an amazing flashlight. I'm a big fan of lithium-ion powered flashlights, the power and run times that they bring to small packages has to be seen to be believed. The down side has always been that the cells have high self discharge rates, and the need for an external battery charger. By having a built-in charger the Klarus XT12 fixes the main draw back of the earlier flashlights.
The fine folks over at FLASHLIGHTZ.com supplied this light for a fair and honest review.
Klarus XT12 Specs
Has a CREE XM-L2 U2 LED, up to 930 lumens
Has four modes:

High mode – 3.4 hour runtime / 930 lumens
Medium mode – 10 hour runtime / 140 lumens
Low mode – 178 hour runtime / 2 lumens
Strobe mode – 6.8 hour runtime

Has dual tail switch for non-visual, easy one-handed touch operation
Has a self-locating Magnetic FAST Connection charging system
Has a specially designed Direct Recharging function
Has a Straight 2 Strobe function
Uses a standard USB port for charging
Is waterproof to IPX-8 Standard (submersible up to 2 meters)
Is impact resistant up to 1 meter
Has a 5 year Klarus warranty
Klarus XT12 Ergonomics
The Klarus XT12 is a well thought out light. It fits nicely in your hand without any hot spots, and just the right amount of knurling. The anti-roll device is well placed and doesn't get in the way. It is a good looking light as well. The heat sinks around the head give it a Sci-fi sort of look to me, that I dig.
Klarus XT12 User Interface
Besides the charging system the other great feature of the Klarus XT12 is the user interface. I'm tired of twisting things and having to go through endless gyrations to get to the next mode. The XT12 makes this pretty easy by having a dual interface. One button turns the light on and off, and the lever cycles through the modes. If the light is off the strobe can be activated by depressing the lever. Even though I'm not a huge fan of strobe, this direct access is cool. I never saw the point of billing strobe as a self defense tool, and then having to take time to cycle to the strobe mode. That sort of seems like a recipe to get an ass-kicking, but that is just me.
Carrying the Klarus XT12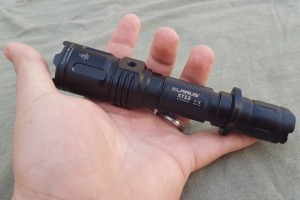 Right off the bat I've got to admit that the XT12 is too big for me to consider it an EDC light. My tastes trend more towards single AA ( Fenix E12) or even a single CR123A/16340 sized light (Olight S10RII) for pocket carry. The XT12 lends itself more towards being carried in a coat pocket, a glove compartment, or an Everyday Carry Bag / Get Home Bag. I like having a bigger more capable light to back up my EDC and to me that is where the XT12 excels. The 18650, CREE XM-L2-U2 emitter, and deep smooth reflector make the XT12 light up the dark like nobody's business.
Using The Klarus XT12
The 930 lumens that this beast pumps out is impressive. It really needs to be seen to be believed. I carried it on my night tours, at work, and it received more than a few comments from other linemen and even a few cops. It has a great throw with a lot of spillover light. I think the combination of excellent ergonomics and a user interface that is intuitive makes for a potent flashlight.
 The Wrap-Up
I highly recommend the Klarus XT12. I think the charging system is amazing, the interface is easy to use, it looks good, and most of all it just pumps out the light! I give it a 5 out of 5 Stars! 
YouTube
You might also like the YouTube review I did of this light.
Disclosure of Material Connection: I received one or more of the products or services mentioned above for free in the hope that I would mention it on my blog. Regardless, I only recommend products or services I use personally and believe will be good for my readers. I am disclosing this in accordance with the Federal Trade Commission's 16 CFR, Part 255: "Guides Concerning the Use of Endorsements and Testimonials in Advertising."
Affiliate Disclosure: I am grateful to be of service and bring you content free of charge. In order to do this, please note that when you click links and purchase items, in most (not all) cases I will receive a referral commission. Your support in purchasing through these links enables me to keep the content train rolling