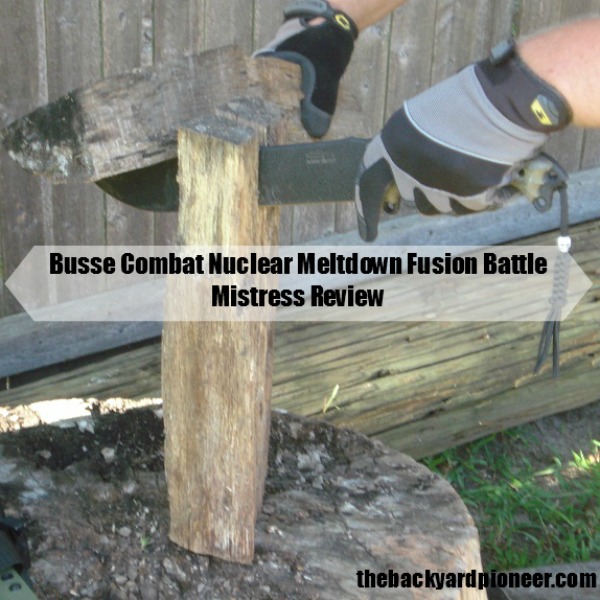 Busse Combat Battle Mistress Review
There is nothing subtle about the Busse Combat Battle Mistress, she is about as subtle as a slap in the face. She is not a Ferrari of a knife like the Benchmade Contego
, the Busse Combat Battle Mistress is a lifted diesel pick-up with a loud exhaust! When she is in your hand you just have to chop, smash, dig, and pry.
Overall Length- 17 1/4″
Blade Length- 11 1/4″
Blade Thickness- 1/4″
Weight- 29.5 ounces
Blade Steel- INFI
Handle Material- Canvas Micarta
Ergonomics
The Busse Combat Battle Mistress is blessed with excellent ergonomics. The version I own known as the Nuclear Meltdown Fusion Battle Mistress (NMFBM for short) has hand shaped and fitted Canvas Micarta handles. These handles are exceptionally comfortable and make the nearly 2 pound Busse Combat Battle Mistress a joy to hold and use. Canvas Micarta is an interesting handle material, it is canvas that has had phenolic resins added to it to give us an extremely tough handle material. Canvas Micarta has been around a pretty long time, while doing a bit of research on it I was surprised to find it has been in use since 1910!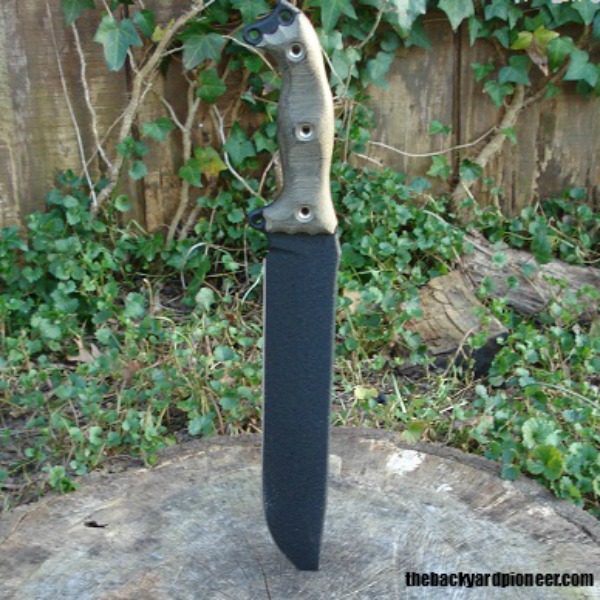 Blade
The heart of the Busse Combat Battle Mistress is the 11 and a half inches of premium INFI steel. INFI is a proprietary steel that is only used by Busse Combat. The exact composition of INFI is a closely guarded secret and open to a ton of Internet speculation. What is known about INFI is that Busse has managed to create an amazing steel that has performed well in all conditions. I find INFI to be tough, have excellent edge retention, and resists chipping. It sharpens easily enough as well.
The Busse Combat Battle Mistress is a BIG BLADE. It clearly is designed with chopping and other hard uses in mind. It has a nicely sized choil that lets you choke up a bit on it but the NMFBM will never be a knife for delicate tasks. It excels at batoning, chopping, prying, and digging. This beast is just begging to be abused.
Busse Combat has a fantastic coating on their blades. I've wailed away on my Busse Combat Battle Mistress and have seen some smoothing of the finish and a bit of chipping on the spine of the blade. I haven't babied this knife at all I feel the coating is holding up incredibly well for something I've been pounding on for years.
Using The Busse Combat Battle Mistress
My NMFBM sees a lot of use. I've beaten this knife without mercy on camping trips, hunting trips, and around the backyard. It has pounded in tent stakes, batoned firewood, and cleared shooting lanes. She is a big lady but well balanced. I find that the Busse Combat Battle Mistress performs best when she is part of a two blade system. The NMFBM handles the big tough chores while a smaller fixed blade or even a big folder handles the smaller stuff.
When carrying a knife as big as the Busse Combat Battle Mistress a good sheath is imperative. I'm a huge fan of Buy Brown Sheaths and that is what my NMFBM rides in. Her sheath is a green kydex and of the drop leg style. I find that mostly she rides strapped to a pack though.
As expected from a quarter inch thick, 11 and 1/2 inch long blade the NMFBM is a chopping and hacking machine. She cruises right through 2×4's and moderately sized tree limbs. Fatigue can be a bit of a factor when swinging this big beast around though, so be careful!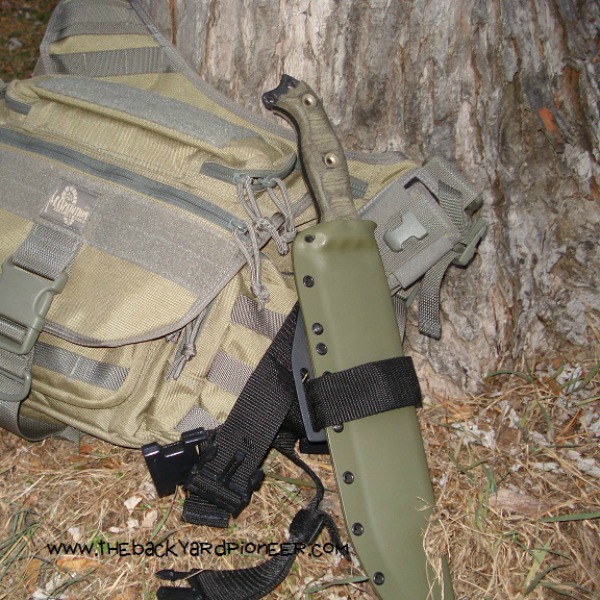 The Wrap-Up
The Busse Combat Battle Mistress is a big old hunk of AWESOMENESS!!! I love my NMFBM with all my heart. Even though she is big, heavy, and ridiculously expensive she is worth it all. There aren't many big jobs that she can't handle. If you are a knife lover you should try to get and use one as you will fall in love instantly. I give the Busse Combat Battle Mistress a 5 out of 5 Stars.
You Might Also Like
Affiliate Disclosure: I am grateful to be of service and bring you content free of charge. In order to do this, please note that when you click links and purchase items, in most (not all) cases I will receive a referral commission. Your support in purchasing through these links enables me to keep the content train rolling