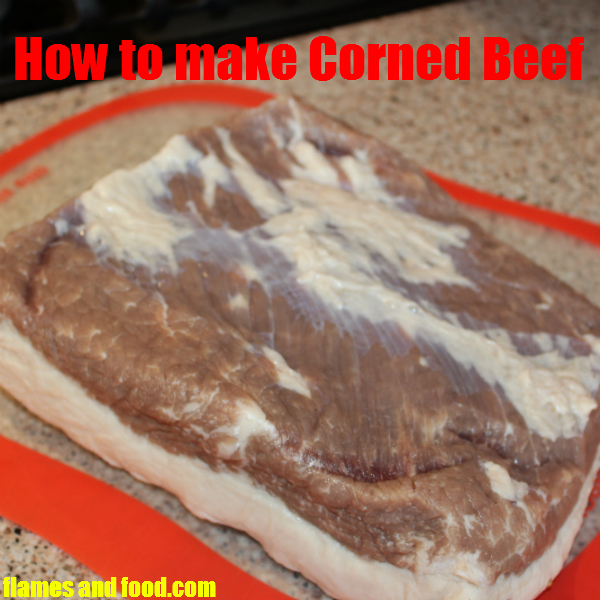 Making Corned Beef is so easy to make it is stupid! You can control the inputs and pick the grade of the beef, no more nasty stuff from the supermarket. Read more and I will show you how to make corned beef at home!
Corned beef has been around a long time. The term Corned Beef actually comes from the "Old English" word Corn, which means small particle. In this case the small particle is the coarse ground salt that goes into the curing brine. Another theory is that the corn refers to the grains of gunpowder that used to go into the brine for preservation! Don't worry stick with me and I'll show you how to make corned beef without any gunpowder in it!
How to make Corned Beef
The Brine
 4 Gallons of Water
2 Cups of Kosher Salt
1/2 Cup of Sugar
4 Teaspoons of Pink Salt
3 Garlic Cloves, Minced or run through a garlic press
1/2 Teaspoon Juniper Berries
1/2 Teaspoon Allspice Berries
1/2 Teaspoon Coriander Seeds
1/2 Teaspoon Mustard Seeds
1/2 Teaspoon Red Pepper Flakes
1/2 Teaspoon Black Peppercorns
1/4 Teaspoon Ground Ginger
6 Bay Leaves, Crushed
The Process
 Combine all the ingredients,except for the  brisket, together in a large  stock pot.
Bring to a boil and stir until all of the salt and sugar is dissolved.
Remove from heat and allow to cool to room temp.
When it reaches room temp put it in the fridge.
Once it has cooled fully in the fridge put the brisket into the brine. Make the brisket is fully submerged. I used a small plate to hold it under if you have to.
Let the brisket cure in the brine, in the fridge, for at least 5 days and up to 10. If you are using a thick brisket you might need to figure on a minimum of 7 days.
When it comes time to cook the Corned Beef just rinse it well under cold water and it is ready for however you would normally cook it. I simmered mine for 3 hours in a good Stout Beer and the same spices I used for the brine. It came out awesome!
Further Reading
I based my recipe on Michael Ruhlman & Brian Polcyn's from their book Charcuterie. I modified the flavors a little bit but the process is theirs. Check out their book I highly recommend it.
Affiliate Disclosure: I am grateful to be of service and bring you content free of charge. In order to do this, please note that when you click links and purchase items, in most (not all) cases I will receive a referral commission. Your support in purchasing through these links enables me to keep the content train rolling