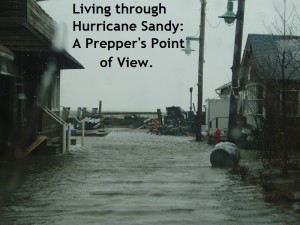 Sandy is a name that will be with me the rest of my life. The damage that she has done to my home area is truly amazing, and it will be years before all of it is undone. I'm going to share my initial impressions of what worked for me and my family to stay safe and warm during this first week.
The Generator– Living with a gasoline powered generator isn't the easiest thing. It is noisy and smelling faintly like gas all the time isn't optimal, but it beats the Hell out of not having one. I got my cousin (a licensed electrician) to hard wire my generator to a 30 amp breaker in my panel. This let me turn off my main service and treat the new 30A breaker as a main. This was a godsend as I didn't have to run electrical cords all over the place, and we could function pretty normally. Running the dryer was a no-no, but everything else worked pretty well. I did run into trouble trying to keep the fridge cold on the overnight, but as we ate our way through it that problem went away, except for my son's milk which we surrounded with ice frozen in 1 gallon containers every night. Gasoline was a bit worrisome, and I made sure to keep my load low and watch my run times. It might not have been fun to turn off the power mid-day, but not having it at all due to running dry would have been worse. Jack Spirko from The Survival Podcast and Steve Harris from solar1234.com did some great shows together right before the storm and their advice was priceless during the aftermath.
The Woodstove– Sandy was a late in the season Hurricane for us here in the Northeast, and the cold weather followed a few days after she hit. For the many (millions) with out power the cold was pretty bad. I was glad to have my woodstove. I've burned wood for 5 years now mainly with the goal of saving a few bucks with some sweat equity, but having it to keep us warm in a disaster has elevated it to family member! My wife and I moved a face cord into the lee of the house and covered it tightly with a tarp to protect it from the driving rain. We lucked out in the fact that the heaviest rains bypassed Long Island, for the most part, and my firewood stayed nice and dry. It was a bit more work keeping the stove fed when the oil heat wasn't there as an easy back up, but well worth it. Before my neighbor left for his in-laws he was getting a high of 56 in the house during the day.
Security- Long Island has seen a  smattering of looting, but as long as you didn't get sucked into the stupid of the Gas Lines, you were pretty safe in your house. I've been keeping the house on lockdown just in case. I've got power and heat, and while willing to share (extension cords to the neighbors, fire wood to the couple across the street, hot meals to friends and family), I don't want to appear like an easy mark for anyone looking to take advantage of me or my family. I kept my gates locked and if we went out during the day I chained up the generator, which also got put int the garage every night. When the gas shortage started I also moved our cars into the back behind the fence to deter any siphoning attempts.
Food and Water– This wasn't an issue for me as I am 5 miles from the hardest hit areas. We have a good store of canned, dry, and frozen food and had plenty to eat at all times. Our only issue was with the food getting warm with the generator turned off overnight. We started only cooking enough for dinner instead of our usual dinner plus lunch type of cooking.
That was my initial experiences from a Prepper point of view. I'll expand on this stuff over the next few days as well as adding how I think this will affect my Prepping going forward. My one big take away is Prepping isn't about blood and guts like you see on TV, it is about keeping your family comfortable and safe during trying times.
Affiliate Disclosure: I am grateful to be of service and bring you content free of charge. In order to do this, please note that when you click links and purchase items, in most (not all) cases I will receive a referral commission. Your support in purchasing through these links enables me to keep the content train rolling