The Swamp Rat Knife Works Crash Rat is a handy little hatchet/tomahawk that I decided it was time to get around to doing a gear review on.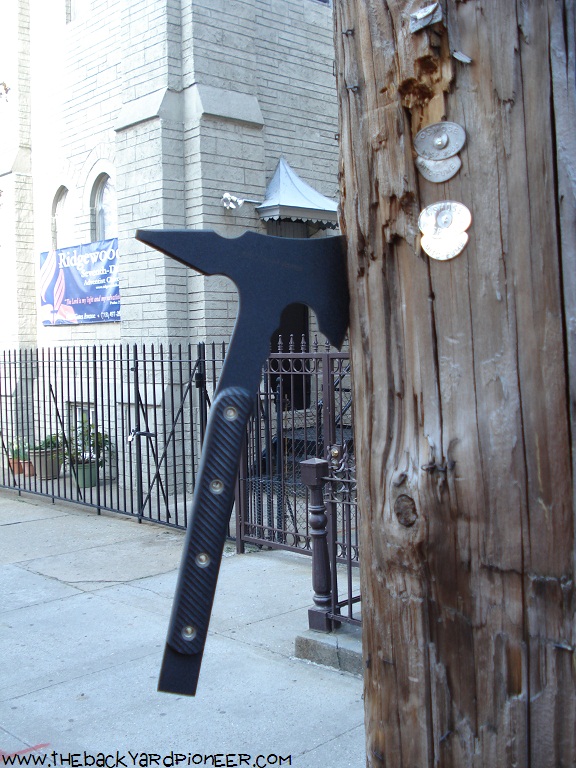 The Crash Rat specs out at 29.8 oz; .25" thick; 3.75"edge; 3.5" spike; 14.25" over all length. It is made out of SR77 which is S7 tool steel with Swamp Rat's excellent heat treatment. This yields a blade that is tough as nails (literally!).
The Crash Rat comes with a razor sharp edge, I was able to shave with it right out of the box. The handle has finger grooves that lead up to and behind the head and allow for choking up and using the Rat for some knife related chores too. The spike head isn't a true spike like you might find on a 'hawk designed for fighting but I still wouldn't want to get hit with it and it does up the prying potential of the Rat. The butt end tapers down to a prying end. It comes in handy and with the head sheathed I've put quite a lot of force on it.
Pro's- The Crash Rat is light to carry and made out of a premium steel. It has a razor sharp cutting surface and even though the SR77 steel is a shock steel I had no trouble sharpening it. The pry-bar end is a nice feature and the spike side penetrates into wood or steel pretty well and ups the destructive factor of the tool. It's main selling point is it's cool guy factor! This thing just looks BAD TO THE BONE and guy's can't help but wanting to take a few swings with it.
Con's- The Crash Rat just isn't that practical. I'd rather have an Estwing Camper's Axe if I was doing chores around the house or camping. It looks intimidating and I try not to brandish it around non-knife people. It is a bit to light for splitting or long term chopping and the spike head precludes using it as a hammer. I also find the handle to be a bit slippery and that worries me with an almost 2 pound hunk of sharpened steel.
All in all I've got no regrets about buying the Crash Rat. Mine is a limited edition all in black. I personally love it but I'm a bit of a nut when it comes to sharp and pointy stuff! I love it for it's crazy look and I'll admit to having it out while watching Zombie movies (my wife mocks me endlessly for this!). They are out of production but do turn up on the secondary market from time to time. They are backed by Swamp Rat's unconditional guaranty which adds to the appeal for me.
If you like what you read here on The Backyard Pioneer please consider subscribing to receive e-mail notifications or check me out on Facebook, Twitter, YouTube, or my RSS Feed. All of these are available on the top right of this page. -Thanks for reading, Mike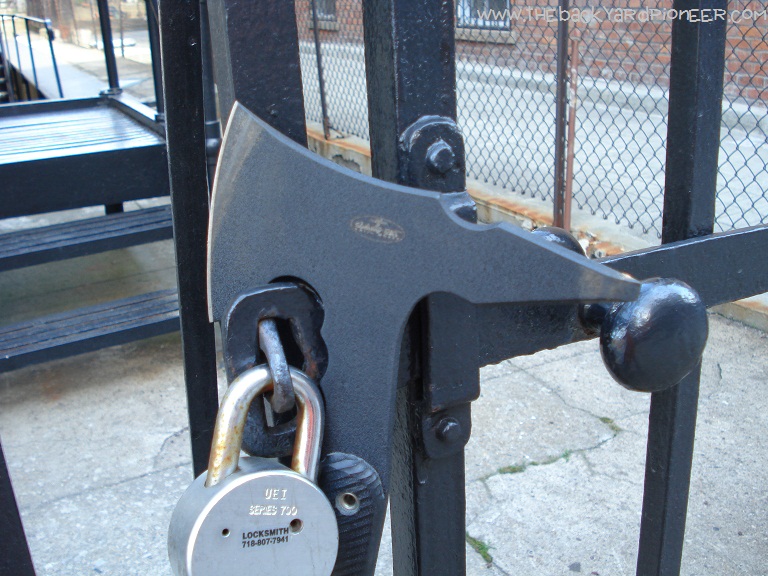 Affiliate Disclosure: I am grateful to be of service and bring you content free of charge. In order to do this, please note that when you click links and purchase items, in most (not all) cases I will receive a referral commission. Your support in purchasing through these links enables me to keep the content train rolling