Cold Steel Broken Skull Review: Old School Cool
The Cold Steel Broken Skull has a few old school touches that hearken back to simpler time in the knife industry. It's classic clip point blade and easy to use Triad Lock are things that I appreciate. It seems to me like a modern iteration of the Buck 110 with cutting edge materials.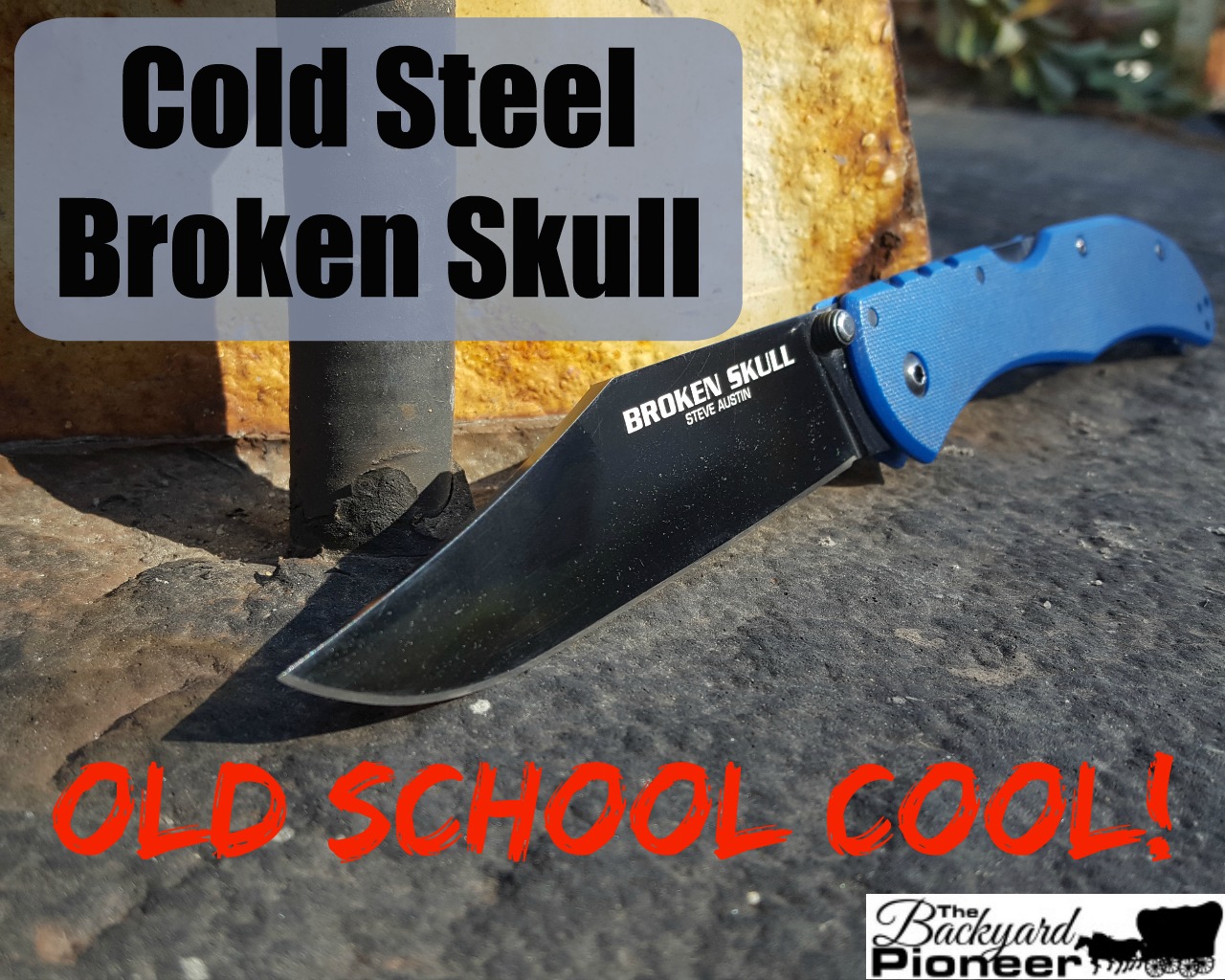 —> Click Here For Current Pricing And Availability <—
Cold Steel Broken Skull Stats
Weight – 3.1 ozs
Blade Length – 4 inches
Handle Length – 5 1/4 inches
Overall Length – 9 1/4 inches
Blade Material – CTS-XHP
Handle Material – G10
Cold Steel Broken Skull Ergonomics
The G10 is of high quality and medium texture. It is available in bunch of colors including, blue, orange, olive drab green, pink, coyote tan, and grey
I like the jimping a lot. It isn't the traditional kind cut into the steel but on the Broken Skull the G10 handle material has it added to it. The jimping offers just enough traction aid without being overly done.
The knife is so super slim you can wrap your hands around it.
Cold Steel Broken Skull Blade
The blade is traditionally styled with a clip point and has a full flat grind that I've come to look for in an EDC knife.
The Blade is made of CTS-XHP which is a air hardened, high carbon, high chromium, and corrosion resistant steel.
I've heard CTS-XHP described as having the edge retention of S30v with the ease of sharpening of VG-10. After having used it for a few months I can get behind that.
I've been putting a very keen edge on my Broken Skull with a Spyderco Sharpmaker. I double the number of strokes with each jump in grit. So end up doing 10 strokes on coarse, 20 on fine, and 40 on ultra fine.This has worked well for touching up the blade and leaves me with a scary sharp edge!
You Tube Review
Cold Steel's Tri-Ad Lock
The Broken Skull is my first experience with the Tri-Ad lock. It seems to be a greatly strengthened back lock to me. The improvements include a stop pin to take the force of cutting instead of the lock itself. I'm a believer in the strength of the lock but have been a bit disappointed in it's stiffness. After 8 months of use it is only just loosening up.
Carrying The Cold Steel Broken Skull
With a 4 inch blade the Broken Skull is a big knife to carry but it's slimness and weight make it carry like a much smaller bladed knife.
The Broken Skull is tip-up carry only.
One quirk is that the knife needs a separate clip for left or right carry. This isn't a big deal but you better be sure to stash the other clip if you ever want to change sides or sell it.
Speaking of the clip in typical Cold Steel fashion it needs a bit of attention before it will clip easily onto a pocket. For  some reason they send their knives out into the world with pocket clips that are way to tight! I usually slide a piece of floss under the clip and pull out until I've got the desired pocket hold.
—> Click Here For Current Pricing And Availability <—
The What For. . .
To me the Cold Steel Broken Skull is the modern version of a classic working man's knife updated with high tech materials. The clip point feels like and old friend when you are using it and the Tri-Ad lock mimics a back lock in a lot of ways. This is the sort of knife that I can hand to my 71 year old Dad and he gets it, that doesn't always happen with a bunch of knives I like.
Peers
Spyderco Endura 4 FFG
Both have similar size
The Cold Steel gets the edge in blade steel but good old VG-10 is no slouch
The Broken Skull's G-10 is very well done but I'm a huge fan of the bi-directional texture that Spyderco does.
The Endura has a slight edge in pricing
Wrap-Up
Slim + Lightweight + Big Reach = Awesome in my book!
The Lock is a bit of an issue
Affiliate Disclosure: I am grateful to be of service and bring you content free of charge. In order to do this, please note that when you click links and purchase items, in most (not all) cases I will receive a referral commission. Your support in purchasing through these links enables me to keep the content train rolling