Venison Shepherd's Pie
Shepherd's Pie is traditionally a Lamb dish but Venison works equally as well. I guess we could call it Hunter's Pie but Venison Shepherd's Pie will do! Filled with vegetables and a hearty broth Venison Shepherd's Pie is a great Winter comfort food to fill and warm you on a cold day!
Ingredients
1 Pound of Ground Venison (Lamb and Beef work just as well)
1 Large Carrot, Chopped
1 Stalk of Celery, Chopped
1 Medium Yellow Onion, Chopped
1 Clove of Garlic, Minced
3 Tablespoons of Unsalted Butter
1 Tablespoon of Olive Oil
1 Tablespoon All Purpose Flour
1 Teaspoon of Fresh Rosemary, Chopped
Salt and Fresh Ground Black Pepper
1 1/3 Cup Beef Broth
1/3 Cup of Red Wine
3 Cups of Mashed Potatoes
Venison Shepherd's Pie Recipes
Pre-Heat the oven to 325 degrees
In a 3 1/2 Quart Dutch Oven heat the oil over a medium-high heat and brown the venison. Season the venison with salt and pepper. Once browned thoroughly remove the venison from the Dutch Oven.
>>> Click For Current Pricing And Availability <<<
Melt 2 Tablespoons of the unsalted butter in the Dutch Oven and add the carrots, celery, onion, and garlic, seasoning with salt and pepper. Cook with the cover on for 5 minutes and stir o a few times.
Gently add the All Purpose Flour to the vegetables and mix well. Give the flour a minute to cook in and then slowly add the stock and wine. Add the Rosemary. Stir it well taking care to scrape the bottom of the Dutch Oven to release all the brown bits into the mixture.
Bring to a boil and then return the Venison to the Dutch Oven.
Cover and place into the oven. Cook it for 1 hour.
Remove from the oven and spoon the mashed potatoes over the mixture. Cut up the remaining 1 tablespoon of unsalted butter and place it over the mashed potatoes. I like to dust the mashed potatoes with a little paprika but this is a personal preference. Return to the oven, uncovered for 30 minutes. The mashed potatoes should get a little browned in spots.
Remove for the oven and let stand for 5 minutes before digging in.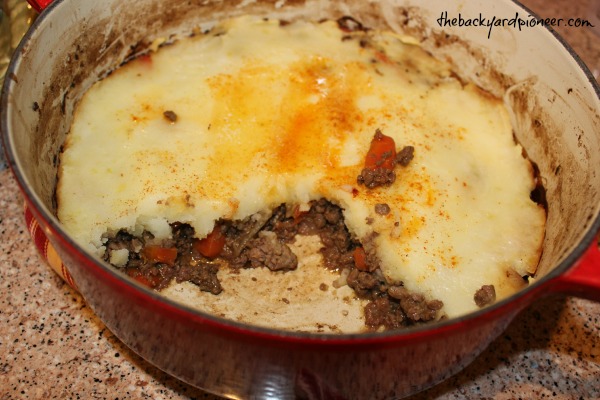 Le Creuset Dutch Oven is available on Amazon
The Wrap-Up
This Venison Shepherd's Pie is an awesome variant of the traditional dish. It is the kind of hearty stick to your ribs cooking that we all crave in the winter!
Check out our Venison Recipes Page for more great venison recipes!
You Might Also Like
Bacon Wrapped Venison Backstrap
Grilled Marinated Venison Backstrap
Affiliate Disclosure: I am grateful to be of service and bring you content free of charge. In order to do this, please note that when you click links and purchase items, in most (not all) cases I will receive a referral commission. Your support in purchasing through these links enables me to keep the content train rolling