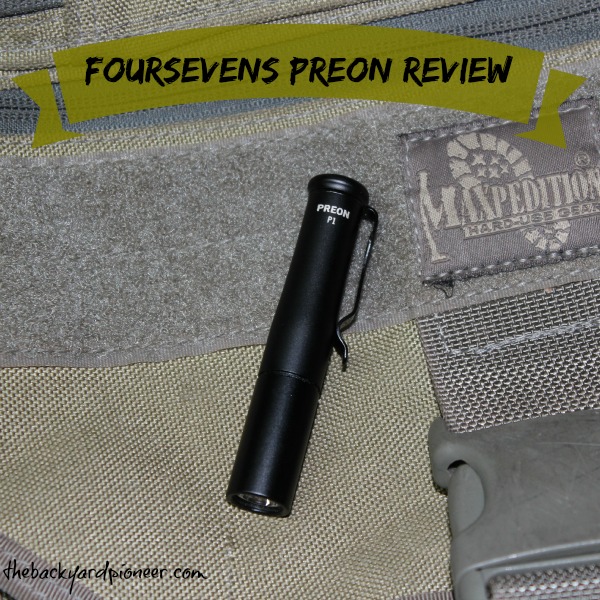 Foursevens Preon Review
The FOURSEVENS Preon
is an amazing piece of EDC gear! With the Foursevens Preon I'm taking my first steps into the rabbit hole that is modern LED flashlights. This tiny flashlight is packed with enough technology to satisfy the serious gear geek yet is fairly straight forward to use.
2.95 inches overall length
0.6 oz without battery
uses a hi tech CREE XP-G2 LED
up to 23 hour run time on low output
Ergonomics
The Foursevens Preon is a joy behold. It is a handsome little flashlight with a sleek modern look. My one bitch about the Foursevens Preon is it is completely devoid of any sort of checkering. This makes it a slippery little bugger at times.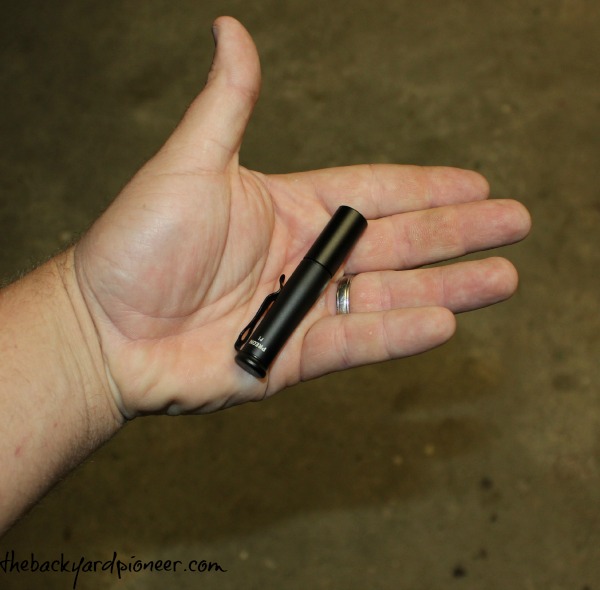 The Foursevens Preon In Use
Using the Foursevens Preon takes a little bit to get used to. Unlike a single mode flashlight with a simple switch (like the Streamlight Stylus Pro
) the Foursevens Preon needs some manipulations and know how to access all the modes. I'll admit to breaking with "Guy Code" and actually needing the directions to figure out how to use it. All of the modes of the Foursevens Preon are accessed by twisting the lamp assembly. Twist it once to get the low mode, again for the medium, and once more for the high setting. That is fairly straight forward but if you want the strobe function, SOS, or either of the beacon modes you need to be a little nimble with your fingers. You'll need to run through the other 3 modes twice in under 2 seconds to get to the other functions. It isn't as bad as it sounds but it does take a bit of getting used to.
The low mode on the Foursevens Preon is suitable for getting around in the dark. I used it on a camping trip and found that the low mode is doable for trips to the bathroom at night. Now, if something happens to go bump in the night while you are walking to the bathroom you will want the full 84 Lumens that the high mode has to offer! The Foursevens Preon throws a nice distance but you won't confuse it with a spotlight, it seems to be at it's best illuminating the general vicinity and not trying to figure what the hell is going on 2 campsites away.
The strobe and other modes seem a bit superfluous to me since I'm not a cop and my wanderings are mainly on the family hunting property. I was relating this to a buddy of mine who is Law Enforcement and he said that strobe function is a pretty good way to deal with drunks. I really respect his opinion so I'm re-evaluating my thoughts on the strobe.
Another nice feature of the Foursevens Preon is the fact that it runs on a single AAA battery. I've taken to using Panasonic Eneloop AAA
Rechargeables in my EDC lights and I love them! No longer am I hesitant to use the high beam because of fear of battery costs. Now, I just let 'er rip.
Carrying The Foursevens Preon
The Preon carries just like a super compact  AAA flashlight should, you don't even know it is there until you need it. I especially love the ultra deep carry clip. It rides way low in my pocket.
The Wrap-Up
The Foursevens Preon is a clear winner in my book. For me it scores a ton of points on performance and styling, but it loses a bit for not having any texturing to hold onto. I'm going to give it a 4 out of 5 Stars. I would recommend it to anybody and have already bought a few to give for Christmas presents.
You Might Also Like
Affiliate Disclosure: I am grateful to be of service and bring you content free of charge. In order to do this, please note that when you click links and purchase items, in most (not all) cases I will receive a referral commission. Your support in purchasing through these links enables me to keep the content train rolling