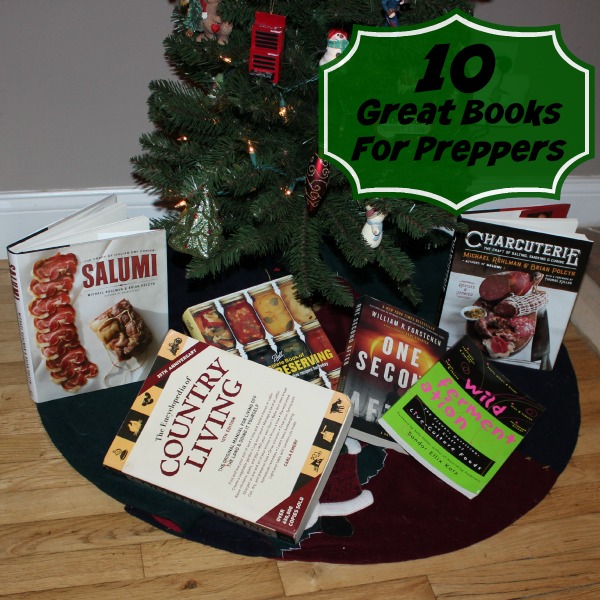 I personally am a huge fan of getting books as gifts! I'm going to share a few of my all time favorites that I hope you will love as much as I do!
Prepper Fiction
I'm a huge fan of Post-Apocalyptic Fiction with one caveat, I like well written Post-Apocalyptic Fiction. I find to much of the genre degenerates down to love letters to the author's AR-15. There is plenty of stuff like that available for free on Amazon and the old adage, "you get what you pay for" really does apply.
The first Post-Apocalyptic novel I can remember reading is Lucifer's Hammer
by Larry Niven and Jerry Pournelle. These two titan's of science fiction teamed up to produce one of the best prepper reads of all time. When you get authors of their caliber team up you get a story based in sold science and packed with adventure. The novel centers around a comet striking Earth and how the characters initially survive and set themselves up in a high mountain valley. It was written in the 1970's and can seem a little dated but the story itself stands the test of time!
The gigantic comet had slammed into Earth, forging earthquakes a thousand times too powerful to measure on the Richter scale, tidal waves thousands of feet high. Cities were turned into oceans; oceans turned into steam. It was the beginning of a new Ice Age and the end of civilization. But for the terrified men and women chance had saved, it was also the dawn of a new struggle for survival–a struggle more dangerous and challenging than any they had ever known….
One Second After
is the Post-Apocalyptic novel that scared the heck out of me! It was one of the first novels to seize upon the Electro Magnetic Pulse (EMP) theme as a vehicle for the Apocalypse and I think it does it the best. This book has been cited on the floor of Congress and serves as a stark reminder about how much modern society is dependent upon cheap and easy access to electricity.
Slow Apocalypse
by John Varley presents a pretty interesting take on a break down of civilization. A tailored virus that attacks crude oil is released into the oil fields of the Middle East. A Hollywood writer receives information that the collapse is coming and sets off like a modern day Noah to prepare for The End. I really liked this novel since it lacked the "super Prepper" that a lot of Post-Apocalyptic Novels include, plus it is always nice to see what an accomplished author will do with the genre.
Now that I've listed serious novels by "real deal" authors I've got to mention two of my favorite Collapse stories that have been kicking around the Internet for so long that they have become legendary! Lights Out
by David Crawford started out as serialized story on a popular survivalist forum back in the early 2000's. It has gone through several iterations before finally ending up in print. It focuses on an EMP event and how a Texas suburban Dad gets by with his family. It has a memorable cast of characters and can be a little hokey but it is a fun read. A lesser known novel but still an Internet legend in it's own right is Deep Winter
by Thomas Sherry. Deep Winter details a massive natural disaster in the Pacific Northwest that presages a collapse of the current world order. Now both Lights Out and Deep Winter are less than polished. They read like you would expect Internet fiction to read and both could use a bit more editing. Now having said that the authors enthusiasm does come through in both stories and I found them to be enjoyable.
Prepper Non-Fiction
When it comes to non-Fiction for the Prepper my tastes generally run towards the practical. I like "how to" books and oddly enough cook books. Check out what I think are 5 great books that will enhance any Prepper's library.
The Encyclopedia of Country Living
is a must have for the serious Prepper or Homesteader. It is an odd read as it was compiled over several years and through 10 Editions! It is a bit rambling but you really get to know the author, Carla Emery, in a personal way. It is one of my favorites!
My 2 "odd-ball" choice are Charcuterie: The Craft of Salting, Smoking, and Curing
and Salumi: The Craft of Italian Dry Curing
. Now you may be saying to yourself "what the heck to I need with that frou-frou stuff?", but hear me out! Charcuterie is a fancy name for making bacon, it is the ancient art of using cures to transform and preserve meat. With these two books you can take a lot of less than desirable cuts of meat and turn them into something that will impress your friends and family!
Wild Fermentation: The Flavor, Nutrition, and Craft of Live-Culture Foods
may seem like another off the wall sort of pick, but that is only if you don't like sauerkraut, beer, wine, and sourdough bread. This books details how fermentation as a food preservation method was essential to human survival. The book also delves into the health benefits of fermented foods. Give it a try and you'll be enjoying homemade yogurt, sauerkraut, and mead before you know it!
No list of Prepper books would be complete without the Ball Complete Book of Home Preserving
. This book is great resource for canning. It covers all the basics of using a waterbath canner up to the mighty and misunderstood pressure canner. With 400 recipes anybody would be happy to find this waiting for them under the tree!
Affiliate Disclosure: I am grateful to be of service and bring you content free of charge. In order to do this, please note that when you click links and purchase items, in most (not all) cases I will receive a referral commission. Your support in purchasing through these links enables me to keep the content train rolling