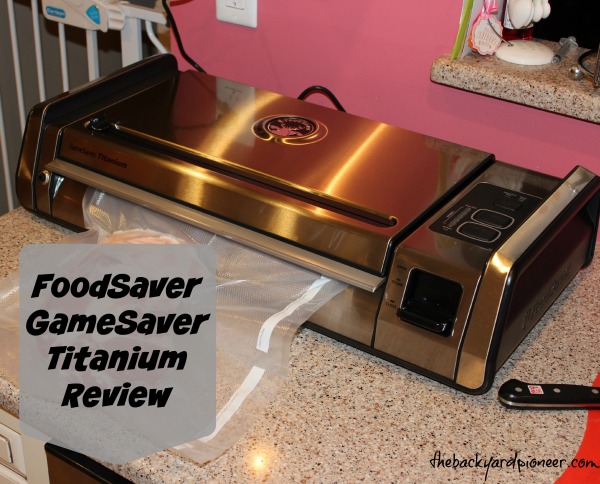 FoodSaver® GameSaver® Titanium Review
One ultra-cool thing about being a blogger is getting to work with quality brands like FoodSaver! I'm honored to have them sponsor today's post and practically giddy about getting my hands on their GamerSaver Titanium! 
If you are an avid hunter or fishing enthusiast one of the biggest problems you run into is keeping your hard won game fresh. Nothing is worse than rummaging through the freezer looking for something for dinner, and to be treated to the sight of freezer burned meat in a generic freezer bag! The FoodSaver® GameSaver® Titanium eliminates that moment of horror by vacuum sealing your precious game in a tough and easy to use custom fit bag. This helps your frozen food last up to 5x longer! TheFoodSaver®  GameSaver also works just as well sealing up your regular groceries, this makes it perfect for stretching the family food budget. One of my favorite ways to use my vacuum sealer is to buy full pork loins. 11 pounds of pork is just way to much for my small family to eat all at once. I like to cut it down into thirds with each roast weighing in at 3.5 pounds. Buy buying these large loins we are able to secure high quality meat at a reasonable price and guarantee it's freshness by using our FoodSaver®  GameSaver to vacuum seal it for the freezer.
Initial Impression
When I opened up the FoodSaver® GameSaver Titanium I was impressed by it's size and heft. Right away I knew I was dealing with a serious piece of vacuum sealing hardware. I was also struck by how attractive it is. theFoodSaver®  GameSaver Titanium looks right at home with the stainless steel appliances in my kitchen. With the sheer amount of extra bags and rolls included with Bonus Offer it will be a long time before I have to get some replacement bags.
The FoodSaver® GameSaver® Titanium with Bonus Offer comes with:
Included In Offer:
1 – 11"X10' Heat Seal Roll
3 – 15"X10' Heat Seal Roll
3 – Gallon DAM® Bags
2 – Heavy Duty Rolls
2 – Expandable Rolls
Bonus Offer Includes:
1-  Heavy Duty Rolls, 2 Pack
1- 15 Inch Rolls, 2 Pack
1- Square Marinator
1- Outdoor Cookbook
Using The FoodSaver®  GameSaver® Titanium
TheFoodSaver®  Gamesaver Titanium is a joy to use! One of my favorite features is the built in roll cutter, it makes cutting the perfectly sized bag a snap. TheFoodSaver®  GameSaver Titanium also has the horsepower to go the distance when it comes to marathon vacuum sealing sessions. The dual pumps let it go for 100 repetitive seals. It also has 2 sealing bars so you can set it to dual seal at the touch of a button!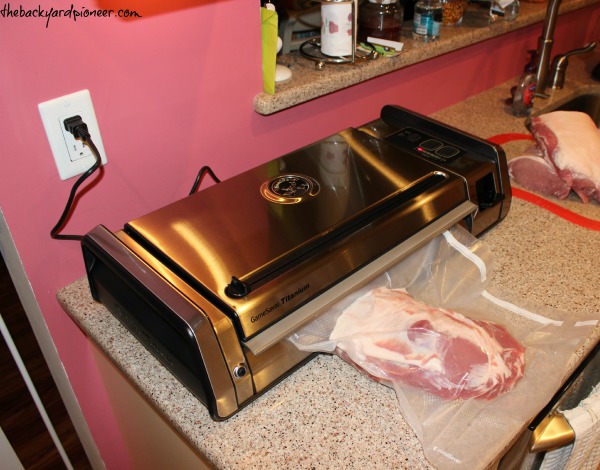 The Wrap-Up
The FoodSaver® GameSaver® Titanium Vacuum Sealer is an awesome piece of gear! Aside from saving my family money by allowing us to buy in bulk, it will also protect my freezer full of venison and fish. The FoodSaver® GameSaver Titanium will ensure that my famous Marinated Venison Backstrap tastes just as good in July as they do fresh!
Affiliate Disclosure: I am grateful to be of service and bring you content free of charge. In order to do this, please note that when you click links and purchase items, in most (not all) cases I will receive a referral commission. Your support in purchasing through these links enables me to keep the content train rolling