Swamp Rat Waki Review
If the Zombie Apocalypse ever does happen and the UnDead walk the earth seeking out living victims in their unending quest for human flesh you will find me on my feet with my Swamp Rat Waki in my hand!
Steel- SR101
Weight- 33 ounces
Overall Length- 27.625 inches
Blade Length- 17 inches
Blade Thickness-  0.195 inches
Ergonomics
When the Walkers come a knocking you will find the ergonomics of the Swamp Rat Waki to be top notch! The black G10 handles are the perfect choice in an Anti-Zombie weapon as the G10 is 100% resistant to the gore of Zombie slaying. It might be a little slick so make sure you keep a good grip on it.
Blade
The Swamp Rat Waki is just the right size for hallway fights with Hell Spawn. The Swamp Rat Waki is patterned after the Wakizashi which was the smaller of the 2 blades that were traditionally worn by the Samurai. It was preffered by the Samurai for fighting indoors and hundreds of years later it still is!
The SR101 steel it perfect for a Walker Weapon. It is super sharp and springs back to shape when bent. The Swamp Rat Waki won't let you down when things go bump in the night.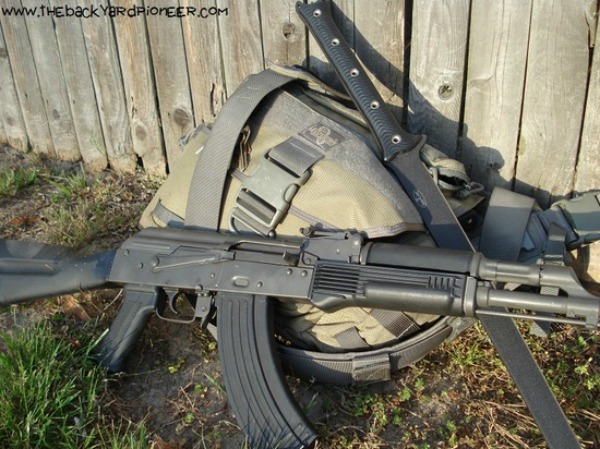 Using The Swamp Rat Waki
The Swamp Rat Waki is light and handy. It can flash out at light speed to snuff the malevolent life out of a Zombie. I have it paired with a Buy Brown Sheath the rides across my back or at my hip.
The coating on the Swamp Rat Waki is tough and makes clean-up after the most pitched battle with The Walking Dead.
The Wrap-Up
The Swamp Rat Waki ranks very highly when it comes to Zombie Melee Weapons. I'm going to give it a 5 out of 5 Stars. When the Dead walk the Earth I will have mine with me!
Affiliate Disclosure: I am grateful to be of service and bring you content free of charge. In order to do this, please note that when you click links and purchase items, in most (not all) cases I will receive a referral commission. Your support in purchasing through these links enables me to keep the content train rolling