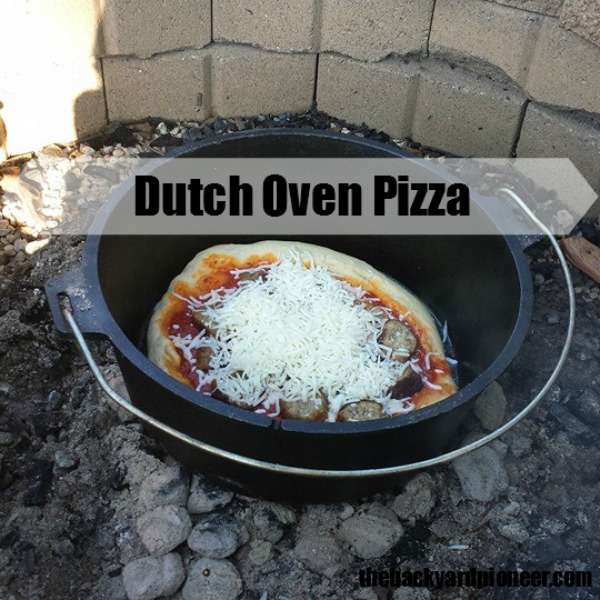 Dutch Oven Pizza
Dutch Oven Pizza might not be the most sophisticated thing that you can make in your Dutch Oven but it is among the most fun! Dutch Oven Pizza will definitely make a big impression at your next camp out or backyard bash. This Dutch Oven recipe is great since you can prepare the dough ahead of time and then assemble the pizza at your leisure.
What You'll Need
>>> Click For Current Pricing And Availability <<<<
Dutch Oven Pizza Ingredients
Pizza Dough: You can buy this ready made at the store or if you are feeling more adventurous give my homemade pizza dough recipe a try.
14.5 ounce can of Pizza Sauce. I like using homemade sauce for this but when camping opening up a can is just way easier!
2 Cups of Shredded Mozzarella Cheese
Whatever toppings you and your family desire! I used meatballs on our last Dutch Oven Pizza and it was excellent.
Dutch Oven Pizza Directions
Dutch Oven Pizza is a really easy recipe and is a good way to jump into using your Dutch Oven for something besides soups and stews. It does benefit from a bit of pre-heating so be sure to follow the directions your first time out with this Dutch Oven Pizza recipe.
Get at least 40 coals going in your Charcoal Starter.
Start pre-heating the lid of your Dutch Oven with 20 coals arranged around the edge.
Form the pizza dough into a rough pizza pie shape and put it into the bottom part of the Dutch Oven.
Put the sauce and toppings onto the dough. Unlike baking a pizza pie in a traditional oven this Dutch Oven Pizza recipe benefits from having the toppings under the cheese. The toppings will need a bit more cooking time than the cheese so that is why I do it this way.
Place your Dutch Oven over 15 hot coals and place your pre-heated lid on top. You will need to bake your pie for about 20 minutes without the cheese on.
After 20 minutes take a peek at your pie to see how it is doing. If it looks good you now add your cheese over the top and replace the lid, giving it another 5 minutes to bake and melt the cheese. If you think it needs a few more minutes before you add your cheese go ahead and let it bake a bit more. Dutch Oven cooking isn't a hard science and sometimes you need to go with your gut!
Once the cheese is melted comes the hard part, getting it out! I use a metal spatula to maneuver it out. Just remember that you are dealing with a very hot hunk of cast iron and your dinner is cover in molten cheese!
ENJOY!!!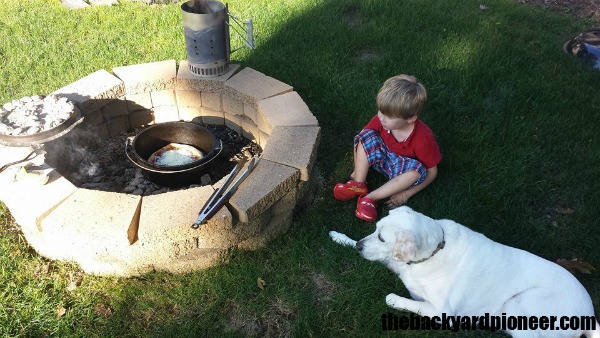 The Wrap-Up
Dutch Oven Pizza is great way to get your feet wet with some of the deeper aspects of Dutch Oven cooking. You will love it's cheesy goodness whether you are enjoying it in the backyard or at the campground.
If you liked this check out my Dutch Oven Recipes page for more great Dutch Oven Cooking.
Affiliate Disclosure: I am grateful to be of service and bring you content free of charge. In order to do this, please note that when you click links and purchase items, in most (not all) cases I will receive a referral commission. Your support in purchasing through these links enables me to keep the content train rolling