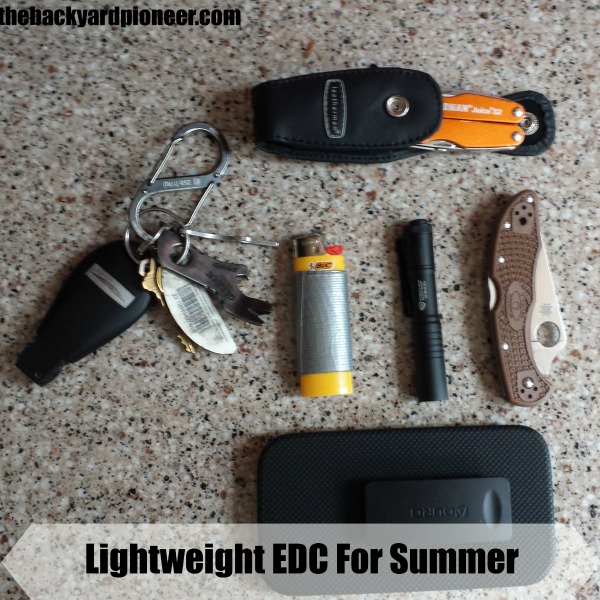 Once the warm weather rolls around I get tired of carrying my regular EDC (Everyday Carry).  As much as I love my big hard use folders like the Benchmade Contego
and the Spyderco Manix 2 XL
they just don't ride well in a nice pair of cotton shorts. A full size multi-tool like the Leatherman Charge TTi
becomes and uncomfortable mass at a Summer BBQ. So when I'm not in my work jeans you will find Lightweight EDC in pockets when the weather gets warm.
Lightweight EDC
I don't like to compromise my EDC options just because the weather is warming up, so I go for lightweight edc options. Some of my favorite lightweight EDC items are as follows:
Lightweight EDC Knife
When you need a lightweight edc choice for a knife you can't go wrong with the Spyderco Delica 4 FFG
. It is one of my all-time favorite knives and one of the few that I have bestowed the coveted 5 out of 5 Stars on. It comes in a bunch of colors, weighs a few ounces, and cuts like a laser beam. Check out my full review of it here.
Lightweight EDC Multi-Tool
While a full size multi-tools is great if you can spare the bulk and weight on your belt or in your pocket, when it gets hot and I don't want to carry one I reach for my Leatherman Juice S2. Don't let it's small size fool you it is highly capable in it's own right and won't weight your shorts down at the beach. I reviewed this one a while back as well, you can check it out here.
Lightweight EDC Flashlight
Normally I carry a Streamlight Stylus Pro
which isn't a porker by any means but continuing with my lightweight edc theme I recently acquired a Streamlight MicroStream
. The Microstream is an amazing little piece of gear and I can't wait to do a full of review of it. So far it is a winner!
Lightweight EDC Sundries
The knives, multi-tools, and flashlights get all of the glory but the old Gerber Shard
hanging off of my key chain gets plenty of work for years now.
It might not be cool guy gear but the Aduro Case for the Samsung Galaxy S4
is pretty trick.
The Wrap-Up
Just because the weather is warm and you don't want a ton of gear weighing you down, doesn't mean you can't be reasonably equipped with some lightweight edc to handle the curves that life can throw at you. Allof the gear I recommended here is personally owned by me and carried in my EDC rotation! I wouldn't steer you wrong!
Affiliate Disclosure: I am grateful to be of service and bring you content free of charge. In order to do this, please note that when you click links and purchase items, in most (not all) cases I will receive a referral commission. Your support in purchasing through these links enables me to keep the content train rolling