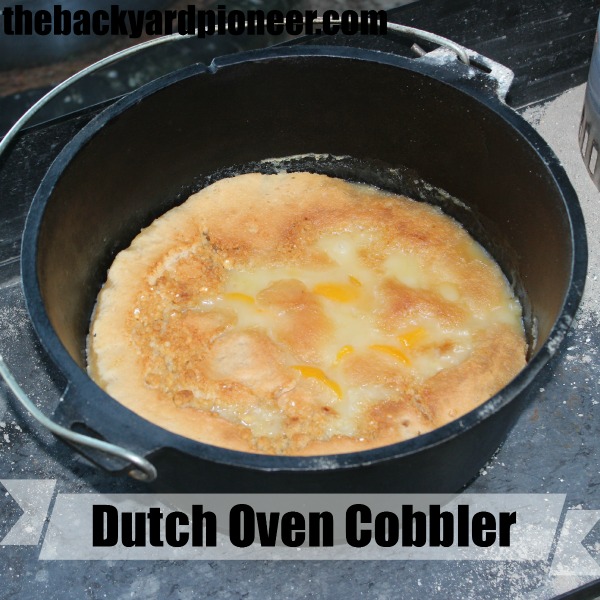 Dutch Oven Peach Cobbler is a great dessert to make while camping  or when practicing your off-grid cooking skills. This particular recipe is very easy and can be made entirely with canned and dry goods if you are looking to add to your food storage ideas.
Dutch Oven Peach Cobbler
I'll admit that I'm the weird guy who's idea of a vacation doesn't involve sitting at the beach and soaking up rays. I like to truck the family up to the North County. Each year we are lucky enough to get to spend sometime with family at Lake Of The Woods in Redwood, New York. While everybody else sits by the lake I'm the nut with welding gloves on sweating over hot cast iron, and I wouldn't have it any other way. This dutch oven peach cobbler recipe was a big hit with the family this year so give it a try and know that it is The Backyard Pioneer approved!
Getting Started
Needs:
Nice to have:
Ingredients
This Dutch Oven Peach Cobbler can be made entirely with canned and dry goods. The canned butter may be a little exotic but if you are camping or in an grid down situation you can make this dutch oven peach cobbler without breaking a sweat. Of course you can use regular old butter if the Apocalypse isn't raging around you!
1 Cup of Butter (Canned Butter if it is SHTF)
1 1/2 Cups All Purpose Flour
2 Cups of Sugar
1/2 Teaspoon of Salt
2 Teaspoons Baking Soda
3/4 Cup of Evaporated Milk
3/4 Cup of Water
29 Ounce Can of Sliced Peaches in Light Syrup
>>> Click for current pricing <<<
Directions
Get some charcoal going in your starter.
Melt the butter in the dutch oven
Mix the flour, sugar, salt, and baking soda together in a bowl.
Add the evaporated milk and water slowly to the dry ingredients and mix lightly until it becomes a moist batter.
Pour the batter into the dutch oven and the pour the can of peaches right on top of it.
Put the lid on and place 18 coals on top with 10 fresh coals under the dutch oven. This should give you right around 350 degrees.
Bake the dutch oven peach cobbler for 30 to 40 minutes. Check the dutch oven peach cobbler with a toothpick. When the toothpick comes out clean it is done.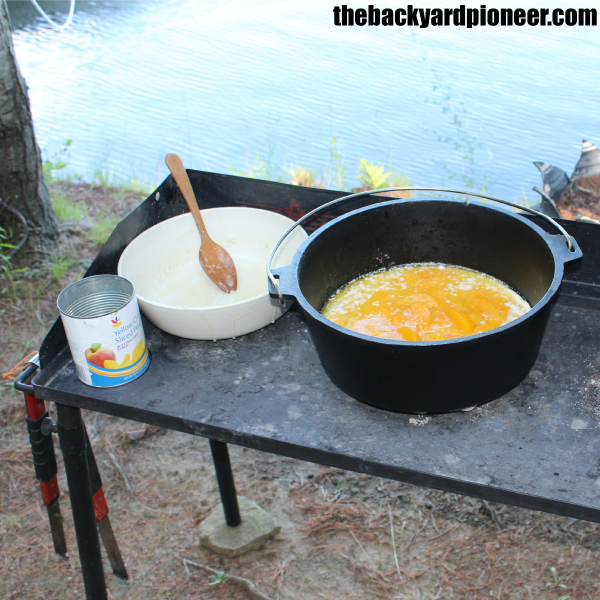 OMG!!! Dutch Oven Peach Cobbler
This Dutch Oven Peach Cobbler came out AWESOME! We totally enjoyed with some Vanilla Bean ice cream and it was even great the next day for breakfast. I am declaring this one a complete success and I hope you will give it a try!
So what do you think of my Dutch Oven Peach Cobbler Recipe?
Further Reading
Dutch Oven Chicken And Dumplings
Affiliate Disclosure: I am grateful to be of service and bring you content free of charge. In order to do this, please note that when you click links and purchase items, in most (not all) cases I will receive a referral commission. Your support in purchasing through these links enables me to keep the content train rolling