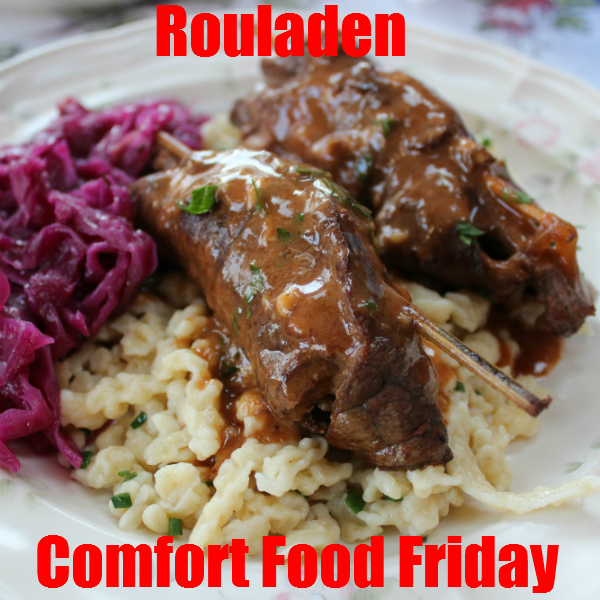 Growing up with German Grandparents Rouladen was a common Sunday dinner. Basically Rouladen is thin slices of top round beef seasoned with mustard, paprika, salt and pepper, then it is wrapped around red onion, pickles, and BACON!!! Did I mention the bacon? All of this is slowly braised in red wine and beef stock. After it is fully cooked the braising liquid is mixed with sour cream to thicken it. Yeah, it is that good!
Rouladen
1 Pound of thin sliced Top Round (ask the butcher to slice it to an 1/8 of an inch)
5 Slices of Bacon (Homemade Bacon if you've got it)
1/4 of a Red Onion, sliced
4 small Dill Pickles, sliced
3 Tablespoons of Mustard (we used Dijon, it has a good flavor to it)
Salt
Fresh Ground Black Pepper
Paprika
2 Tablespoons canola oil
3/4 cup red wine
3/4 cup beef stock
2 Tablespoons tomato paste
1 bay leaf
3 Tablespoons Sour Cream
1 Tablespoons Flour
Preparing the Rouladen
Spread about a Teaspoon of mustard onto the sliced top round beef.
Season with salt, pepper, and paprika.
Add the bacon, red onion, and pickle.
Roll them up and either use a toothpick or twine to hold them together.
Cooking the Rouladen
Heat the oil up in a heavy dutch oven.
Brown the rouladen on all sides.
Place the rolls in a single layer and add the red wine, beef stock, tomato paste, and bay leaf.
Cook until the beef is tender, right around 1 1/2 hours.
Pull the rouladen out and put it on a plate.
Combine the flour and the sour cream. Whisk in a few tablespoons of the hot gravy.
Pour the mixture into the dutch oven and whisk. Simmer it for 3-5 minutes to let the gravy thicken.
My Grandmother always served this dish with homemade spaetzle and red cabbage.
If you liked this check out:
Beer, Cheese, and Sausage Soup
Affiliate Disclosure: I am grateful to be of service and bring you content free of charge. In order to do this, please note that when you click links and purchase items, in most (not all) cases I will receive a referral commission. Your support in purchasing through these links enables me to keep the content train rolling