Choosing an EDC Knife can be a difficult decision, with all the choices in steel, handle material, lock type, blade shape and size, and of course cost.  First off we need to define just what and EDC knife is, and isn't. An EDC knife isn't a big old honking survival knife that Rambo would be hauling around. An EDC knife is a reliable pocket tool, that will handle reasonable knife chores on a daily basis. With these parameters in mind, lets look at what makes up a good EDC knife.
EDC Knife
EDC Knife Steel
For me blade steel is the most important decision you can make when purchasing an EDC knife. I'm drawn to the newer steels like VG-10, 154cm, or S-30v. These are premium stainless steels that will hold up to a decent amount of abuse, and still hold a razor sharp edge. I shy away from anything simply labeled "stainless steel" ,that stuff is not even a step up over pot metal.
EDC Knife Handle Material
Modern handle materials run the gamut from carbon fiber, G-10, FRN (fiberglass reinforced nylon), to stainless steel. All of these materials have stood up to more abuse than the average daily carried knife will normally take. I would rather go for one of the cheaper materials and get a premium steel, but that is just one crazy knife guy's opinion.
EDC Knife Lock Type
There are a couple different kinds of knife locks that are acceptable for an EDC Knife. I shy away from the traditional lock back unless it has a David Boye Dent, which lessens the chance of accidental closing of the knife. The newer ball bearing type locks are sweet and lock up like tanks! I also have no qualms about carrying a liner lock, they get a bad rap among some guys but I'm not going to push my EDC knife that far.
EDC Knife Blade Size And Shape
Shape and Size are sort of personal decisions (and no, not in a dirty way). My rule of thumb for shape is, if I don't know why it is shaped that way, I don't buy it. I've got plenty of cool stuff, but for my EDC knife I like to stick with the tried and true. Funky curves or angles just don't excite me on an EDC knife. As far as size goes, I've actually started carrying much smaller knives than I used to. I used to roll with whatever would fit in my pocket. If I could have gotten a folding sword I would have!
EDC Knife Cost
This is probably the most personal choice of them all. What I consider cheap you might think is on the high side. I probably wouldn't carry a $200 EDC  knife but I know guys who would! So figure out what your price point is and shop from there.
My Favorite EDC Knife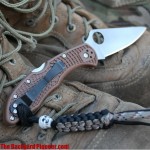 I'll admit it I've got a safe full of knives and all of them have seen some pocket time at one time or another. Currently my favorite is a Spyderco Delica 4 FFG
. It has a premium VG-10 Steel, well textured FRN handles, and is a lock back with a David Boye Dent. It fits well in my hand and cuts like a lightsaber! I got it for my 40th birthday and has been in my pocket everyday since. It is actually a step down in size for me, I was carrying a mix of larger Spydercos and Benchmades but have settled on the Delica for the foreseeable future.
EDC Knife Reviews:
All of these meet my criteria for an EDC Knife and I've got no problem recommending them to you.
What are you carrying?
Affiliate Disclosure: I am grateful to be of service and bring you content free of charge. In order to do this, please note that when you click links and purchase items, in most (not all) cases I will receive a referral commission. Your support in purchasing through these links enables me to keep the content train rolling