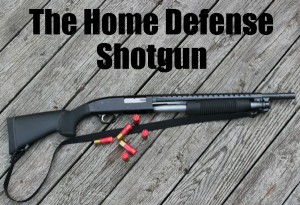 The home defense shotgun is like a fire extinguisher, hopefully you never need it, but it is nice to have around, just in case. The basic home defense shotgun may not have the glitz and glamor of a semi-auto carbine, but even into the 21st Century it remains a potent tool. The modern home defense shotgun has a lot of things going for it, it is affordable, effective, simple in operation, and in States like New York and Connecticut still 100% legal. For our purposes home defense shotgun will mean a 12 or 20 gauge pump action, it is the most common one people will encounter or be familiar with.
The Home Defense Shotgun
Affordable
If you want to go and plunk down some cash, you can walk out of a store with a suitable home defense shotgun almost anywhere in America. For around $300 you can own a powerful and versatile tool. Granted for $300 it isn't going to have all the bells and whistles but the standard 12 or 20 gauge pump action has been checking out those "things that go bump in the night" for well over a century. With a little bit of leg work you can most likely find a good used shotgun for under $200. This is a lot of value for something that will likely still be putting rounds down range for the next few centuries, if you and your heirs take care of it.
Effective
When it comes to effectiveness nobody can argue that a 12 or 20 gauge home defense shotgun is a fight stopper. It isn't the death ray that the movies portray it to be, but it has a proven record in Police, Military, and Civilian hands of getting the job done. We are talking about a weapon that the German's tried to have declared against the rules of War during World War One. The Winchester 1897 in the hands of the Doughboys was a terrifying weapon then, and it remains so now.
Easy To Use
Even though anything with moving parts isn't exactly simple, a home defense shotgun tends to have far fewer problems than a semi-auto carbine in non-professional hands. The current carbines are deadly tools in trained hands, but for the average person in a high stress situation the pump action is just plain easier. There always is the danger of "short stroking" the action but practice helps to mitigate this. An added benefit is that the pump action is more forgiving when it comes to maintenance. It can be "ridden hard and put away wet".
Legal
Now for the ugly reality, in some States carbines and even pistols are out of reach of the common man. Both NY and CT have registration laws in effect and NY has banned new sales and transfers of existing weapons. For now the home defense shotgun remains a 100% legal option.
Customizable
When it comes to a home defense shotgun the sky is the limit when it comes to customizing it. There is no reason you can't take a bare bones shotgun and build it into something that is totally to your liking. Some common home defense shotgun upgrades are Glow In The Dark Sights
, Shorter Stock
, and Tactical Lights
.
The Home Defense Shotgun
Simple, reliable, effective, and legal it just doesn't get any better than that when it comes to a tool, and that what a home defense shotgun is!
If you liked this check out:
Phoenix Home Defense Shotgun Part 2
Project Phoenix: Mossberg 500for Home Defense/Preparedness
Why the Mossberg 500 is the best home defense shotgun!
Affiliate Disclosure: I am grateful to be of service and bring you content free of charge. In order to do this, please note that when you click links and purchase items, in most (not all) cases I will receive a referral commission. Your support in purchasing through these links enables me to keep the content train rolling