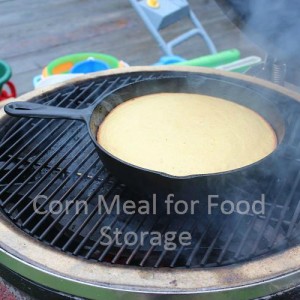 Corn meal is a versatile ingredient that stores well, and can be an interesting part of your food storage program. Corn has been part of the human diet  for a long time, research indicates that as early as 2500 BC it was being cultivated and spread through out The Americas. It was brought back to Europe sometime in the 15th or 16th century, and made it's way around the world due to it's ability to grow in varied climates. Unfortunately nowadays 85% of all corn grown in the US is a GMO (genetically modified organism) crop. Through some careful shopping or by growing it yourself, the GMO stuff can be avoided.
Using Cornmeal
One nice thing about using cornmeal is that it swells during cooking at about a 4:1 ratio, so 1 cup of dry corn meal turns into 4 cups of cooked cornmeal. Corn meal is mostly used as a cold or hot cereal and in breads and muffins.
Storing Cornmeal
When storing corn meal good food storage practices are important. It needs to be kept in a cool and dry location. Some good ways to maximize the shelf life of corn meal are:
Pour the corn meal into a tight fitting container.
Press as much air out of the bag as you can and roll it tightly
Vacuum seal it and store it in the freezer. Corn meal can be kept for several years this way.
Store Popcorn varieties and grind it yourself!
Recipes
Corn Meal Mush
1 cup cornmeal
1 cup cold water
1 teaspoon salt
3 cups boiling water
Mix cornmeal, cold water and salt. Slowly stir cornmeal mixture into the boiling water in a saucepan. Cook and stir until thick. Lower heat. Cover and cook 15 minutes stirring as needed to keep from sticking.
Makes 6 servings, 1/2 cup each.
Cornbread
1 cup cornmeal
1 cup flour
1 tablespoon baking powder
1/2 teaspoon salt
2 to 4 tablespoons sugar (optional)
1 egg
1 cup fluid milk
1/4 cup melted fat or oil
Mix cornmeal, flour, baking powder, salt and sugar (if used). Set aside. Beat egg. Add milk. Add fat or oil. Add to cornmeal mixture and stir just enough to mix. Fill a greased 9- by 9- by 2-inch pan half full. Bake at 425 degrees Fahrenheit (hot oven) 20 to 25 minutes until lightly browned.
Makes 6 servings.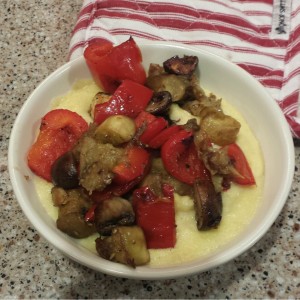 Polenta
6 cups water
2 teaspoons salt
1 3/4 cups corn meal
2 tablespoons butter
Boil the 6 cups of water in a heavy large saucepan with the salt. Whisk in the cornmeal. Reduce the heat to low and cook until the mixture thickens , stirring often, about 15 minutes. Turn off the heat. Add the butter, and stir until melted.
Makes 6 servings.
Corn meal can be a valuable edition to your food storage program. It is versatile and tasty!
Give it a try!

Affiliate Disclosure: I am grateful to be of service and bring you content free of charge. In order to do this, please note that when you click links and purchase items, in most (not all) cases I will receive a referral commission. Your support in purchasing through these links enables me to keep the content train rolling