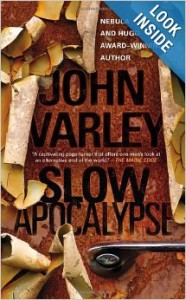 It has been quite awhile since I've done a book review of a work of  fiction but I felt Slow Apocalypse by John Varley was worth sharing.
I'm a big fan of Apocalyptic fiction but I'll admit the genre is rife with "I love myAR-15" novels. While I'll admit to enjoying them as  time killers the roll of wanna-be operators can get a little tedious. So it is nice to see what a more polished and professional author, like John Varley, can do with the genre.
The premise behind Slow Apocalypse is a tailored virus is used to infect the oil fields of the Middle East. Dave Marshall is an LA screen writer, who through a little twist of fate, receives advance warning of the impending SHTF. The story follows Dave as he tries to quickly prepare his family and friends for a radical change of life, in a transformed Los Angeles.
I really enjoyed this book. Like, I said earlier it isn't a misanthropist's wet dream. The violence that does occur makes sense and moves the story along instead of being in there to sate someone's desire to write an ode to their AK. The characters are believable and develop nicely during the story. Another plus is the book doesn't dwell on politics. Some apocalyptic fiction can end up as a political sermon instead of a story.
I can recommend this book. It isn't going to go down as a great novel but I consider worth a read if you enjoy apocalyptic fiction.
Disclaimer: I get a small commission if you purchase the book through my link. I strive to maintain my blogging integrity and fully endorse this book.
Affiliate Disclosure: I am grateful to be of service and bring you content free of charge. In order to do this, please note that when you click links and purchase items, in most (not all) cases I will receive a referral commission. Your support in purchasing through these links enables me to keep the content train rolling