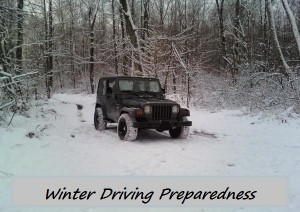 With yet another Winter Storm socking in the East Coast it seems like a good time to review some Winter Driving Preparedness.
Like all preparedness the time to get ready is before the event actually takes place. Having your vehicle in good working order before the storm hits is paramount. A vehicle that is unreliable when  it is nice out is a double curse when the weather turns dangerous. Tires with an appropriate amount of tread, working lights and signals, decent wipers, and plenty of wiper fluid all pay big dividends when the weather is nasty.
Once the mundane stuff is out of the way you can turn your attention to some of the added gear that a well prepared vehicle should have. A Get Home Bag or 72 Hour Kit stashed in the trunk goes a long way towards providing a piece of mind and added insurance should you become stuck out on the road. The Northeast Blizzard of '13 and the recent Ice Storm in the Southeast serve as grim reminders that the roads can quickly become impassable. It doesn't have to be the actual snow or ice that stops you, disabled and stuck cars can get you trapped on a road too. Having a kit along can help out tremendously.
Proper attire is a must as well. Getting stuck out on the road is bad enough but it can turn deadly, if you're out in your gym clothes and sneakers! There is no need to leave the house looking like Nanuk of the North, unless that is your thing. Having a pair of boots and some warm clothes stored in the trunk will only add to your comfort and insure against cold injuries like frostbite or hypothermia.
A sleeping bag can be a life saver! It might take up space (unless it is one of those gee-whiz, space age ones that smushes down to about the size of a coffee can), but a sleeping bag will keep you warm in some of the most severe weather.
If you do find yourself out on the road in Winter weather remember these tips!
Decrease your speed and leave yourself plenty of room to stop. You should allow at least three times more space than usual between you and the car in front of you.
Brake gently to avoid skidding. If your wheels start to lock up, ease off the brake.
Turn on your lights to increase your visibility to other motorists.
Keep your lights and windshield clean.
Use low gears to keep traction, especially on hills.
Don't use cruise control or overdrive on icy roads.
Be especially careful on bridges, overpasses and infrequently traveled roads, which will freeze first. Even at temperatures above freezing, if the conditions are wet, you might encounter ice in shady areas or on exposed roadways like bridges.
Don't pass snow plows and sanding trucks. The drivers have limited visibility, and you're likely to find the road in front of them worse than the road behind.
Don't assume your vehicle can handle all conditions. Even four-wheel and front-wheel drive vehicles can encounter trouble on winter roads.
The best tip is not to be out in the storm unless you have absolutely have to be. Sitting by the fire with a hot cup of coffee is way better than being out in it, but if you have to go out I hope these Winter Driving Preparedness tips come in handy and you make it where you are going safe and sound!
If you liked this, you might also like. . .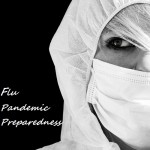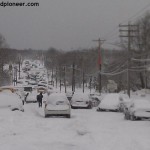 Preparedness Lessons from Blizzard Nemo
Affiliate Disclosure: I am grateful to be of service and bring you content free of charge. In order to do this, please note that when you click links and purchase items, in most (not all) cases I will receive a referral commission. Your support in purchasing through these links enables me to keep the content train rolling