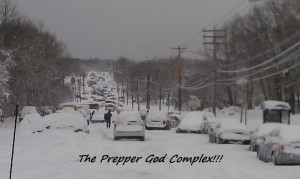 How come it takes a natural disaster to bring the worst in the Preparedness/Survivalist community? Of course I'm talking of the Prepper God Complex! The worst of it is on Facebook and Twitter. Instead of taking the opportunity to offer some friendly advice to people stuck in the Icy Hell the South became the other day we get  lovely quotes like:
"If you are of the male gender and can't drive home with 2 inches of snow, turn in your man card and spend the night at Girls Clubs of America."  Condescending and slightly misogynistic at the same time, Bravo!

" Pussies." From a woman no less! Her mother must be proud.
 "could have should have would have stayed home to begin with" 
"Wimps"  Very constructive, thanks!
"Fucking pussies!!! , Two inches is child's play . . ."  Nice mouth.

"wow……..couldn't drive home on 2 inches of snow? embarrassing."  Almost as helpful as "wimps" but at least no cursing.
And my favorite from Twitter:
#WinterStorm lol pussies close schools n society.try surviving a frontline war for 3 yrs starvin.-5 weather snipers n tanks surroundin u Very holy on this one, 2 thumbs up.
So yet again Social Media make me doubt humanity for a little bit.
It was nice to see pictures of Home Depot staying open and letting stranded motorists spend the night. Something very similar happened here on Long Island last year with our little surprise blizzard. Wal-Mart stayed open all night giving comfort to those who were stranded. Seems to me that 2 Mega-Corps were able to pull a little more compassion out than some in the Prepper Community.
How come the dialogue can't be about bringing new people into the fold? I can tell you if I nearly froze my butt off, dodged a few out of control 18 wheelers, and then spent the night in a Home Depot, I would not respond kindly to the Internet Commando calling me names! Why can't it be a learning experience for all of us.
It is always the same tired dynamic:
Katrina- "They should have just left!"
Northridge Earthquakee- "That is what you get for living in Cali"
Sandy- "There was enough warning, why did they stay?"
Northeast Blizzard of '13- "Don't they have TV's, the weatherman was calling for snow."
Southern Ice Storm of '14- All the lovely quotes from above.
Unless you live in your fully self sustaining bunker year round you can't be immune from everything, us here in the real world will just try to be PREPARED the best we can for the little curves that life throws at us. And maybe after 2 hurricanes and a really bad blizzard inside of 30 months I'm a little touchy on the subject but for God's sake why can't we offer a hand instead of flipping the bird?
Additional Reading:
Assembling a Get Home Bag – A post about building a bag to get through those rough nights.
YouTube Videos I did on putting a GHB together Part 1 and Part 2
A Review of commercially available emergency kit from Nitro-Pak
Affiliate Disclosure: I am grateful to be of service and bring you content free of charge. In order to do this, please note that when you click links and purchase items, in most (not all) cases I will receive a referral commission. Your support in purchasing through these links enables me to keep the content train rolling