Please consider "Liking"  The Backyard Pioneer on Facebook to keep up with all our happenings. . .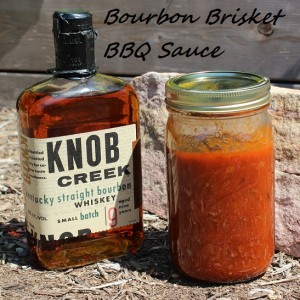 Since I was roped into making one of my Texas Style Briskets for a reunion of my High School buddies I needed to take it to the next level and my Bourbon Brisket BBQ Sauce was just the ticket!
The best thing about this BBQ sauce is that meat drippings are an integral part of it, so you've got an excuse to have a few steaks the night before you make it. I made Skirt Steaks and put them onto a rack over the serving plate so I could collect the drippings. I was lucky enough to get a bit over 1 1/2 cups. My recipe calls for 2 cups so I cut it with a bit of beef stock to keep the "beefiness" up.
Ingredients
2 C. Beef Drippings (use beef stock to make it to 2 C if you have to)
1 Small Onion Finely Chopped
2 Tbs Bacon Fat
1/4 C Finely Shredded Steak (leftover from the night before)
2 C Ketchup
1 C Apple Cider Vinegar
3 Tbs Hot Sauce
Kosher Salt and Fresh Ground Pepper to taste
2 Shots of Bourbon
Heat the bacon fat over a medium flame and soften the onions in it, this should take about 2 minutes.
Add the beef and brown it up for 2 minutes.
Pour in the vinegar and bring to a boil.
Stir in the ketchup and hot sauce.
Reduce the heat and simmer for 30 minutes. The sauce should thicken slightly.
Add the salt and pepper to taste.
Toss in the 2 shots. I don't cook it down as I think a brisket can handle the bourbon flavor.
This BBQ sauce goes amazingly well with Brisket. The tangy richness the vinegar plays well with the beefy flavor of the drippings and the bourbon adds just the right mellowness to it.
Let me know what you think!
If you like what you read here on The Backyard Pioneer please consider subscribing to receive e-mail notifications or check me out on Facebook, Twitter, YouTube, Pinterest, or my RSS Feed. All of these are available on the top right of this page.
Brought to you by:

Affiliate Disclosure: I am grateful to be of service and bring you content free of charge. In order to do this, please note that when you click links and purchase items, in most (not all) cases I will receive a referral commission. Your support in purchasing through these links enables me to keep the content train rolling