Cooking guide for free range meat
Shoppers are quickly moving towards free range meat for their meat choice. After reading so many articles about the tactics used by the big chain supermarkets to keep their meat looking fresh and ripe and about the additives applied to them, they are heading to their local free range butcher, like Cannings Butchers.  To get the best out of your free range meat purchase, we have put together a few cooking tips to get those juices going.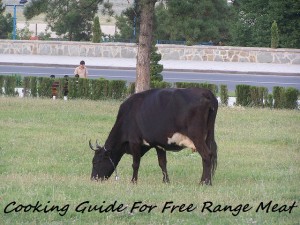 Beef. Grass fed beef has a stronger flavour than regular beef, adding to it's current rise in popularity. To cook the perfect steak, follow these tips. Heat a frying pan over high heat before adding your steak to the pan, this will seal in the juices, rather than letting them escape into the pan on low heat. Season your steak with salt and let it sit for a little while, uncovered, in the fridge. Only use a drizzle of olive oil to stop the steak from sticking, or alternatively, brush your steak with oil if you are scared of using a heavy hand, before placing it in the pan. For an average sized steak, around 2cm or so, cook each side for 3 minutes over medium heat, only turning once. Cook for 4 minutes each side for medium, and 5-6 minutes each side for well done. Another popular method is after sealing the steak in the pan, is to place it in a preheat oven for a few minutes to cook the insides. Keep the juices to drizzle over later. When cooked, transfer your steak to a plate and cover with foil to rest for 5 minutes, allowing the juices to settle and fibres to relax, ensuring a tender, juicy steak.
Pork. There is nothing better than roast pork, and when it comes to cooking the meat and that crackling, you want to get it right. The best pork roasts are made from leg, rack, rolled loin or rolled shoulder, but if crackling isn't your thing, choose a rindless cut like scotch fillet or topside. The cooking time of your roast pork will vary according to size, but generally you want to preheat you oven to 220 C if cooking with a rind, then reduce to 180 C once the rind is crisp; if you don't have a rind, maintain a 180 C temperature. Cook your roast until the middle is still a little pink, don't over cook or your roast will be tough and dry.
Poultry. Roasting a chicken is easier than you may think. Butchers these days can supply you with a free range hen, stuffed and ready to go, all you need to do is season and stick it in the oven. Preheat the oven to 180 C, place your chicken in the roasting pan and season with salt and pepper and whatever herbs you like (thyme and garlic work well). Add some veggies like potato and carrot to the pan to roast with it and absorb the natural juices. To check for readiness, insert a skewer into the thickest part of the thigh, if the juices run clear with no pink, it's ready to eat!
Photo Credit: rugbyxm
If you like what you read here on The Backyard Pioneer please consider subscribing to receive e-mail notifications or check me out on Facebook, Twitter, YouTube, Pinterest, or my RSS Feed. All of these are available on the top right of this page.
Brought to you by:

Affiliate Disclosure: I am grateful to be of service and bring you content free of charge. In order to do this, please note that when you click links and purchase items, in most (not all) cases I will receive a referral commission. Your support in purchasing through these links enables me to keep the content train rolling