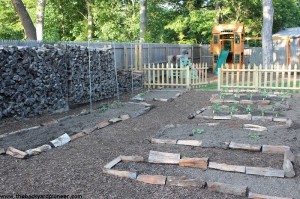 I've been crazy busy around the my backyard the past few weeks. Unfortunately the weather here on Long Island hasn't been to conductive to getting anything done as we have whip sawed back and forth from cold and rainy to hot and humid. I've fallen behind on my garden upgrade but wanted to share a few pictures.
The first one is a shot of my new garden area. This will be the main garden and now that the infrastructure is in I'm looking forward to years of productivity out of it. I used layers of cardboard to kill off the existing sod and then put 3 inches of topsoil/compost. The walkways were then muclched and the beds received and additional 3 inches of topsoil/compost. I will continue to mulch heavily to add organic matter to the soil and hopefully this will end being a nice yielding piece of my property.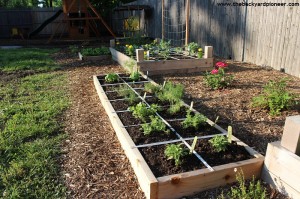 I'm very proud of how my Wife's raised bed area has turned out. The raised beds give her 96 sq. feet of growing area. These beds will be planted using the priciples of Square Foot Gardening and will feature a mix of edibles and flowers. As this area isn't going to need to carry the load that the main garden will shoulder it will be a place for experimenting with new veggies. These beds are also an experiment in Hybrid Wood Beds for us. They were set up with rotting wood being placed in the bottom of the deeper beds and covered with topsoil/compost.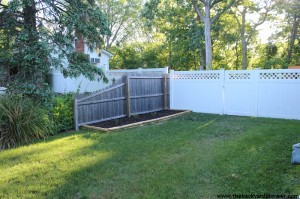 I've also joined the ranks of front yard gardeners and built myself a nice little blueberry patch. These are a Northern Blueberry Assortment from Stark's Bros. Nursery. They are 2 Jersey bushes and 2 Bluecrop bushes. I like that I've turned a little used area into some sort of food production for us.
I also went ahead and planted 2 apple trees. I ordered a Golden Delicious and a Red Delicious. These are ideally suited for my hardiness zone (6B). From what I have read apple trees need to be planted in pairs so they have proper pollination. I wish I had planted these a decade ago but "hindsight is 20/20"! These are also from Stark Bros. Nursery.
So that is what has been going on around here, how is your gardening going so far?
If you like what you read here on The Backyard Pioneer please consider subscribing to receive e-mail notifications or check me out on Facebook, Twitter, YouTube, Pinterest, or my RSS Feed. All of these are available on the top right of this page.
Brought to you by:

Affiliate Disclosure: I am grateful to be of service and bring you content free of charge. In order to do this, please note that when you click links and purchase items, in most (not all) cases I will receive a referral commission. Your support in purchasing through these links enables me to keep the content train rolling