Please Consider "Liking" The Backyard Pioneer on Facebook to keep up with all our happenings. . .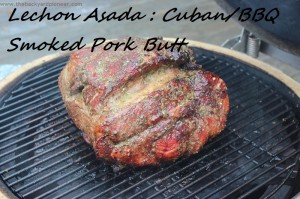 Lechon Asada sounds a heck of a lot sexier than smoked pork butt, the name rolls of the tongue and you can't help but think of sunny tropical islands and flavorful foods.
I love Southern BBQ but was looking for something a bit different to do with the Pork Butt that was sitting in my fridge. I read a bunch of different recipes on traditional Lechon Asada and decided to do a Cuban BBQ Fusion. I combined the flavors of Cuba with the low and slow cooking of BBQ and came up with a dish that my wife actually likes better than my regular BBQ recipes (I love her anyway!).
The Rub
1 Tbs Coarse Kosher Salt
2 tsp Fresh Ground Black Pepper
2 tsp Ground White Pepper
2 tsp Ground Cumin
2 tsp Dried Oregano ( I ground the Oregano into a fine powder
2 tsp Garlic Powder
The Mop Sauce (Or Faux Mojo)
The Juice of 12 Fresh Limes
The Juice of 2 Oranges
Whole Head of Garlic (I run mine through a press)
1 Tbs Coarse Kosher Salt
1 Tbs Dried Oregano
2 tsp Ground Cumin
1/4 C Fresh Chopped Cilantro
1 Tbs Olive Oil
Rub the Pork with The Rub the night before and tightly wrap the Butt and put it in the fridge.
Set up your smoker for 250 degress. I used just a few hickory chips as I didn't want a strong smoked flavor.
Put the Butt on the Smoker
With the Butt on the Smoker put all of the ingredients for The Mop Sauce into a food processor and pulse until well combined.
When the Butt has been on for an hour hit it with The Mop Sauce and every hour after that until it reaches an internal temp of 195 degrees. If it starts to look to dark cover it with foil.
Now the hard part! I like to serve Lecon Asada sliced so I find it is better to let it rest at least an hour before attacking it. I'm not saying to not pull bark off of it, and savor it's citrusy, garlicy, salty goodness, just don't have at it with the knife yet!
I like to have this as part of a Cuban Sandwich or with Red Beans and Rice.
Enjoy and let me know what you think!!!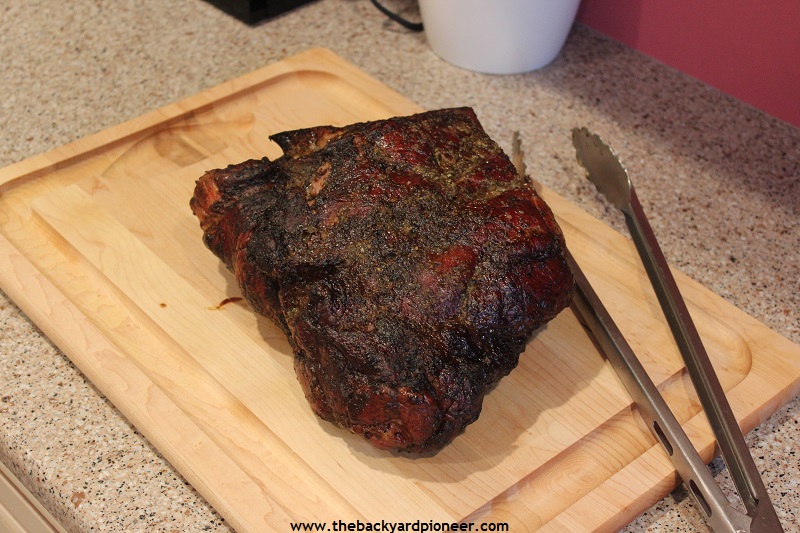 For a more traditional take on Smoked Pork Butt check out Flames and Food
If you like what you read here on The Backyard Pioneer please consider subscribing to receive e-mail notifications or check me out on Facebook, Twitter, YouTube, Pinterest, or my RSS Feed. All of these are available on the top right of this page.
Affiliate Disclosure: I am grateful to be of service and bring you content free of charge. In order to do this, please note that when you click links and purchase items, in most (not all) cases I will receive a referral commission. Your support in purchasing through these links enables me to keep the content train rolling