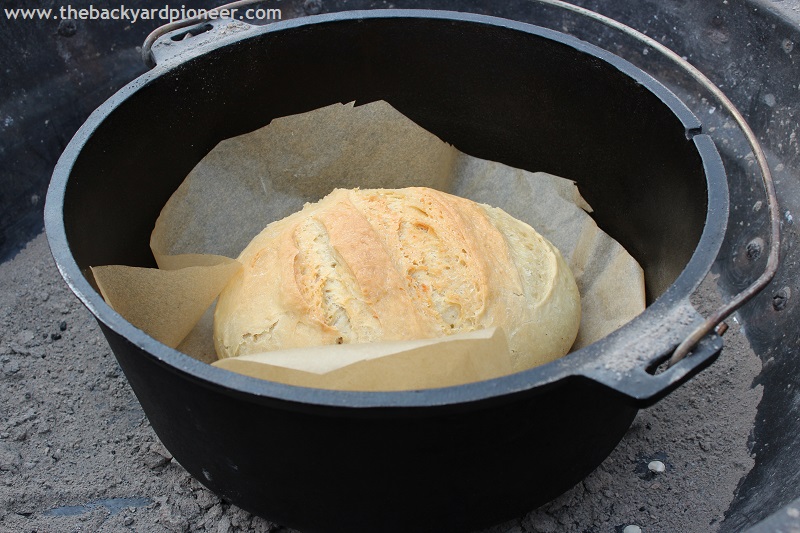 Making Dutch Oven Bread is easier than you think, follow along as I detail this valuable self sufficiency and preparedness skill.
Dutch Oven Bread
I used my basic bread recipe for this one. I followed all the directions just as if I was making bread in a standard oven. Where I deviated is when the bread began it's second rising I began to pre-heat my Camp Chef 12-Quart Dutch Oven
.
Ingredients
3 1/4 C. King Arthur Unbleached Bread Flour
1 Packet Active Dry Yeast
1 tsp. Kosher Salt
1 1/2 C. Warm Water
Directions For Making The Dough
Combine all the ingredients and mix or knead into a soft dough
Place into a greased metal bowl and let it rise for an hour, somewhere warm.
After the rise punch it down a bit and form it into a ball. I like the "tuck it under" method to form a circular loaf. I just pull the dough from the center while tucking it under itself with my fingers.
Cover the dough ball with a greased piece of plastic wrap.
Start pre-heating the Dutch Oven.
After a 30  minute give the dough ball a few slashes with a sharp knife and put it into the Dutch Oven.
Off To The Dutch Oven
I used my handy dandy charcoal chimney to get the coals going. I initially put 50 coals into the Charcoal Lighter Chimney
as I wanted to keep a few in reserve to start a fresh batch. I started out with 14 coals under the Dutch Oven and 25 on the lid. I had pre oiled the Dutch Oven with a about 1/2 Tbs of olive oil.  The raw dough went into the Dutch Oven on a piece of parchment paper.
*** Since my initial attempts at Dutch Oven Bread, I've found that pre-heating the oven is THE most important part! Learn from my mistakes! ***
 Keeping An Eye On It
I rotated the DO and the lid a 1/4 turn every 15 minutes. I checked the status of the coals and  each time I turned the DO and lid.I added as needed. I had to put coals into the chimney a few times during the baking process. It took a bit longer than I anticipated, my regular bread baking takes about 35 minutes in a standard oven but in the DO it took the better part of 90 minutes. I may have to start adding more coals initially to get the temperature up a bit.
I popped the bread out when it hit 200 degrees as measured with a thermometer.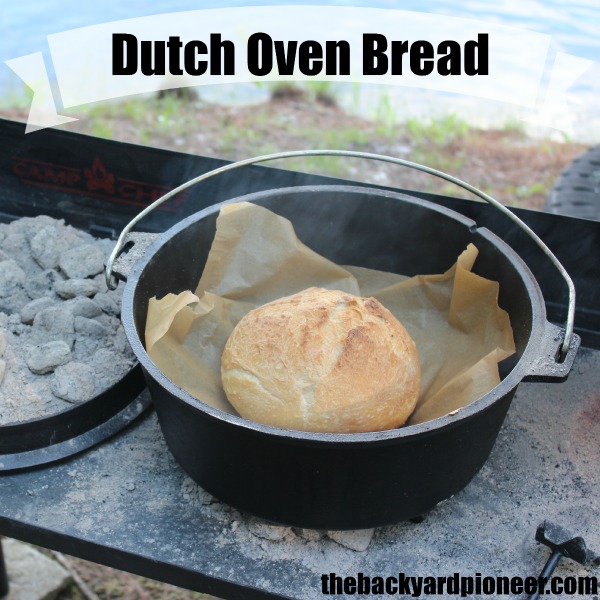 Camp Chef Dutch Oven Available On Amazon
The YouTube Video
Here is a video I shot while baking my bread. Check it out and let me know what you think.
You Might Also Like
Affiliate Disclosure: I am grateful to be of service and bring you content free of charge. In order to do this, please note that when you click links and purchase items, in most (not all) cases I will receive a referral commission. Your support in purchasing through these links enables me to keep the content train rolling