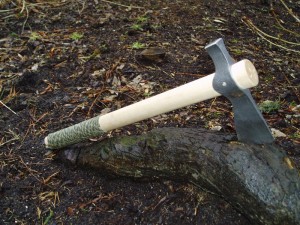 Bad news on my Cold Steel Trail Hawk Project with my very first update! My initial impressions of the Trail Hawk may have been a bit skewed by "tomahawk lust", the deeper I dive into this thing the less impressed I become.  My issues with it include:
There is no way around it the head is bent! This a pretty big one to overlook. I know the TH isn't pricey but for $30 bucks I viewed it as good raw material for a fun project but a bent head sort of pisses on that.
The overly thick black paint, that they must have put on with a spackle knife, was a pain to remove and hid some pretty gnarly grind marks.
To get a proper fit between the head and the shaft required a lot of grinding and sanding. I put a 45 degree cut and then a 30 degree cut in the throat. I then sanded down the shaft to knock down the ridge that formed when Cold Steel pounded the head into place (no finesse at all!).
Getting an edge on this thing was a Herculean Task. I had to really have at it with a file session and the Lansky Puck to get even a passable edge on it. The way it came was a tad disgraceful.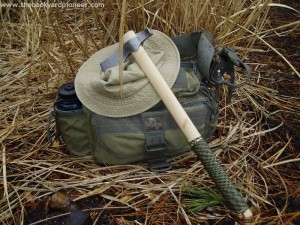 The bent head is a big one to try and overlook, I know it was only $30 but I felt that was a fair price for raw material. If  I knew that for my money I wouldn't even get a good starting point I would have kept my hard earned cash in my wallet. I was expecting the fit and finish issues and figured on correcting them but the bent head removes the Trail Hawk from serious piece of gear for me and moves it into toy/curiosity for me. It looks cool as Hell right now and I love how it is starting to look but I was hoping for more.
Affiliate Disclosure: I am grateful to be of service and bring you content free of charge. In order to do this, please note that when you click links and purchase items, in most (not all) cases I will receive a referral commission. Your support in purchasing through these links enables me to keep the content train rolling