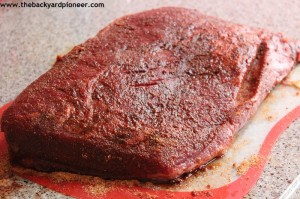 Smoked Brisket is the practically the national dish of Texas, and it was time for me to step up to the plate and take a swing at it. I love smoking pork butts and I've developed a pretty good rub (if I do say so myself). The deep marbling that you find in a pork butt ma kes it a little easier to smoke compared to a brisket. The brisket has a nice layer of fat on top but is an inherently tough muscle that needs more attention to detail than the set it and forget nature of the pork butt.
I found a good recipe in BBQ USA: 425 Fiery Recipes from All Across America
(a book I highly recommend) and had at it.
1/2 C. Garlic Salt
1/2 C. Sugar
1/4 C. firmly packed Dark Brown Sugar
1/4 C. Paprika
2 Tbs Chili Powder
1 tsp dry mustard
1 tsp ground cumin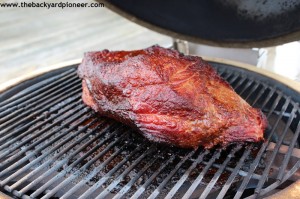 1 tsp onion powder
1 tsp lemon pepper
Make the rub and work 2/3 of into the brisket. Afterwards wrap it tightly with plastic wrap and let it cure for 12 hours in refrigerator.
Set the smoker up for 250 degrees and add the wood chips of your choice (I used hickory)
Put the meat on to the hot grate. Each hour open up the smoker and give the meat a spritz of Apple Cider.
When the meat hits 165 degrees pull it off the heat, put it into heavy duty foil, dust it with the remaining rub, give it one last spritz of cider, and close the foil tightly. Put is back on the smoker and do not disturb until it hits 195 degrees.
Pull it off and let it rest a least 30 minutes before slicing
The brisket was tender and had good flavor. I'll confess to messing up a bit and not watch my temps as well as I should have been and I committed the sin of drying out the beef a bit.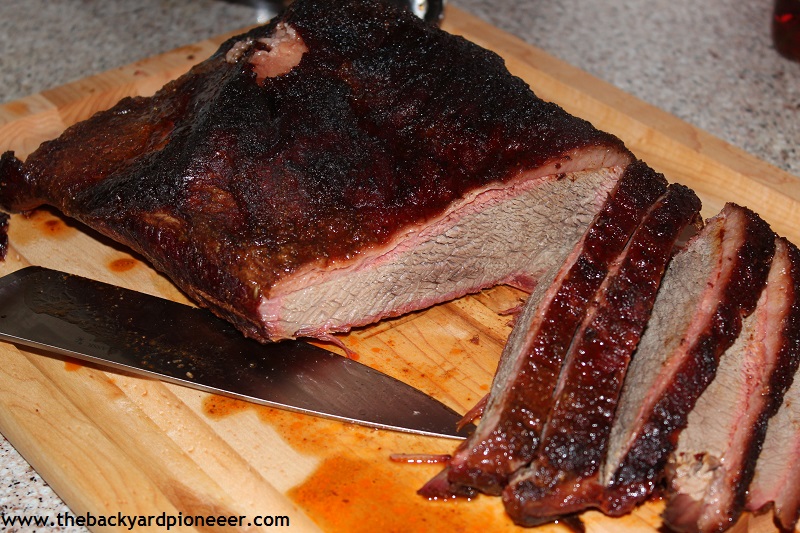 If you like what you read here on The

Affiliate Disclosure: I am grateful to be of service and bring you content free of charge. In order to do this, please note that when you click links and purchase items, in most (not all) cases I will receive a referral commission. Your support in purchasing through these links enables me to keep the content train rolling